The global gambling market is set to reach $876 billion by 2026, growing at a CAGR of 3.6% over the analysis period. And the European online gambling market is estimated to grow by 9.20% by 2025 fuelled largely by hardware and software innovations as well as the rising popularity of casino and sports betting gambling.  The European gambling industry is showing no signs of slowing down. But with gambling addictions, scams and huge losses, a real issue; how is the gambling sector regulated across the EU? Join us as we delve into understanding gambling regulations in Europe and what companies are doing to adhere to the rules.
Creating a Well-Regulated and Competitive Market
There are obvious downfalls to letting the betting and casino industry run free. That's why the European Gaming and Betting Association (EGBA) was formed. Their main role? 'To promote a sustainable online gambling sector in Europe where customers can enjoy a safe and fun online gambling experience inside a well-regulated and competitive market.' Sounds good…
Headquartered in Brussels, the EGBA has worked tirelessly to shape gambling rules within the region. EGBA members adhere to an ambitious set of European industry standards that are also designed to complement the many different licensing requirements they already comply with in the European countries where they operate.
And breathe…
So what exactly are these European industry standards? Well, they incorporate the Responsible Remote Gambling Measures, a European standard established by the European Committee for standardisation and are implemented to achieve the following objectives:
The protection of vulnerable customers
The prevention of underage gambling (be careful on sites like Tiktok where the user age range is young)
Combating fraudulent and criminal behaviour
Protection of customer privacy and safeguarding of information
Prompt and accurate customer payments
Fair gaming
Responsible marketing
Commitment to customer satisfaction and support
Secure, safe and reliable operating environment
Responsible Advertising and Marketing for Online Gambling
Let's focus on this particular measure and show you what it means for marketers across Europe. We are, after all a content marketing agency and this is exactly where our interests fall. Firstly, the EGBA published the first pan-European Code of Conduct for responsible advertising for online gambling on 28 April 2020. The 'Code' is broad in scope and introduces essential standards for advertising content, across all media platforms, and dedicated measures for social media.
For example, the Code states that gambling advertising must not be aimed specifically at minors, neither in its design nor in its placement, such as around TV programmes which are dedicated to/aimed at minors. Likewise, to be sustainable, gambling advertising must also inform players of the importance of staying in control of their behaviour, and where to find help if required. Entain use this rule to their advantage by using trends such as Safer Gambling Week to showcase their knowledge of the rules and how they promote responsible gambling practices. So, the rules themselves become a marketing tactic.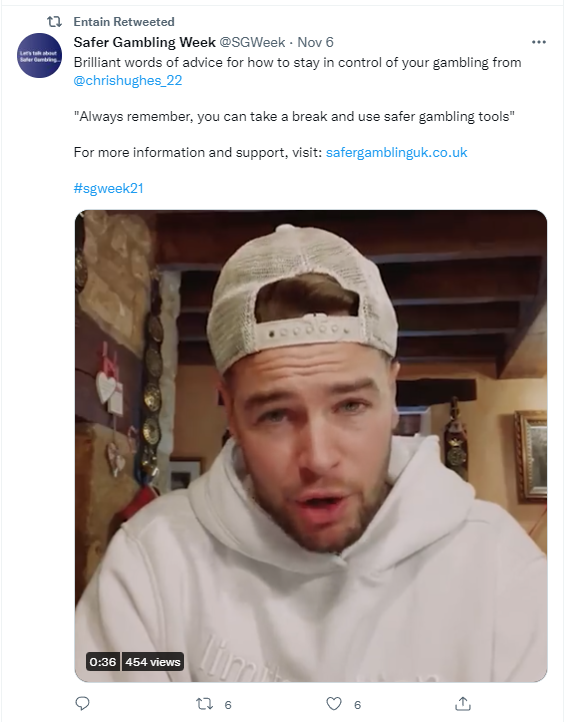 Another great example of responsible gambling marketing comes from EGBA-regulated sports betting brand Bet365. These guys pop essential age-related warnings in their Twitter bio as well as a link to a gambling addiction website. This is a simple yet effective way to remain compliant and showcase responsibility. Like Entain, they also give out very stark and obvious warnings about what not to do when betting. Failing to include any kind of 'gamble responsibly' warning could go against common EU standards.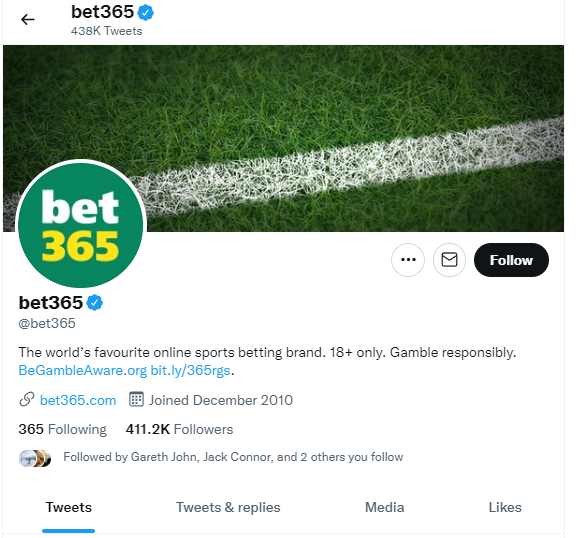 In fact, many companies go above and beyond from a marketing perspective to show that they care about their consumers and want people to enjoy themselves responsibly. EGBA-represented and Malta-based company, Kindred Group, uses company achievements and team accomplishments to also push their focus on compliance. Check out this social media brand update which throws the Head of Responsible Gaming and Research, Maris Catania, into the spotlight as part of a #womeningaming post. Note how her role in the company is one of the main facts mentioned.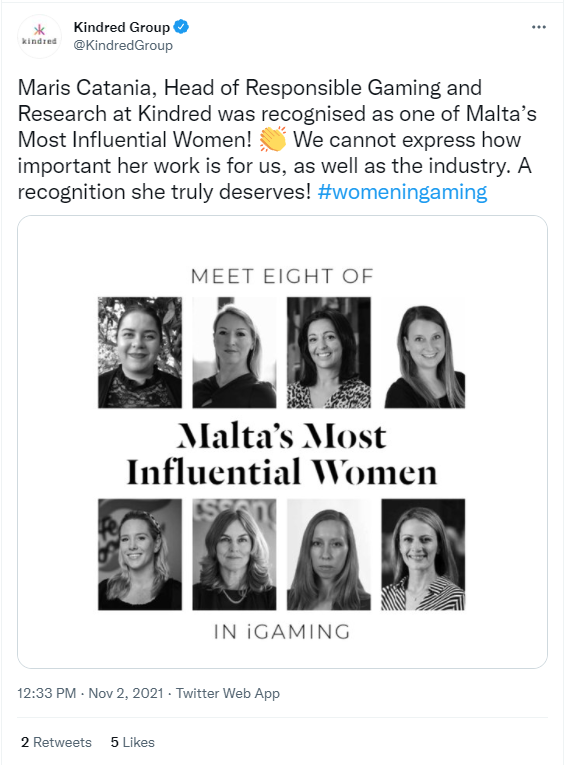 According to the European regulatory Code, gambling marketing should provide clear and non-misleading information about an online gambling operator or online gambling service. It should be socially responsible and not encourage problem gambling. The code states specifically that gambling marketing should not:
Claim that gambling is free of the risks of financial losses
Promote behaviour that objectively leads to financial harm
Provide false or unrealistic information about the probability of gambling winnings or returns
Suggest that skill can influence the outcome of a game of pure chance.
Suggest that it's possible to gamble anonymously or without an online gambling account
Show, condone or encourage criminal or antisocial behaviours
Suggest gambling is an important part of an individual's life and can be a resolution to personal, professional or educational problems
Contain claims that gambling can lead to social success or enhancement of personal qualities, i.e. gambling can improve consumers' self-esteem
Promote gambling as an alternative to employment, or a financial investment or a solution to financial problems
Imply that gambling is more important than family, friends, professional or educational obligations
Contain messages that gambling could lead to sexual success or enhanced attractiveness
Exploit cultural beliefs regarding the role of gambling or luck
Contain, pressuring or urgent messages such as "you have nothing to lose", "your next win is around the corner", or "hurry up and bet now"
Contain unclear information about the terms and conditions of the gambling process including the chance to win bonus spins and such like
Leading EU Gambling Operators Step Up Safer Gambling Efforts
There are plenty of gambling regulatory protocols in place these days thanks to regulatory bodies like EGBA pushing their safety-first messages. But are they working? The short answer is, yes. Many leading EU gambling operators are willing to comply and have recently stepped up their safer gambling efforts. According to the EGBA Sustainability Report 2020/2021, EGBA members reported that 75% of their customers now use the safer gambling tools they offer. These include self-exclusion tools which enable consumers to ask service providers to exclude them from gambling activities over a set period of time. This can mean refusal of access to gambling locations or online platforms.
There's also been a 133% increase in the number of personalised communications that members sent out to their customers to promote safer gambling.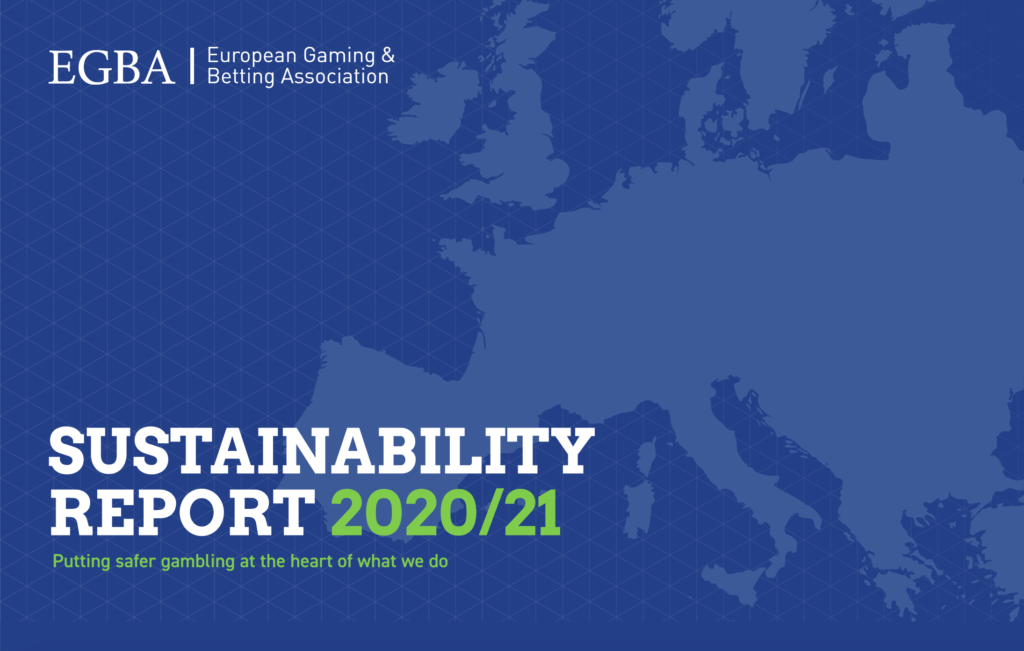 A Breakdown of Regulations by EU Country
As well as the legislation provided by the EGBA including specific marketing information from the Code, each European country works to shape their own gambling regulations. Below are some of the European country's gambling rules.
Germany
Germany has some of the most complex gambling laws within Europe. The country has made several changes within the past few years. The country recently banned all online betting platforms and only left out horse racing betting. EGBA tried to challenge this decision because it was not in line with the EU rules.
The European Court of justice ruled that there was a monopoly in the gambling industry and had to be made liberal. Due to this ruling, the Interstate Treaty on Gambling (ISTG) allowed private firms to offer gambling services.  These services were offered in all German states except for Schleswig Holstein, which developed liberal gambling rules.
Spain
Spain is one of the biggest gambling nations in Europe and worldwide. The Spanish market online gambling revenue (GGR) rose by 10.2% year-on-year for Q1 2021 to €240.08m, according to the latest figures from the country's gambling regulator (DGOJ). The DGOJ noted sports betting accounted for 45.9% of total GGR for the period at €110.3m, while online casino represented 41.4% at €99.5m.
This is perhaps why the Spanish government want to limit the amount of time and money gamblers spend on online betting and gambling platforms by making them set limits before they start playing. This is the proposal in the latest draft decree of Spain's General Directorate of Gambling which could be approved at the end of 2021 or early 2022. As it stands, operators within the country can apply for licenses and provide services in line with certain conditions provided by the Spanish National Gaming commission. The most popular gambling sites, such as Bet365, also offer Spanish translation sites.
Great Britain
The United Kingdom Gambling Commission regulates gambling in the UK. This regulatory body offers some of the strictest gambling regulations in Europe. A study conducted by the body established that gamblers in the United Kingdom spend 14.5 GBP each year, which is likely to grow. From these findings, the body decided to limit the amount that gamblers can place on fixed bets. Before introducing the limits, players could place up to 100 GBP at once at the betting terminals. Currently, the maximum amount players can wager is 2 GBP.
Due to this limit, William Hill had to close more than 100 shops due to losses incurred due to the new regulation.  The government initiated this limit by arguing that high stakes in the betting company led to increased social issues, especially among the vulnerable groups in society. Several casinos were forced to pay huge fines by the UKGC to control the gambling industry. Despite losses from regulatory changes, however, William Hill has pushed ahead with consistent and effective social media marketing to help maintain a strong following. Marketing has included interactive challenges for optimum engagement, gambling safety videos to showcase compliance, timely sports updates to become a go-to source of information for sports betting fans.
France
The French online gambling market posted an all-time high quarterly revenue of €617m in Q2 2021 driven by the sports betting vertical. Operators in the country recorded a collective €617m in revenue, representing a 91% year-on-year (YoY) increase from the €323m posted in Q2 2020. So how is the industry governed here. And what works from a marketing angle?
Well, three main bodies are responsible for developing gambling regulations in the country. These include:
#1. The Pari Mutuel Urbain that deals with horse racing
#2. ARJEL focuses on online gambling
#3. Francaise des Jeux that focuses on lotteries and betting games
The government introduced these three bodies after the formation of a new legislative gambling bill formed in 2009. In 2010, after a request by the European Union, the government legalised 3 forms of gambling which include:
#1. Sports betting consisting of live betting and fixed odds betting
#2. Poker
#3. Horse racing betting
Currently, operators who want to provide services obtain their licenses from ARJEL.
Examples of effective marketing from a French betting company includes operator Betclic becoming the official partner of the French Football Federation for maximum exposure.
Netherlands
For a long time, there was a monopoly in the gambling industry in the Netherlands. However, the monopoly was broken down after adopting the remote gambling bill by the senate in the year 2020. The law allowed foreign gambling companies to invest in the country; so the Holland Casino platform is no longer the only operator.
From 2021, gambling companies can now get their gambling licenses in the Netherlands. The operators will have to pay high taxes of about 29% of their gross revenue. In addition, the firms will pay 1.5% to finance the local regulatory board and 0.5 % to offer their support to anti-gambling programs.
Switzerland
Switzerland offers two gambling levels which include the cantonal and federal. The Swiss Federal Casino Commission provides casino licenses in Switzerland. Live sports betting, lotteries, and fixed odds are controlled by the Swiss Lottery and betting board.
The main aim of the Money Gaming Act was to block foreign gambling sites. This enforcement was made to ensure that firms pay a fair share of taxes.
Sweden
The state used to run most of the gambling sites in Sweden, forming a monopoly in the gambling industry. The formation of new gambling laws aimed to open the industry to private investors to help expand the market. By the year 2020, private companies controlled 29% of the Swedish gambling industry. At this time, the gambling market was worth USD 2.5 billion. The new legislation also helps to protect the public against any negative actions by gambling companies.
Dangers of Gambling Marketing Fails
As you can see, many countries are working hard to implement their own rules and associated themselves with the standards set out by EGBA. After all, companies know that marketing fails, or a lack of compliance can lead to financial penalties and sites being blocked. They also don't want to be seen as contributing to the problems associated with gambling such as addiction, homelessness and relationship breakdowns as this is not a great way to build a strong community based on respect and trust.
Understanding financial services rules and interpreting them for engaging content and social media is what we do best. Talk to Contentworks Agency for financial services content today. We understand that the different regulatory landscapes for forex trading, stocks, cryptocurrencies, banking and gambling and will provide a compliant marketing plan for your business. Enjoyed reading Understanding Gambling Regulations in Europe? Go ahead and hit share.