When you hear the term ' content marketing in 2018 ' – what comes to mind? A bunch of glasses-wearing intellectuals knocking up a new website or planning a 'gripping' email send? Go on, be honest!
The truth is, content is no longer just about words. It's about creating experiences and that requires a host of diverse content marketing techniques. You see – we're a lot more interesting than you might have first thought.
Content Marketing in 2018- A World of High Expectations
Expectations are exceptionally high and rightly so. You see, over half of the world's population is online. They're exposed to adverts, banners, social media posts, web updates, video content and more every single day. The mundane no longer impresses which means content marketers have to get clever if they want to get noticed –but how?
The trick is to break away from the norm; to tell a story and get people emotionally involved in what you are trying to achieve. If an audience can see the relevance of what you're doing and enjoys the marketing journey you take them on – they're more likely to connect with your brand. Being distant, cold, generic, uninviting or bland simply just won't do.
That's the situation – but can you meet high demands?
Content Marketing in 2018: Be Different – We Dare You
Are you brave enough to do things others aren't doing? Are you brave enough to step out of your comfort zone and take your business to new heights?
Content marketing in 2018 is all about diversification and innovation.
The more creative you are, the more you'll stand out in what is already an overcrowded market.
Click To Tweet
Things to consider in your content strategy include:
Video content
Still wondering if you should use video content as market of your next marketing campaign? Then the below infographic will clear up any doubts you may have.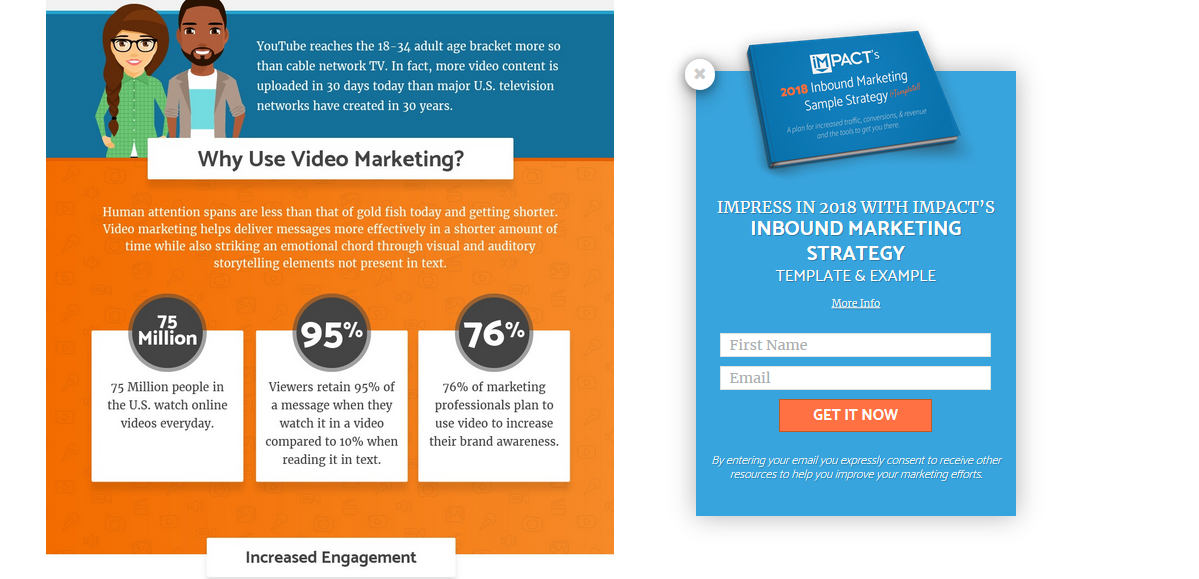 Video provides marketers with an attractive, versatile and extremely sharable medium to reach their target audience. Indeed, by 2019, internet video traffic will account for 80% of all consumer internet traffic, so it's important to embrace this trend now.
Live streaming on social
As well as creating and sharing interesting video, live streaming on social media is also an effective way to keep people engaged. Top social networks including Facebook and Twitter have added live streaming functionalities, so it makes sense to use them.
Love social media
Indeed, embracing social media full stop can be a real bonus. There are many things you can do from sharing relevant content to running live quizzes, FAQ sessions and competitions. The key to social media is constant engagement. You need a reliable social media team who can create buzz, handle media hype and deal with negative PR should it ever arise.
Embrace audio/podcasts
Remember, effective marketing must tell a story. It needs to captivate your audience and make them feel something for your brand. This can be done effectively through audio and podcasts.
Develop impressive visuals
People absorb information in many different ways. While some people like to read facts and sales messages, others prefer to see marketing messages in a visual format – so think carefully about your logos and perhaps look into imagery and infographics that best represent your brand.
Take a multi-pronged approach
Of course, the written word is still incredibly powerful. It can help convey the ins and outs of a promotional offer as well as give a deeper insight into your company as a whole.
Content marketing such as blogs, articles, web updates, eBooks and emails should be used alongside more innovative methods for a multi-pronged marketing approach – and don't forget to streamline all marketing materials to avoid confusion.
If you want to polish up your content marketing in 2018 and implement a diverse strategy that will get your audience hooked – Contentworks can help.
With out team of talented writers and marketers we help clients to repackage, repurpose and renew content.
Ready? Chat with our team now to get started.
Contentworks we always credit our sources.
Thank you to the following sites for providing great content:
https://www.impactbnd.com/blog/video-content-the-importance-of-video-marketing