In the last 18 months, our content marketing agency has seen fake news everywhere. In fact, it's flooding our channels in tsunami-like fashion! In a world where a falsehood reaches 1,500 people quicker than a true story it can be really hard to know what's real and what's just flat out nonsense! Made up testimonials, fake reviews, incorrect stats and PR material with fabricated promises and quotes all contribute to the fake news problem. So as marketers in the finance space how can you survive fake news?
Know What You're Dealing With
As a leading content marketing agency we never take our eye off the 'fake news' ball and nor should you! First things first, if you're writing articles, quoting facts or looking for juicy statistics, always cross-check the information to ensure what you're looking at hasn't been plucked from thin air. Let's look at an example of where you could have, perhaps, been easily fooled!
Twitter and the 'Don't Believe Every Tweet Campaign'
The latest fake news drama to hit the headlines involved social media giants Twitter. Twitter (at a first glance) appeared to be warning people of their own inability to police fake information. The 'Don't Believe Ever Tweet Campaign' featured a Twitter account, a YouTube video which starred comedian Greg Barris and fake quotes from Twitter CEO Jack Dorsey. Our content marketing agency team were even convinced for a while. The branding was on point and all seemed legit. But *shock horror* Twitter denied ever being associated with the campaign saying that those involved did not communicate with them first.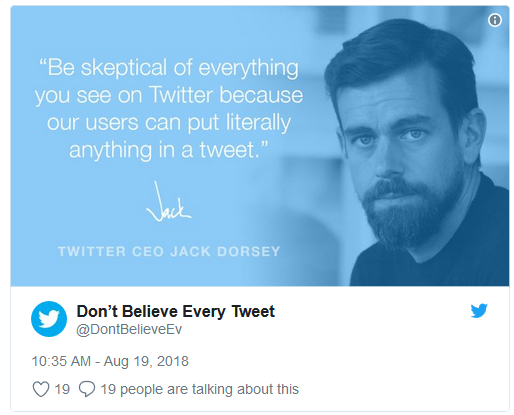 Takeaways 1: Choose reliable sources. Check, check and check again. Always cross-check information before publishing any content – even a simple tweet. This will help you to avoid embarrassment and maintain your credibility as a company.
Takeaway 2: Don't expect fake news to look dodgy or fake! Many fake news stories look like they belong and are written in an expert on-brand fashion.
Don't Create the Fake News You Hate
As a content marketing agency we believe it's important not to contribute to the 'fake news' problem. This means staying away from false information and not publishing:
Fake reviews and testimonials – as tempting as it is to give your company a 5-star rating, only genuine consumers should be allowed to assess your performance. That means you need to keep your target audience happy by upping standards.
Sensational / Clickbait headlines– Catchy is good, engaging yes. But overly sensational headlines that don't accurately represent the content that's to follow, should be avoided.
Bear in mind too that if all reviews are glowing, consumers are less likely to trust them. It is much more 'real' and honest to display the good with those which may not be as glowing. If you get bad reviews, reply in a positive way to show how improvements will be made. This shows you have your finger on the pulse and are willing to make changes.
Fake stats and statistics – Users are largely distrusting of what they read online. Therefore avoid making outlandish statements with made-up stats and statistics. If you're called out on publishing incorrect material, this could damage your campaign – and your reputation.
False promises – Your marketing material must be transparent and honest, particularly in the finance sector which is already governed by a string of tough rules. If you get carried away and make promises you can't keep your consumer retention rates will drop.
Generate Authentic, Interesting Content
When it comes to awesome content marketing that engages consumers and increases revenue – there's no quick fix. Sure, it's tempting to whack up some 5-star reviews and push out a host of press releases with fake quotes from a CEO that's never given an interview in his life. But in a world where people don't believe everything they read, it's much better to go down the authentic and inspired route. Not sure where to start? Here are some handy tips:
Go live! What better way to introduce your company and the people behind the scenes than with a live video? It's fun, engaging and will help you to generate a buzz before the event which should in turn be great for brand awareness.
Create explainer videos. When it comes to the finance and tech sectors, many innovations are so new they can be daunting to anyone but 'experts'. For this reason, explainer videos are a great way to communicate difficult concepts and problem solving solutions in a clear and concise way.
Encourage user generated content. This is a great way to involve consumers on your marketing journey and there are many ways to get the content you need . Think hosting photo competitions, live social media quizzes and perhaps reviews in return for a free demo account trial and such like.
Be active online. If you want to keep your followers interested, you must be active online and this usually means having a strong social presence. Don't be afraid to ask questions, start debates, retweet useful links and share your own original ideas. But whatever you do don't plagiarise or copy and paste in a parrot-like fashion in a bid to palm ideas off as your own.
Ready to reject fake news and get authentic with your content marketing? As a content marketing agency with extensive experience in finance marketing, blockchain marketing, producing top-notch whitepapers,we'll ensure you stay afloat. Without the fake news. Contact our team now.