With so much digital content available, our brains can shut down, resulting in poor engagement for brands. The inability to handle an overload of information is called infobesity. Information overload (also known as infobesity) is the difficulty in understanding an issue and effectively making decisions when you have too much information. So how can you get clicks, likes, shares and comments when everyone is so oversaturated? Here's how to revive engagement on your socials.
The State of the Digital Marketplace
To really understand what you're up against, it's important to check out the state of the digital marketplace. You might think what you're doing is amazing, but if you're pumping out anything mundane or generic, this will just flow into the content sea. Let the facts do the talking so we don't have to…
In 2025, it's estimated that the world will create, capture, copy or consume around 181 zettabytes of data (equal to 181,000,000,000,000,000,000,000 bytes. That's a lot of information accessible by almost anyone on the internet.
95 million posts are made on Instagram daily and over 1 billion Stories are posted every day across Facebook apps. 34 million videos are also posted to TikTok daily and around 500-hours of new videos enter YouTube every minute.
There are more than 600 million blogs and around 201 million active websites.
Britons scroll more than the height of the Eiffel tower on their mobile phones every month according to a recent survey, clocking up 519 inches of scrolling a day – just imagine how much content this equates to each hour.
Broken down like this, it's easy to see why people are distracted. They've so much to look at. But to boost engagement, you've got to clear consumer brain smog by being fresh, innovative and creative. It's all about stopping people mid-scroll and making brand engagement fun, rewarding and enticing. Here are some brands getting it right.
Ryanair – Boosting Engagement Through Humour
Content curation should be part of your social media strategy as finding and sharing relevant content can boost engagement. As well as industry-related content, you can also use social media listening tools to share positive brand sentiment, reviews, announcements, PRs and other content that will promote your company in a non-boastful or indulgent way.
Ryanair, takes a fresh approach to content curation. This is a brand that's well-known for sharing negative comments with a witty, sassy comeback and it's this strategy that sends engagement skyhigh. By using humour, the airline garners likes, views and shares in the thousands, all while creating a distinctive brand identity. Check out this quick-witted comeback. It received 1.4 million views, 11.4K likes and a host of fun comments – which also got engagement.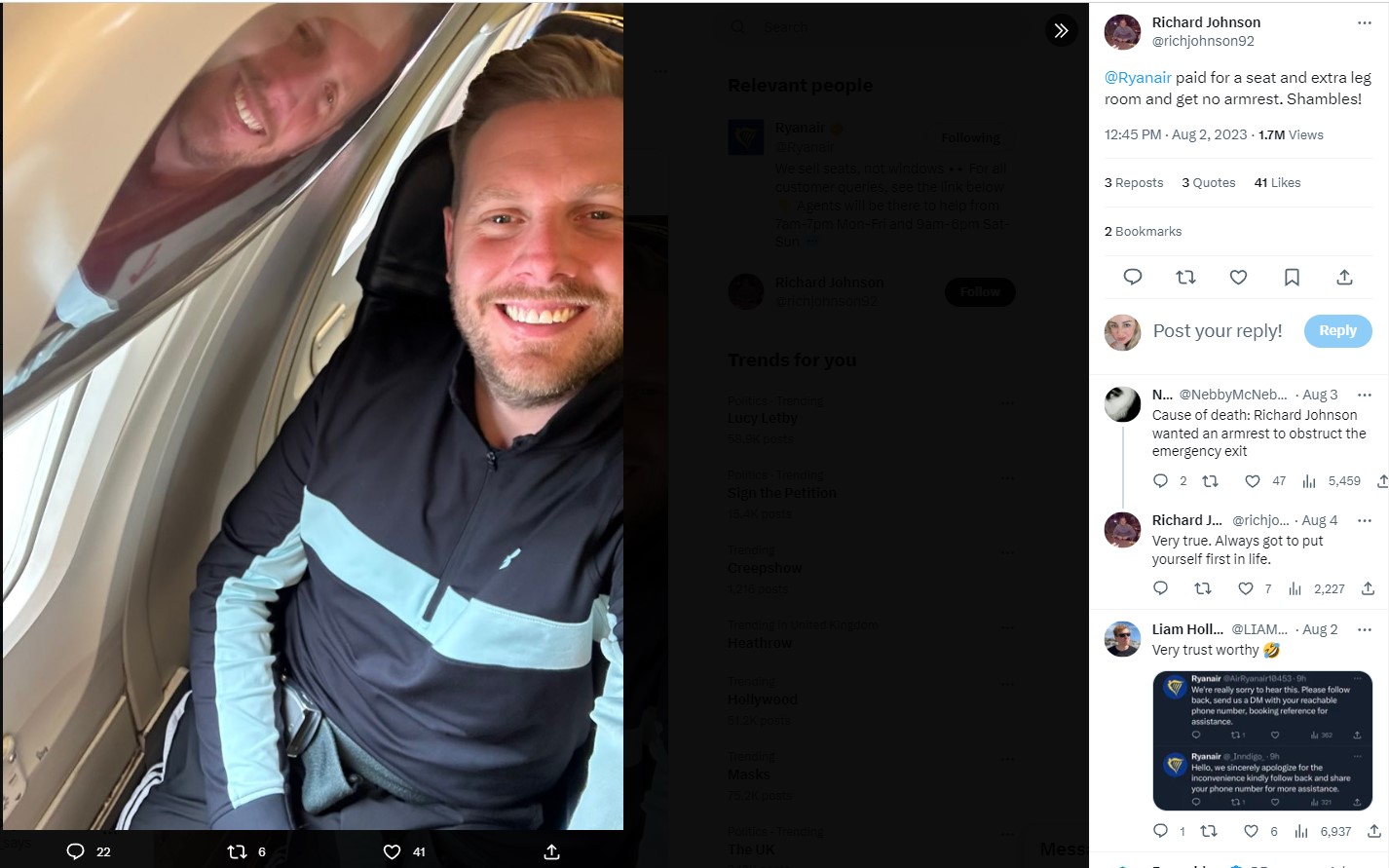 Now it's crucial to note that this level of sass won't work for every brand. If you're well-known for being super polite to customers, a comment like this would probably spark shock and a load of negative engagement. So don't suddenly change tact. It's all about creating a distinctive brand personality and being consistent across channels. If you manage this, people will start to expect and look out for your humour.
Ryanair uses the same strategy for content creation as for curation. In other words, they're just as playful and cheeky in order to encourage comments and get people talking. They're also not afraid to laugh at themselves. Their Instagram marketing, for example, regularly focusses on the brand's 'additional charges' –  but in a light-hearted way. The comments are flooded with appreciation posts about how the admins need a raise.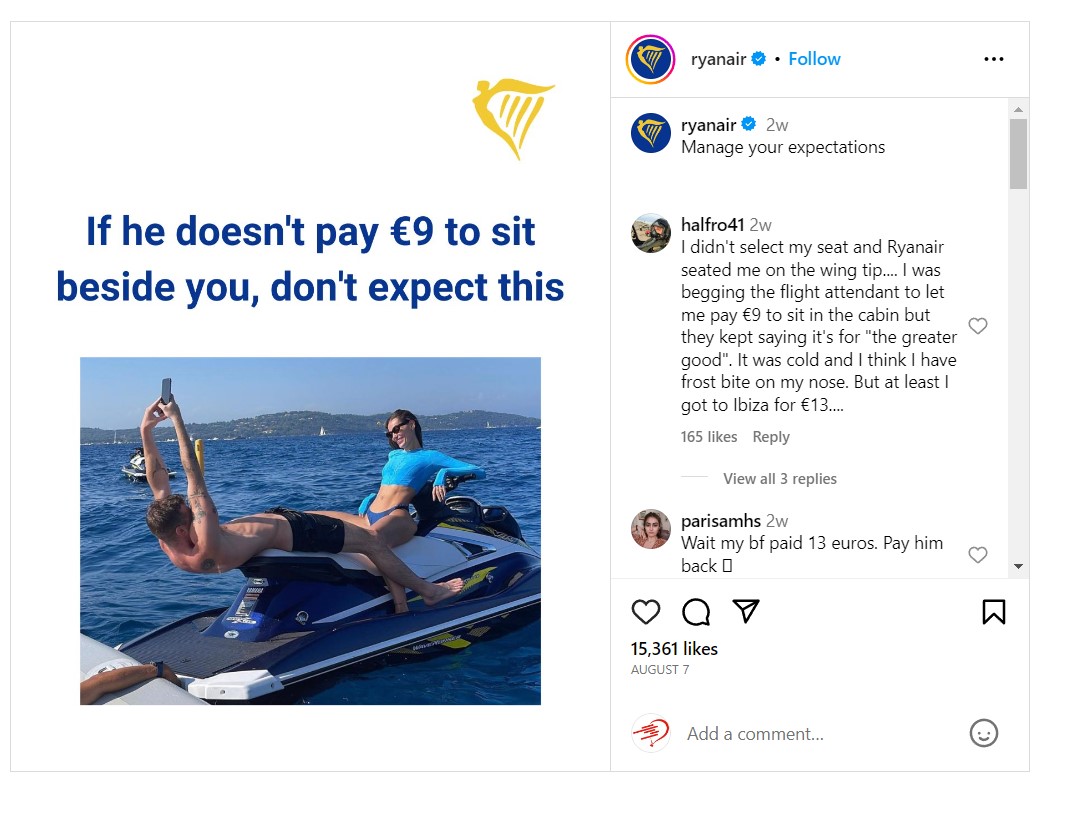 Ryanair also boost engagement by:
Keeping captions short and to-the-point. Remember, people are overwhelmed online. Say what you have to say quickly.
Posting huge visuals. These are harder to scroll past, particularly when they're funny and require at least a double take.
Replying and keeping the conversation going. Don't let the memento die down. Ryanair loves a witty reply.
Waitrose – Boosting Engagement with Trendy, Relevant Content
One of the best ways to boost engagement is by posting relevant content. Knowing what people are talking about and why, will help you create strategies that are brand appropriate yet fun for consumers. Not all trends will align with your brand. But if they do, you can incorporate them into your marketing efforts. Waitrose celebrated the Barbie movie in style by creating a Come On Barbie, Let's Go Shopping video. To date, this has racked up well over 7600 plays, 461 likes and a host of comments. It's also one of Waitrose's most-watched TikToks of the year.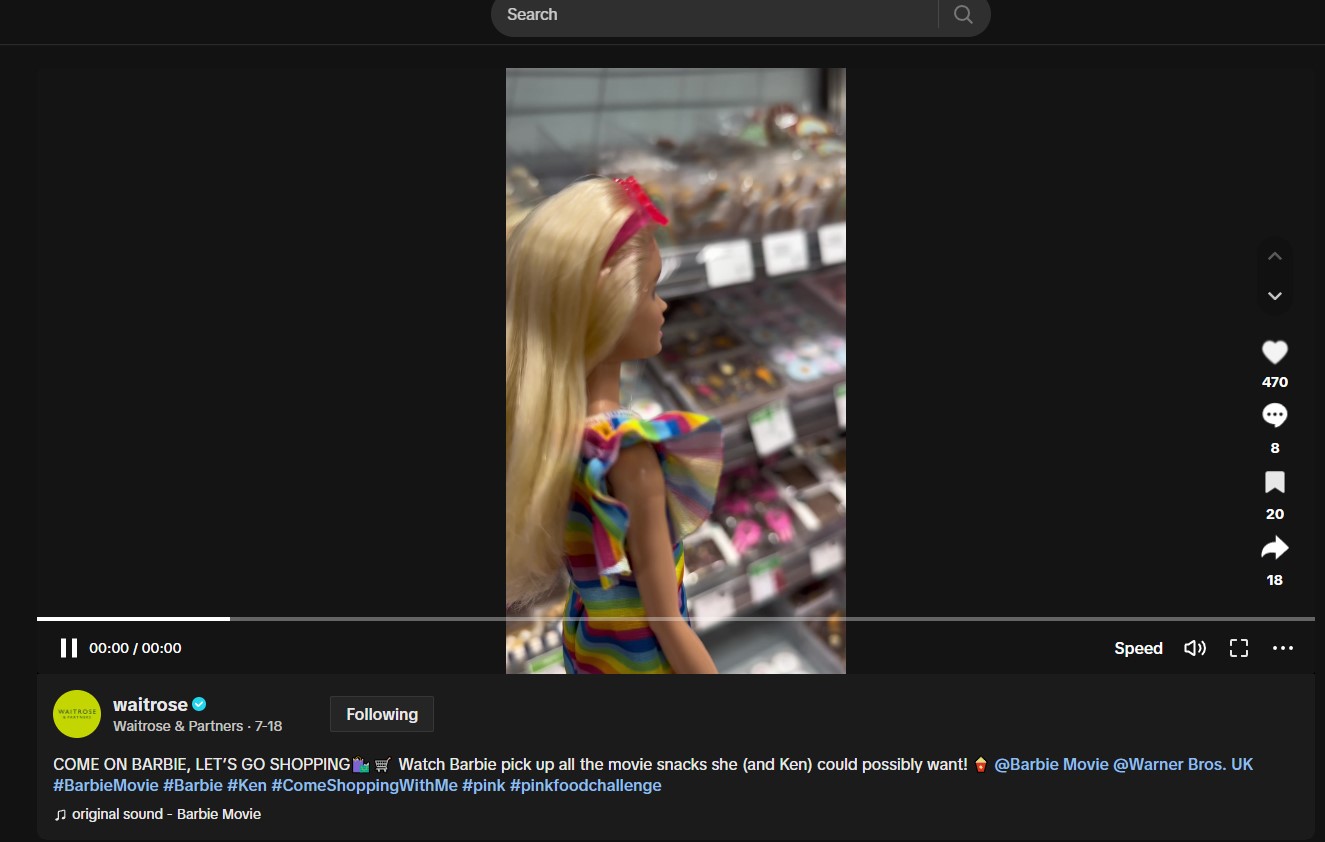 Remember, to boost engagement you should:
Create short-form videos. In 2023, the ideal video length on TikTok is considered to be between 15 and 60 seconds. This short-form format allows for quick and easy consumption, which is more likely to capture and hold viewers' attention.
Write readable captions. Use well-known phrases where necessary such as Waitrose's play on Come on Barbie, Let's Go Party as this slides off the tongue and is easy to read. Use capitals to make your captions stand out and separate caption titles from more descriptive content or hashtags by using emojis. Emojis are universal, require little explanation and make the caption easier to understand.
Tag relevant companies to boost brand exposure and to build connections with other TikTokers. Associating yourself with other top-tier brands can also work as social proof, helping to raise your profile online.
Use hashtags that describe your content. This will make your posts easier to find. Also, hashtags act as keywords that help TikTok's algorithm show videos to your target audience. If a consumer enjoys your content and interacts with it, they'll be shown more from your brand, thereby improving engagement.
Widen your net. Thanks to TikTok's algorithm, you can target people that may not have usually searched for your brand. It's all about using the right hashtag strategy. For example, this Barbie cake video from Waitrose includes #cake, #cakedesign #caketok and #partyidea hashtags. It's therefore telling TikTok that it's appropriate for anyone searching for party ideas and baking recipes as well as Barbie-themed products.
It's also likely to appear in the For You pages of people who have liked and shared similar videos, people who comment on baking videos or Barbie content and people who have interacted with organic content and ads with similar themes. While you don't want want to flood your posts with the # symbol, using relevant and carefully chosen hashtags can grow your audience and engagement levels. Try to find between three and five super relevant hashtags for each post.
Monzo – Boosting Engagement Through Collaborations
With the majority of Monzo customers being under the age of 34, TikTok is the perfect place to boost engagement. It is, after all, a Millennial and Gen-Z hub. The digital-only bank regularly posts fun and memorable videos that are easy for younger generations to connect to. This video, which shows how easy it is to run past your lunch in the fridge for a Greggs, got a whopping 2.7 million plays as well as a host of comments showing just how on the mark it was.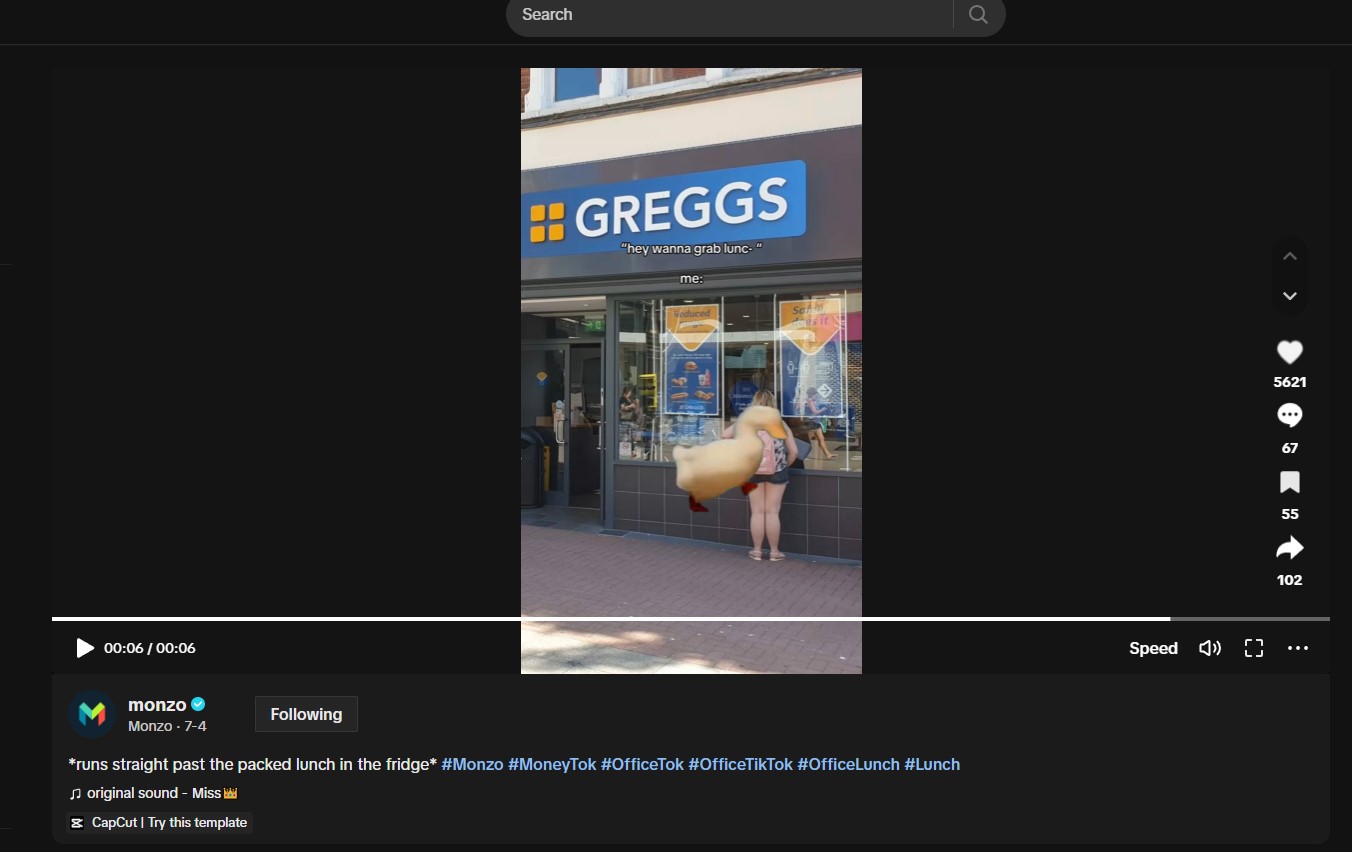 Now this could have been pot luck when it comes to interaction. But chances are, Monzo spent a whole bunch of time researching their audience to fully understand their day-to-day habits and spending preferences. This allowed them to create likeable content that resonated with followers.
In order to boost your own brand engagement, think about:
Creating consumer profiles. This will help you to understand your audience better and know who you're marketing to. Research is key here. Firstly, find out the basics such as age, race, sex, location. You can then delve further into digital habits such as where they shop online, what times they're online, what their preferred channels are and what searches they make. Next, it's about nailing down further. Do they have favourite brands, what are their hobbies, what sort of lifestyle do they live, how much disposable income do they have?
Use your own data, social media analytics, questionnaires, surveys, polls, feedback forms and other tools to generate the information you need. This will allow you to create campaigns that are much easier to relate to and engage with. It'll also help you find the right brands to collaborate with.
This leads nicely onto our next point. Monzo recently collaborated with M&S – a shop that's proved to be highly popular with Monzo customers. This cute little video showing the Monzo mascot shopping for viral M&S foods including Percy Pig smoothies  received 15.5K plays and 300+ likes, making it one of their most successful videos yet. It also attracted engagement from other big brands such as the Post Office.
Top Tip: When collaborating or referencing other companies, make sure that both brands are of interest to the consumer as this will improve engagement levels. Marks & Spencer has been the most popular retailer with Monzo consumers in the past and remains a big hit. Remember to always tag both brands so that the algorithm presents the content to anyone who follows both accounts as well as relevant content.
And lastly, remember to post at the right time for your audience. We utilise advanced social media management tools so we can get engagement for our clients all around the world. Read Charlotte's article on the best time to post on Instagram.
Revive your social media engagement with Contentworks. We manage socials for the top brands in the finance, fintech and tech spaces and we can do the same for yours. Book a free Zoom call with our team.