The eagerly anticipated Cyprus Fintech Expo 3.0 by IMH took place at the Hilton Park Hotel Nicosia on Thursday 16 January 2020. As media partner, Contentworks Agency was pleased to take an active role in the event, with Directors Charlotte and Niki both in attendance. From artificial intelligence, mobile applications, new finance companies, startup stories and a buzzing expo hall, the event was a great success. Here are our highlights from Fintech 3.0.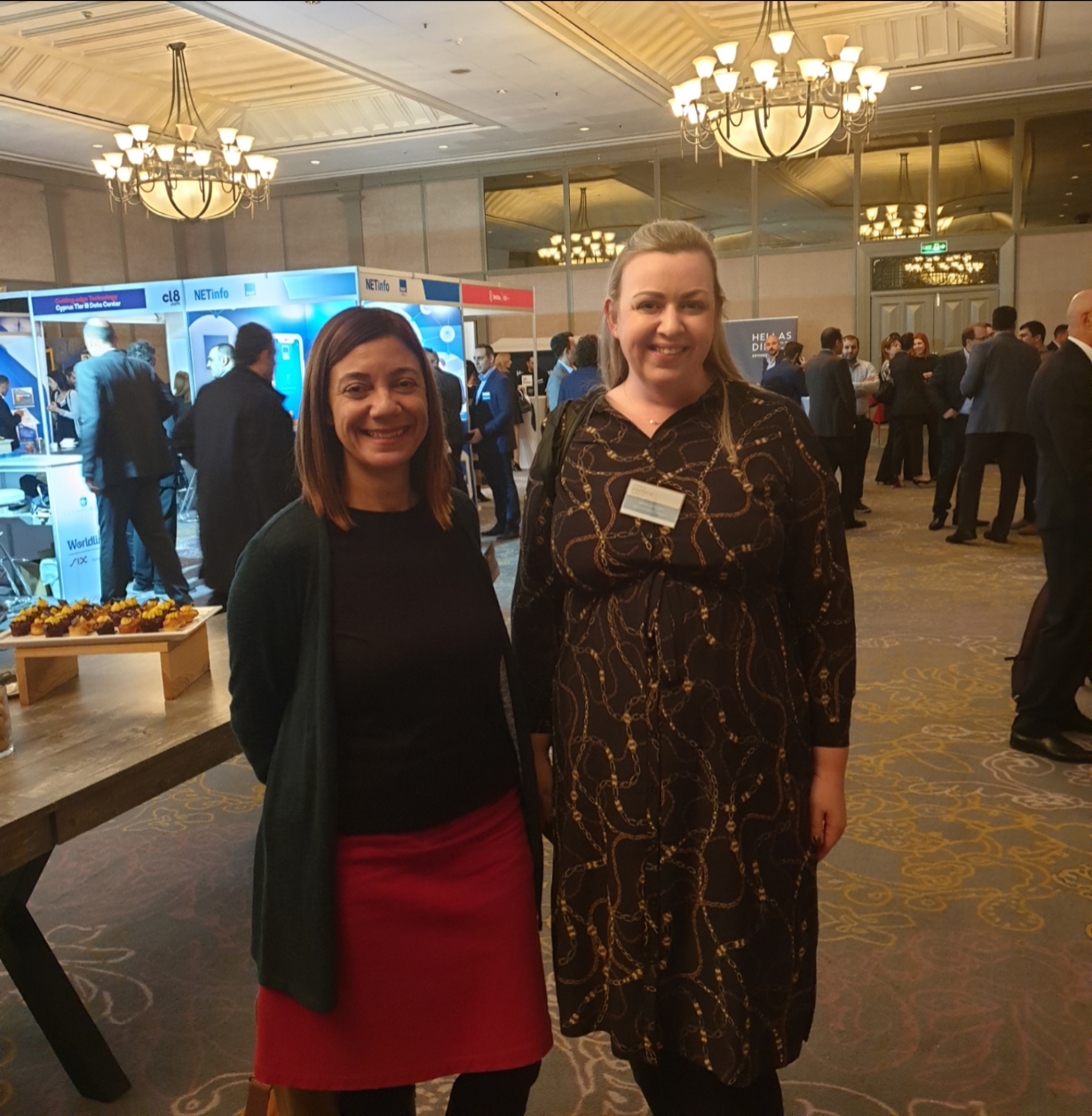 About The Event
The fintech ecosystem continues to evolve and traditional financial services try, often struggle, to adapt to the new market reality. What is the future of finance, what does the next generation of investors want? What are the new opportunities, risks and challenges that might arise? How will new technologies transform the customer experience and what will be the role of the customer in all this? Open banking, data regulation, digital signature, RegTech and new trends were all discussed at the Cyprus FinTech Expo 3.0.
The Sponsors
We spent time getting to know this year's sponsors. These included ATC, Cablenet, CRM.COM, G.A.P. Vassilopoulos Group & Worldline | SIX Payment Services (Europe) S.A., Hellas Direct, iSPIRAL, JCC Payment Systems, Mellon (Cyprus) Ltd, Priority, Zebra Consultants | Red Hat and Bolt, as well as high-profile exhibitors including CL8, EY, KPMG, Moebius, NETinfoPAY Ltd, NetU and Paysafe. Thank you to all the sponsors for ensuring the event was slick, well supported and attracted high caliber attendees.
The Social
Using #fintechexpocy, the Contentworks Agency Twitter team tagged sponsors and attendees, set up meetings, exchanged ideas with attendees and joined in with the online buzz. We were impressed with the responsiveness of many of the speakers, who retweeted, commented and participated in discussion. It's clear that the next generation of finance professionals are in residence and that's awesome news.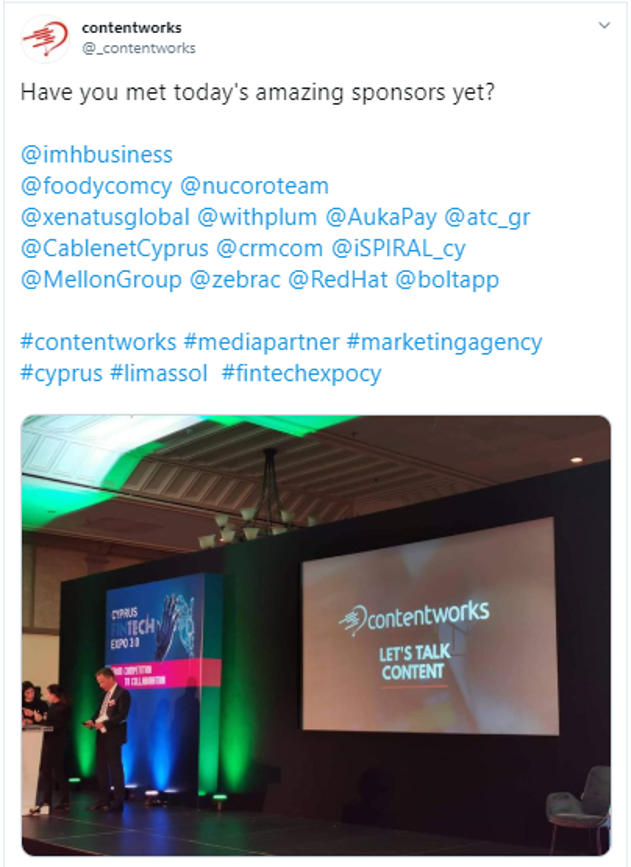 The Speakers
We loved the mix of speakers at the event. They covered topics like Cyprus as a Fintech Center, Fintech and Banking, Digital Payments and New Technologies. This structure ensured that there was a session for everyone including Cyprus start-ups, fintech newbies, anyone looking to learn more about fintech progression on this Mediterranean island. In addition to existing finance professionals looking to modernise their banking or investment procedures, embrace new technologies and listen to international fintech pros.
When Contentworks Met Elise Nunn, Head of Operations, Plum, UK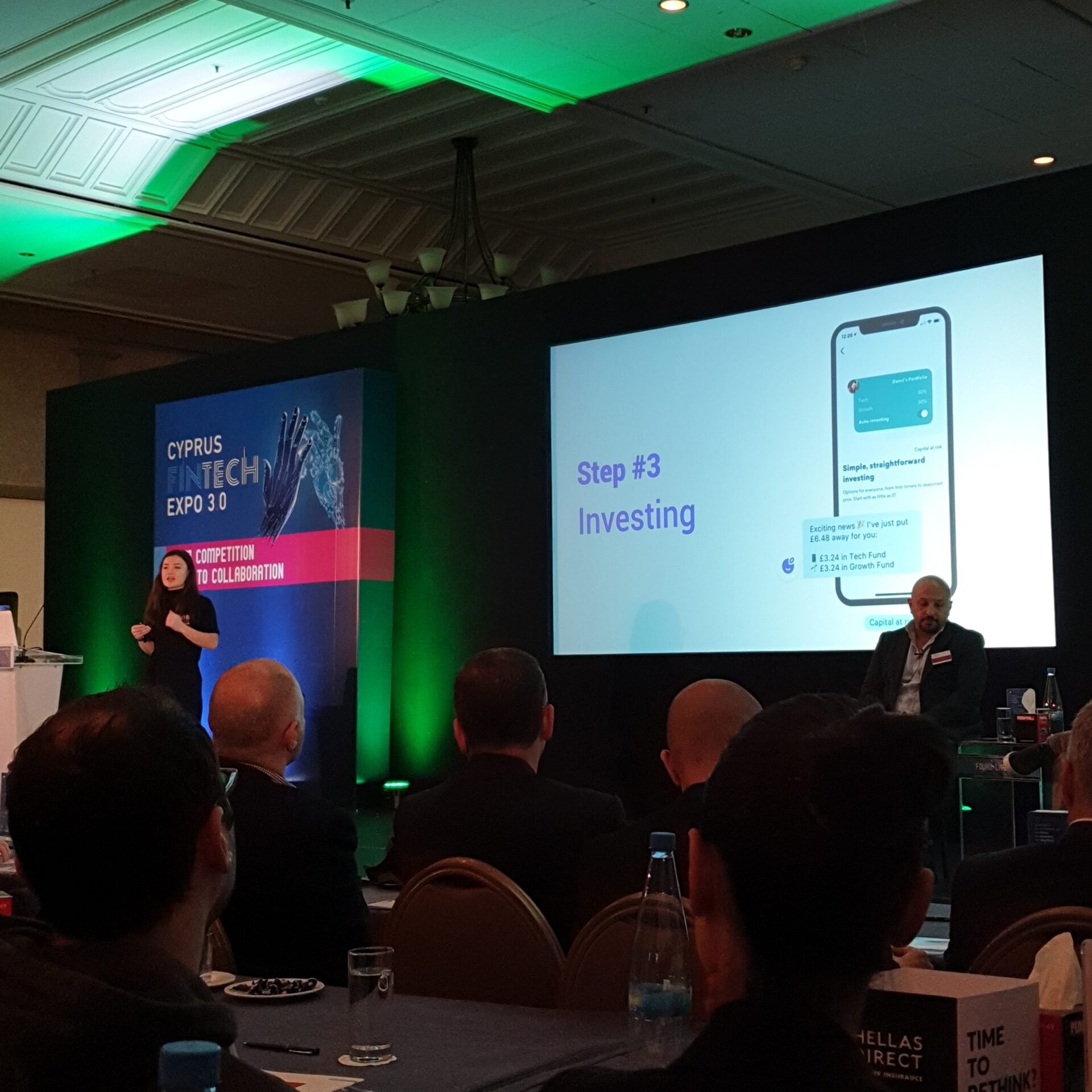 140m people in the EU have no savings at all. Plum is on a mission to fix this with its AI assistant that boosts your bank balance. Founded by Cypriots Victor Trokoudes and Alex Michael, Plum works by linking with your bank account and finding ways for you to have more cash. Its auto-saving, bill switching and investing features have already helped more than 650,000 people save. We loved the talk from Elise which focused on the story of Plum. By keeping her focus on individuals and Plum's benefits to them, she captured the attention of the packed speaker hall. Meeting Elise after her speaker slot, we gained some great insights into fintech in the UK and its expansion into Europe.

When Contentworks Met Argyris Argyrou, Founder, Foody.com.cy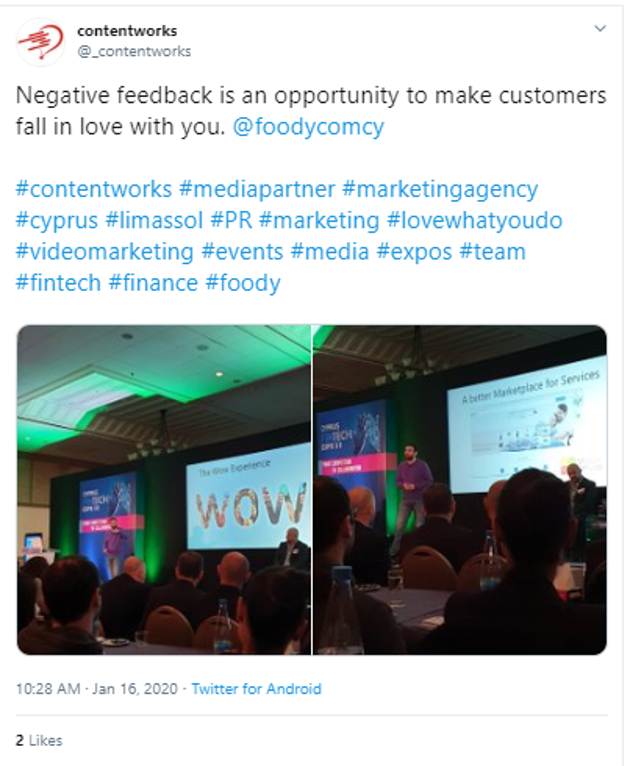 Argyris shared the story of Foody, a highly popular food ordering app in Cyprus used by the entire Contentworks Agency team (#foodies). The speaker spot by Argyris was interesting as he talked us through the early days, the failures, the mistakes and of course the current success of the app. Contentworks Agency director Charlotte caught up with Argyris after the event to learn about the company's future plans, upcoming marketing campaigns and to swap some startup tips. We won't give too much away, but needless to say, there are exciting things on the horizon for Foody!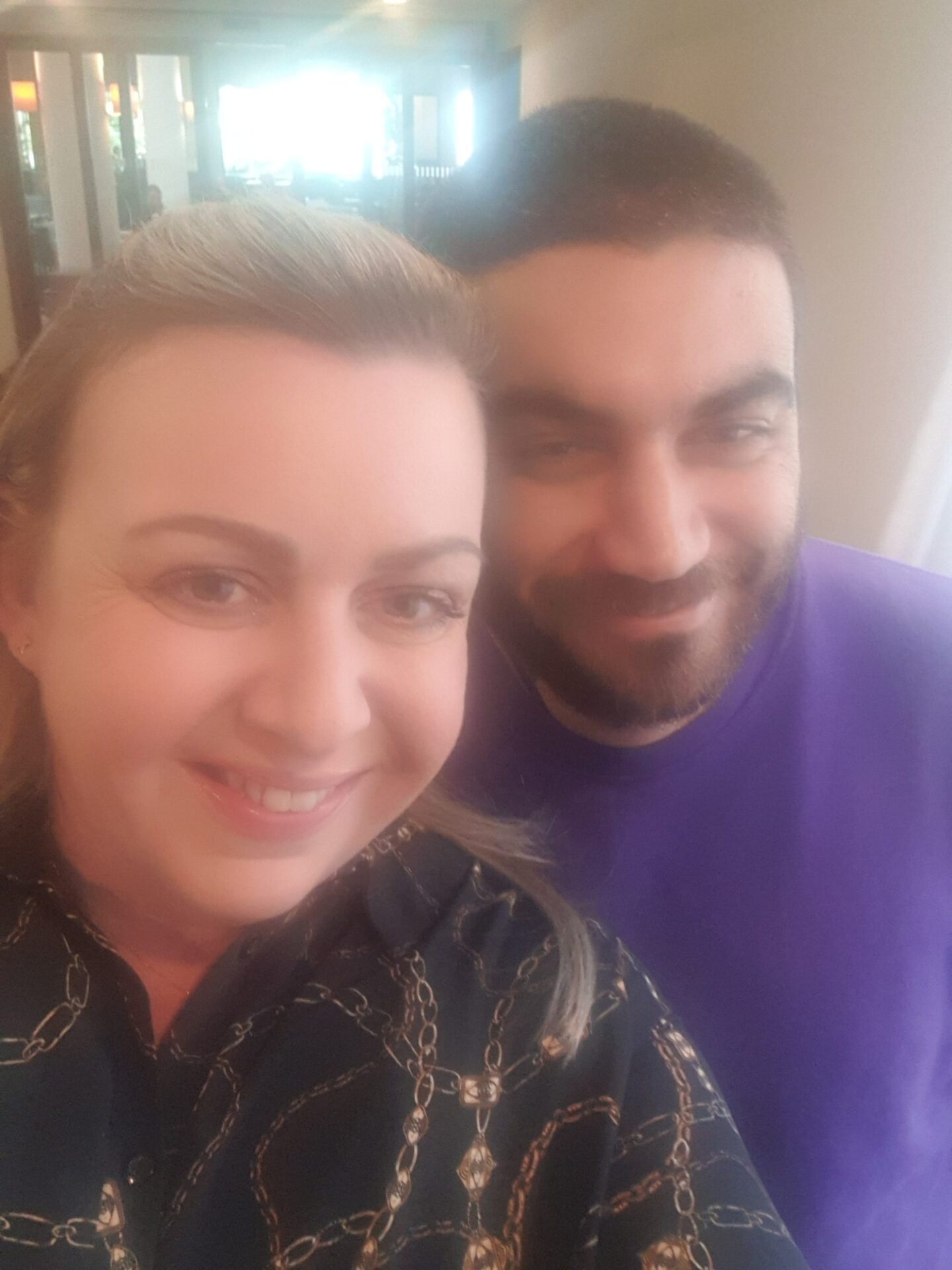 Other speakers at the event included Nikolai Hack, COO/UK MD, Nucoro, UK / Randeep Singh Buttar, CEO/Founder, Compliance as a Service, UK / Omer Porus, Senior Solution Architect, Red Hat, Israel, Andros Papageorgiou, CEO, CRM.COM / Christiana Aristidou, Leading Partner – Technology Business Lawyer, Christiana Aristidou LLC / Daniel Döderlein, CEO and Founder, AUKA, Norway / Dr Nicodemos Damianou, CEO, JCC Payment Systems / Christos Ttiniozou, Managing Director, iSPIRAL / Nikos Goutsoulas, Head of Financial Services, Athens Technology Center, Manu Moreno, CTO, BDEO, Spain / Lefteris Anastasakis, Senior Sales Director, PRIORITY. The speakers shared great insights into the fintech scene in 2020 and we particularly enjoyed their own brand stories.
A Great Networking Event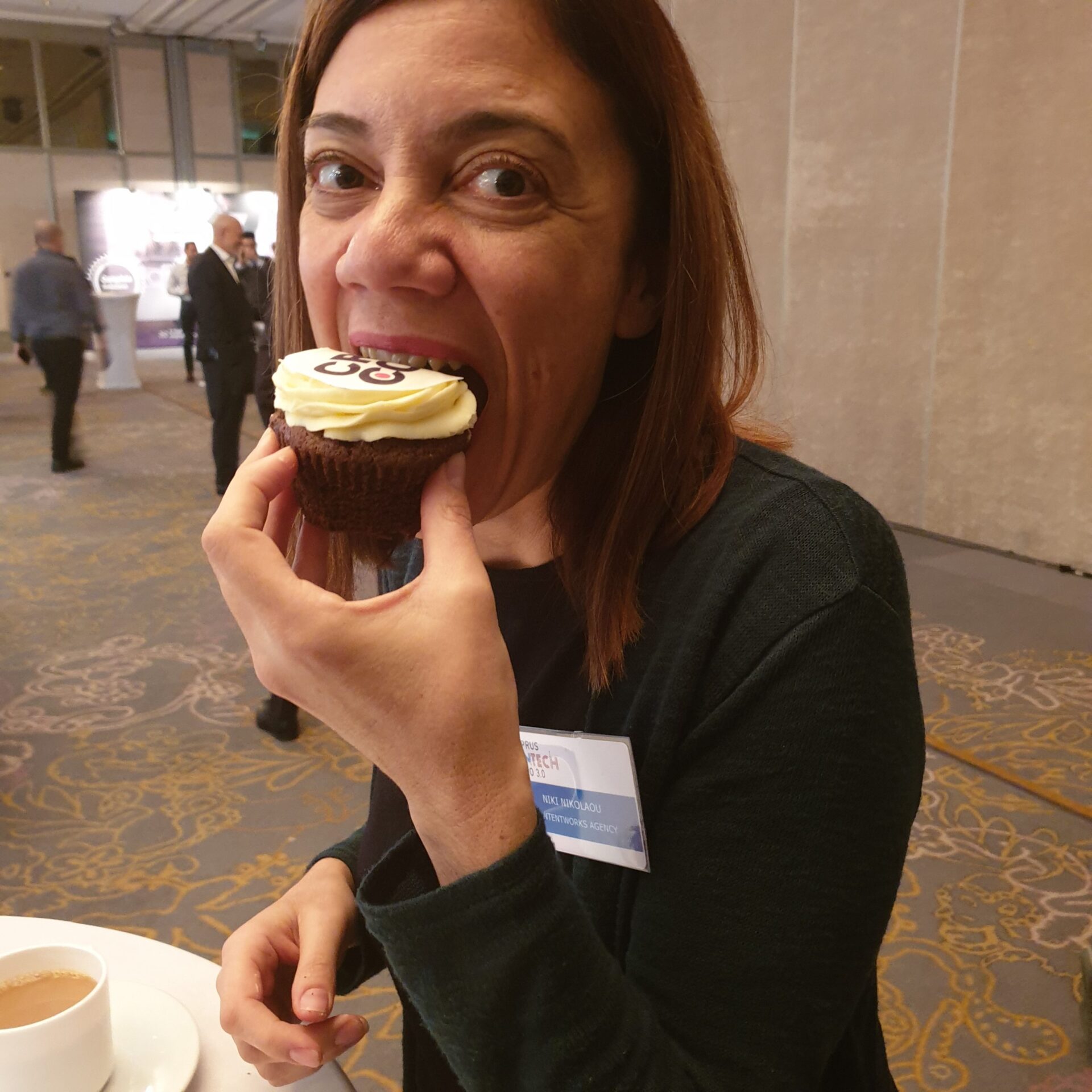 IMH Business organises great conferences with Fintech 3.0 being no exception. With well placed coffee breaks, a delicious buffet and a packed schedule, the event wowed attendees. In traditional Contentworks style, we sourced the largest cakes at the expo and found a quiet corner…Thanks CRM.Com!
We don't just go to expos to eat cakes.
Contentworks Agency Niki was interviewed by InBusiness live at the event and was asked What are your predictions for the fintech scene in Cyprus? and How is Contentworks Agency involved with fintech? Watch Niki's interview with Inbusiness below:
Contentworks and Fintech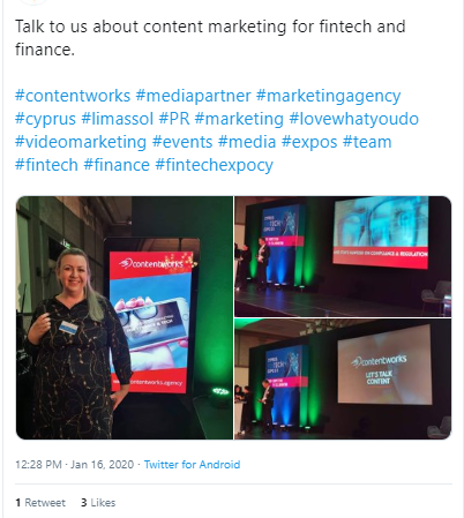 Fintech is Europe's largest investment category representing 20% of all global investments. European fintech companies have created over 2x more value than any other tech centre in Europe and there are already 236 fintech start-ups in Cyprus. As a marketing agency specialising in finance and fintech marketing, this is great news for us. Contentworks specialises in articles, whitepapers, video scripts, social media and more for fintech and finance. Contact us today to discuss content marketing for fintech.