You've made it halfway through the year and hopefully ticked off a good chunk of your 2019 to-do list, congratulations! But as a content marketing agency with a beady eye on the finance sector, we know Q3 can be strange. What with the summer period separating a busy sell-off period and a hectic September buy-back. The holiday season may have left you with a skeleton staff too. So, here are some forex marketing tips for Q3 success that you can action even as the mercury rises!
#1 Don't Waste Ad Budget
If you're experiencing a quieter period that normal, don't fret. Many traders have wandered off in search of sun and will return again at the end of the quarter. Therefore, don't waste money on salesy ads and pushy sales messages. After all, millennials hate banner ads and with 47% of internet users globally using some kind of ad blocker, you must find other ways to stand out from the crowd. Interestingly, "Too many ads", "annoying or irrelevant ads" and "intrusive ads" are the top three motivations for ad-blocking. Keep up your social media activity of course, but think of summer appropriate messaging and promotions.
#2 Be Summer Savvy
Did you know that 60% of summer travellers and 97% of millennials travellers share their images online? This means that social media is a big part of consumer lives even when jet-setting. So how can you use this to your advantage? Well, finance doesn't have to be all ironed shirts and straight ties. If you want to captivate the hearts and minds of your audience during Q3 it's a good idea to tap into the summer theme and be a bit savvy about it. Here's what you can do:
Follow and utilise summer trends and hashtags like #Wimbledon, #WomensWorldCup and #summer2019. There's no sense in sticking with the same rigid hashtags when your followers are elsewhere.
Run competitions that will keep your brand in the spotlight. Photo contests are ideal but be sure to provide incentives for traders to share their content. Live trading contests are also a great way to attract and engage consumers but be careful not to flout any rules!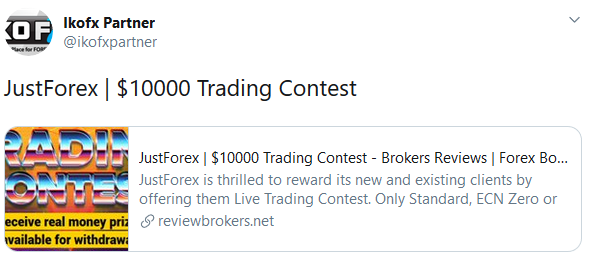 Believe it or not 56% of workers say they check in with the office while they're officially on vacation while 70% of professionals fail to break away from their day job. Breaking daily habits can be hard for traders and therefore you can tap into this need to remain 'in-the-know' by providing relevant and timely updates. Traders around the globe can and do take an interest in the markets while on vacay. So posting informative content that's easy to read will help to keep your brand in the picture during Q3.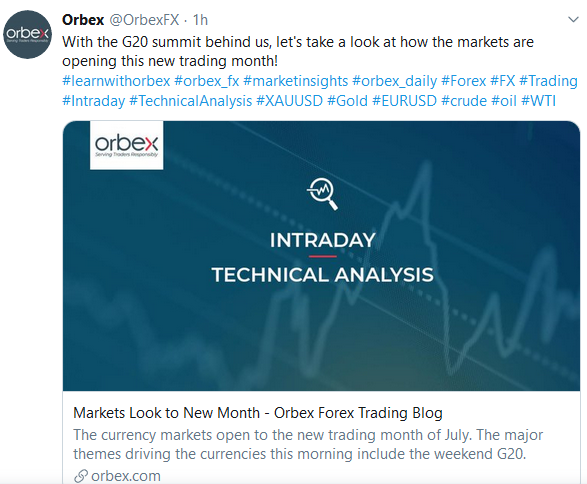 #3 Provide Clickable Content
Part of your forex social media strategy for Q3 should be to provide clickable content. Not click bait, but useful information that your audience will want to read. Linking through to blogs and articles is a great way to keep people on your site and with your brand for longer periods which is ideal for SEO helping to show that your pages are of interest. And with marketers who prioritise blogging efforts 13x more likely to see positive ROI, there's surely no time to waste. Blackwell Global shows how to construct a good and engaging tweet that is sure to drive traffic.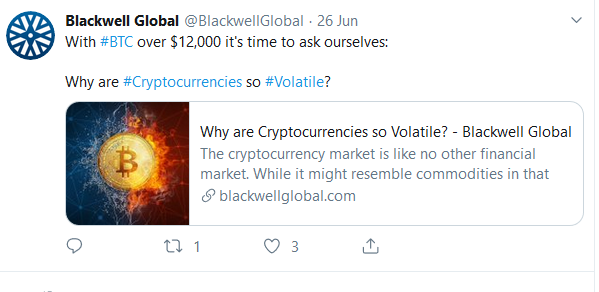 Top tip: Remember those all-important hashtags as they help make your posts easier to find.
#4 Be Authentic
86% of consumers prefer an authentic and honest brand personality on social networks and as the forex industry has struggled with trust issues over the years, this couldn't be more relevant. One of the best ways to do this on social sites is to introduce key players and team members as this give your brand a face making it easier for consumers to connect. You can also have some summer fun by sharing photos and news from your holidaying team members. If you can't beat them join them right?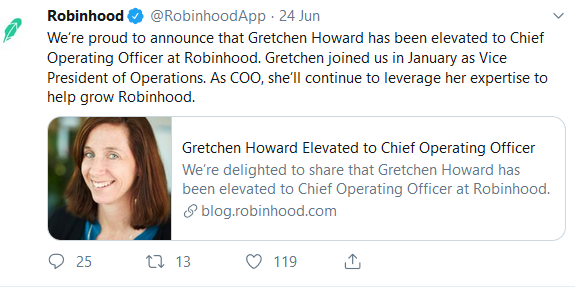 #5 Make the Most of Video
Video content must form part of your Q3 marketing strategy. It's a big deal as video is set to account for 80% of all online traffic by 2021. Indeed, 54% of consumers want to see more video from their favourite brands so take the opportunity to create video or go live whenever you can. 87% of marketing professionals use videos as a promotional tool with 66% getting more qualified leads per year. The average consumer spends 88% more time on a website with video so why not use the quieter summer months to make some great videos? Talk to the Contentworks Agency team about high quality video marketing.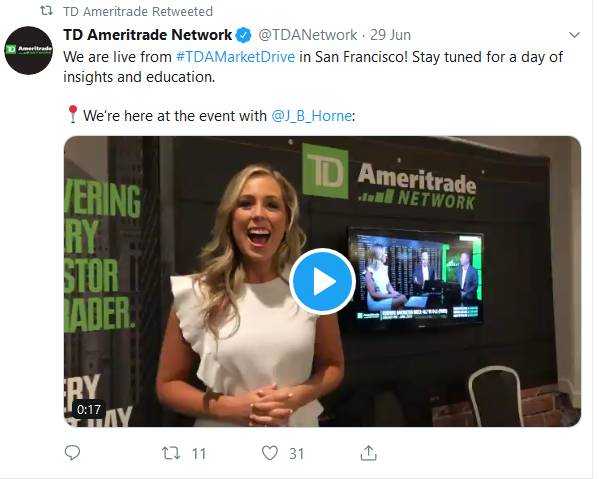 Top tip: Going live from industry-appropriate events is a great way to keep your followers informed and entertained. This video content can then be repurposed across your site, embedded into blogs or used to liven up a standard blog.
#6 Embrace Visuals
Studies show that people have the ability to recall 65% of the visual content that they see almost three days later. What's more, tweets with images get 18% more clicks, 89% more favourites and 150% more retweets. LinkedIn posts with 8 images are associated with more likes and shares too. 90% of information that's transmitted to the brain is visual, so embrace infographics and other forms of visually exciting content to communicate your information.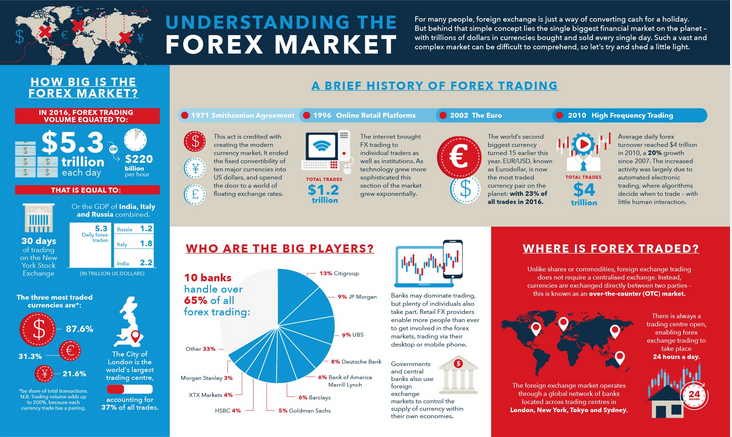 Top tip: If you go through the effort of preparing an infographic, don't forget to repurpose content. This might be taking a fact and sending it out as a tweet. Or writing a long-form article for LinkedIn about the stats you've accumulated. Articles of between 1900 and 2000 words work best on this site.
#7 Create Summer-Specific Landing Pages
Want to run a summer campaign for your forex company? Then start creating summer-specific landing pages. These are easy to track and won't displace any other content on your site. They can also be heavily optimised for SEO with relevant summer keywords. Remember that if you're upping your game in summer with competitions and summer-blogs,  your tone of voice must be on brand to ensure your marketing efforts remain consistent. And why not make a library of summer images for your social media? Check out this beauty from TIOmarkets..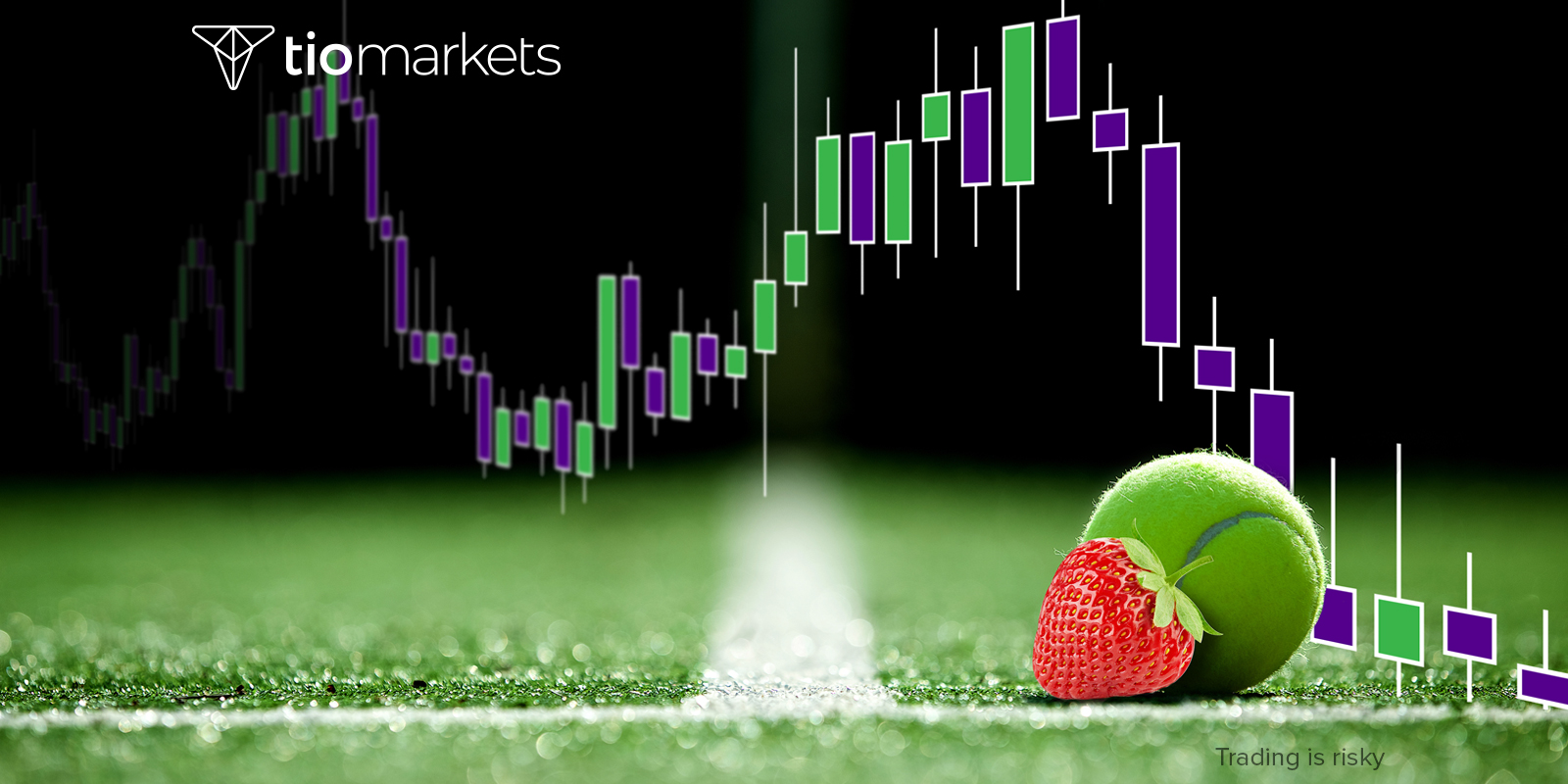 #8 Embrace Rules and Regulations
As you know, the forex industry is heavily governed. You don't want to be hit with a penalty, so make sure all of your Q3 content abides by the rules and regulations. GDPR has very strict guidelines on data protection, for instance while MiFID II provides clear instruction on not holding client information for longer than necessary. And don't forget those all-important risk disclosure messages.
Top tip: Be sure to keep up with the latest news! CySEC, for instance, has recently proposed three-tiers of leverage for retail clients. Different clients could use between 20:1 and 50:1 on major forex pairs and between 10:1 and 30:1 on major indices. If you're one of the forex companies now offering cryptocurrencies as a trading asset, staying on top of regulation updates is essential. The recent V20 summit resulted in a whole host of promises for the industry aiming to set a clear roadmap for crypto compliance. You can stay informed with our monthly Regulation Roundups feature.
So, in conclusion.. ice creams,pimms and perhaps a paddling pool at your desk are just fine. Switching off completely isn't. Contact the Contentworks crew today for help with your Q3 content marketing. Enjoyed our forex marketing tips? Share them with your colleagues and friends.