With Hong Kong FinTech Week taking place from 2-6 November 2020, the countdown is definitely on. At Contentworks, we're super excited to be a fintech media partner for this eagerly anticipated virtual event, set to attract more than 25,000 participants from over 70 economies. Over 300 speakers and 500 exhibitors are also lined up. So, what can we expect from this digital, week-long seminar? Join Contentworks as we countdown to Hong Kong FinTech Week.
'Humanising FinTech' Theme
This year's event will have a 'Humanising FinTech' theme. This is designed to reignite growth, build trust, and financially empower society and business in the post-covid era. Hong Kong FinTech Week has identified a golden opportunity to highlight Asia as an emerging engine for global recovery, while embracing a people-first approach. According to an official press release, the week-long event will explore how fintech can unlock the power of financial services to drive positive impacts for society and business.
Why Hong Kong?
Hong Kong is the ideal setting for such a globally renowned event, helping to reignite the industry and drive innovation. According to the Director-General of Investment Promotion at InvestHK, Mr Stephen Phillips:
"Fintech is the enabler for a new era of financial services, empowering society and businesses in a time of critical need with greater financial reach, inclusion and access. Hong Kong, as one of the world's major fintech hubs, is reigniting growth in Asia and driving positive change for society and businesses."
The Head of FinTech at InvestHK, Mr King Leung, said:
"Hong Kong FinTech Week 2020 also highlights the strength and resilience of Hong Kong's fintech ecosystem, which continues to provide leading fintech ventures with free-flowing capital to scale, world-class talent, regulatory collaboration and the ideal testing ground to prove the value of their innovation to consumers and businesses. The event itself is business-driven for potential deals and partnerships."
Chief Fintech Officer of the HKMA, Mr Nelson Chow added:
"Hong Kong has a thriving fintech scene: a highly integrated network of start-ups and investors, a large market of technology-ready consumers hungry for innovative solutions, and a host of conducive fintech initiatives. Besides, the city's connectivity with other Asian capital cities and proximity to Mainland China have made it the centre of Asia's vibrant fintech ecosystem. Hong Kong FinTech Week is going to be held virtually for the first time, and the HKMA looks forward to meeting fintech enthusiasts from all around the world."
Attendees can also expect…
An Advanced Virtual Platform
This year's Hong Kong FinTech Week will take place via a virtual platform which will unite people across the globe. The virtual platform will comprise five channels and focus on the resilience and development of Hong Kong and the Guangdong-Hong Kong-Macao Greater Bay Area as well as future fintech trend and finance sector growth opportunities. The event uses cutting-edge technology to create a reinvented event experience complete with AI powered matchmaking, live chat networking and Hong Kong cultural side events.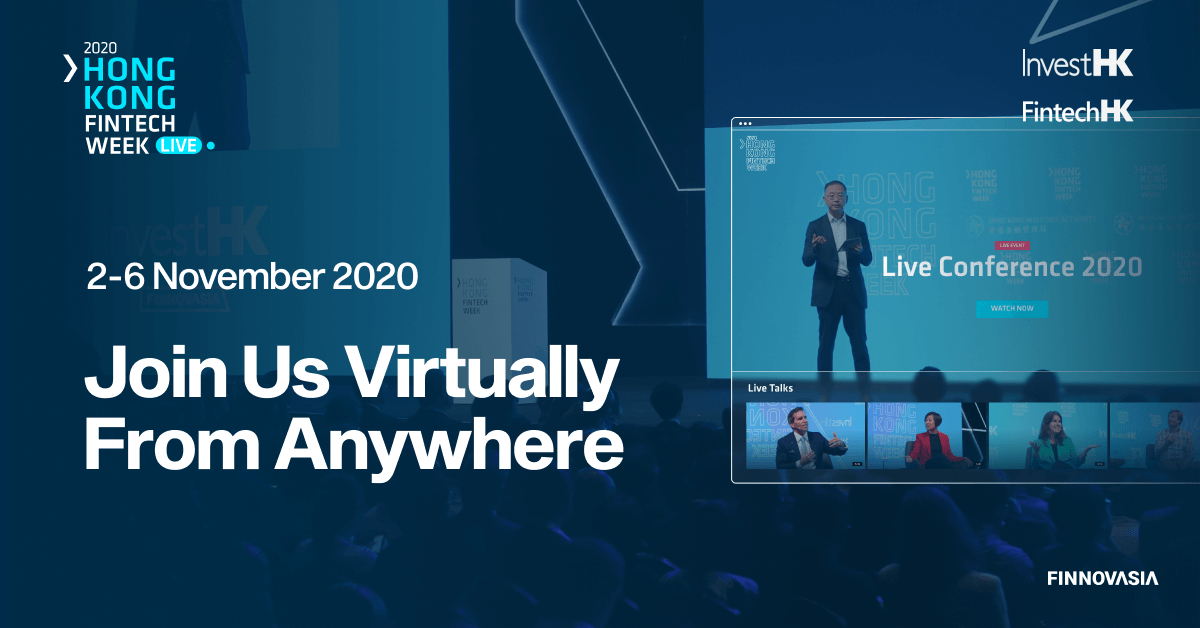 Culturally Rich Content
There will be a whole lot of surprises, with culturally rich content welcoming people to Hong Kong virtually from across the globe. As fintech media partner, we wanted to get some of the juicier details leading up to the event. So, we asked the following question during the official Hong Kong FinTech Week press conference: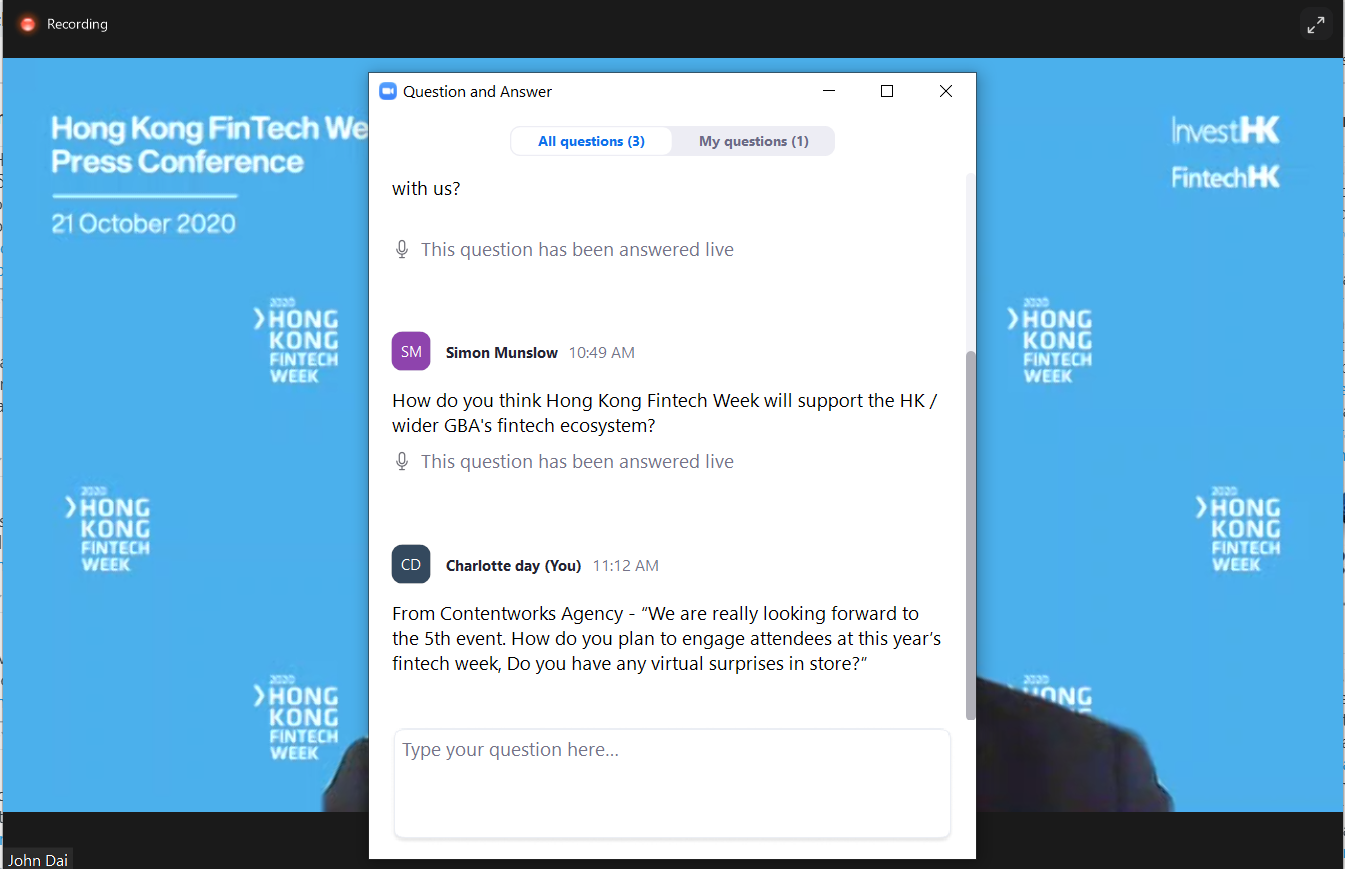 "We are really looking forward to the 5th event. How do you plan to engage attendees at this year's FinTech Week? Do you have any virtual surprises in store?"
And this is what we found out. Organisers have thought carefully about how to enhance the experience of attendees. In normal circumstances, those attending would travel to this event and learn first-hand what it's like to be in Hong Kong. But with enforced lockdowns making physical events impossible, the digital event will provide a taste of Kong Kong's warmth and hospitality from a digital setting.
Aside from the program which will run daily, attendees can also enjoy:
Insider information about some of Hong Kong's most exciting food places.
Virtual yoga instructors designed to keep everyone flexible after sitting for a long time in front of a screen.
Insights into Hong Kong's tea ceremonies with a modern twist. Learn about local drinks and how they're infused with local herbs to achieve a mouth-watering taste.
Mandarin classes to explain the names behind specific companies and phrases.
Relevant Fintech Discussions
Governments, regulators, and finance leaders will join investors, founders, and entrepreneurs from world-leading fintech players such as those listed below to discuss fintech trends and opportunities in the post-Covid-19 era.
General Manager, Bank for International Settlements, Mr Agustin Carstens
Founder, Co-chairman and Co-Chief Investment Officer, Bridgewater Associates, Mr Ray Dalio
World leading investor and futurist Mr Ray Kurzweil
President, Tencent, Mr Martin Lau
Chairman and CEO, Sinovation Ventures, Dr Kai-Fu Lee
Founder, DST Global, Mr Yuri Milner
Investment expert and author, Mr Jim Rogers
Steward, Sequoia Capital; Founding and Managing Partner of Sequoia Capital China, Mr Neil Shen
Co-CEO, Ping An Group, Ms Jessica Tan
Governor, People's Bank of China, Mr Gang Yi.
CEOs and leaders from the HKMA, the SFC, the IA, Hong Kong Exchanges and Clearing, AMTD Group, Blackrock, Fidelity International, HSBC, JPMorgan Chase & Co, Nasdaq, Standard Chartered, WeBank and more will also participate in the event.
View the full line-up of speakers here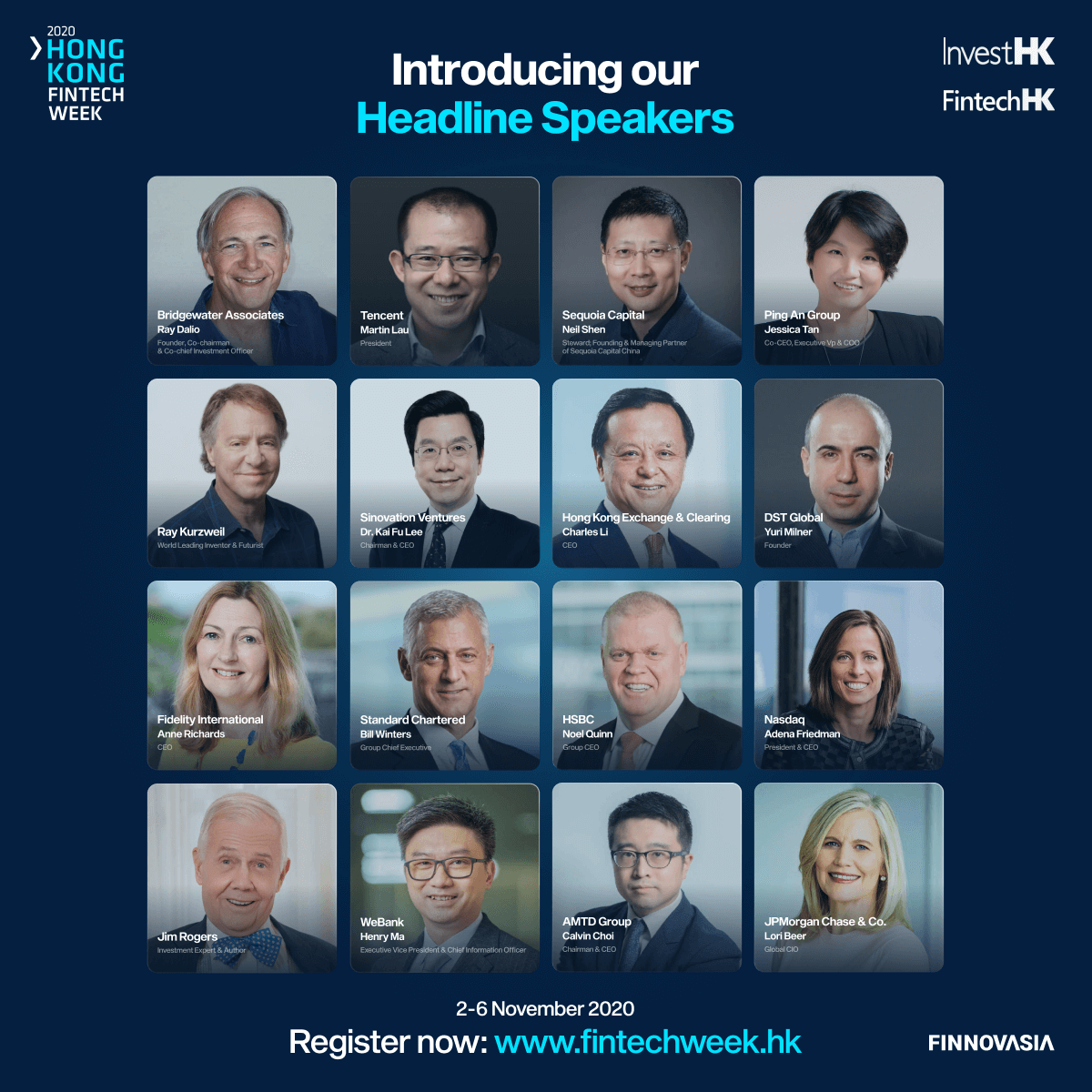 Sponsors and Partners
The event will attract a wide range of sponsors and partners including InvestHK, AMTD, Asia's leading digital asset platform, Citi and Thomson Reuters.
As a reputable marketing agency with extensive experience providing content for the fintech and finance sectors, Contentworks will act as fintech partner for the event with upmost expertise. Having worked with top brands such as NEC, creating a wide range of fintech related content including websites, video scripts, PR material and more, Contentworks can meet the demands of this high-profile industry event.
Follow Contentworks on Twitter for updates from the event, speaker news and breaking industry updates. You can also contact Contentworks Agency for 10% off tickets.