Contentworks is revealed as fintech media partner for Hong Kong Fintech Week which will take place from 2-6 November 2020. In light of the pandemic, this eagerly anticipated event has moved online and will digitally welcome international attendees from over 70 economies and feature live broadcasts from over 350 speakers. Let's look at what the event's all about and why you should definitely be attending.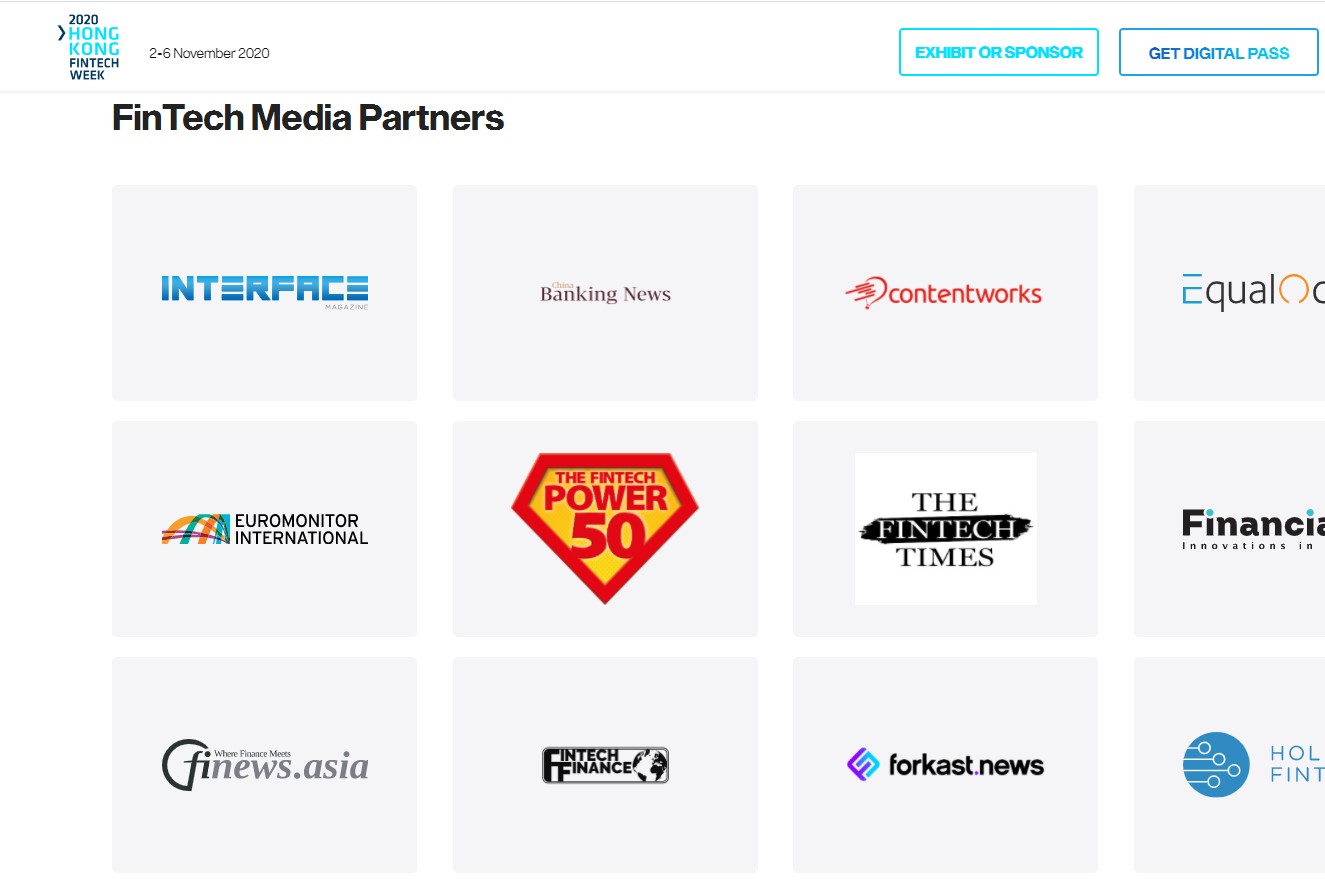 Hong Kong Fintech Week – What to Expect
Attracting over 25,000 attendees and 300 exhibitors, the fifth edition of Hong Kong Fintech Week is set to be a virtual event like no other designed to completely reinvent your previous event experiences. Offering access online from wherever you are, the event will feature live broadcasts from industry experts. That's in addition to dozens of fintech masterclasses and workshops which will explore the latest trends and developments in the fintech sector.
Join thousand of fintech entrepreneurs, investors, regulators and visionaries from across the globe and discover what will help grow the global fintech market from a valuation of $127.66 billion in 2018 to $309.98 billion through 2022. The programme will touch on everything from the fintech global outlook to specific segments of the fintech industry including retail banking and what the future holds for payments. Find out how to build a payment network through blockchain and learn more about the significant role of AI in the battle for customer loyalty.
Other subjects to get your teeth into during the fintech week include; the InsurTech trajectory, RegTech considerations including addressing cybersecurity in a modern world and important questions such as – How will digitisation progress in a post-covid world?
An Exciting List of 2020 Speakers
When industry minds come together, the result is spellbinding and with a confirmed list of expert speakers for Hong Kong Fintech Week 2020, there's every reason to be excited. Some of the biggest names in the industry will broadcast their views with the line-up featuring: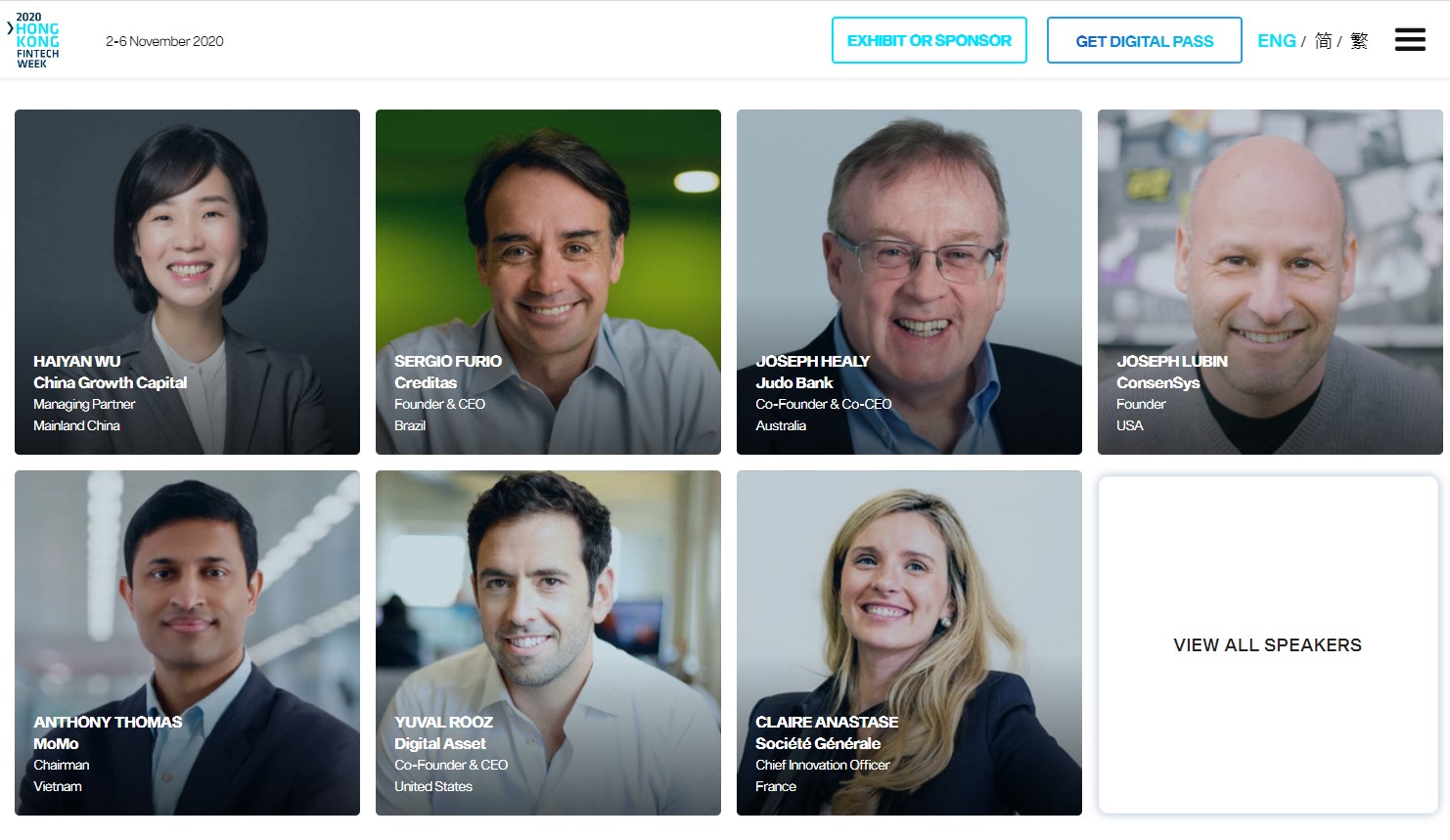 Jeremy Allaire – Founder and CEO of Circle
Arif Amiri – CEO of the Dubai International Financial Centre
Henry Ma – Executive Vice President and Chief Information Officer of WeBank
Antony Jenkins – Founder and Executive Chairman of 10x Future
Joseph Lubin – Founder of ConsenSys
View the full line-up of speakers here
A New Digital Event Platform
Wave goodbye to boring, buggy webinars and tedious zoom calls and say hello to a brand-new digital event platform. Get access to high-quality content without any boundaries and dip in and out of the live talks that suit you and your business the most – live streamed from across the world to your region. Hear from China's fintech giants, meet the world's top virtual bankers and be among the first to explore opportunities to scale in China's Silicon Valley – the Greater Bay Area region with over $1.67 trillion GDP.
Hong Kong Fintech Week will also allow you to digitally meet some of the world's top angel investors and hear from top founders of Asia's fastest growing fintech companies and unicorns as well as virtual banks and digital only insurers, payment and lending innovators. Considering digital payments are one of the main driving forces of the fintech sector with the total value of transactions expected to reach $6.7 trillion by 2023, there's sure to be plenty of valuable insights and insider information.
Impressive Networking
Covid-19 might have drawn a line under physical networking, but that doesn't mean you can't still interact. Hong Kong Fintech Week has pulled out all the stops to ensure this is an event to remember, with the new AI-powered matchmaking event app making it easy to meet relevant people and achieve your business goals. Virtually meet with hundreds of potential buyers, clients, investors, start-ups and regulators and grow your business while respecting socially distanced guidelines. The event's Global Fast Track Programme is also ideal for B2B matchmaking and you can register through the webinar.
Meet 300+ Fintech Start-Ups
Get inspired by live demos from hundreds of fast-growing fintech start-ups and scale-ups from around the world. Discover fresh new ideas and learn how the fintech industry is set to tackle issues such as regulation and driving payments into digital wallets.
Sponsors and Partners
The event will attract a wide range of sponsors and partners including InvestHK, AMTD, Asia's leading digital asset platform OSL, WeLab, Swift and more. As a reputable content marketing agency with extensive experience providing content for the fintech and finance sectors, Contentworks is ideally placed to offer support to the event. Having previously partnered with high profile events such as iFXEXPO, Financial Innovation 2019 and Decentralized, the team is looking forward to all the exciting insights this event will bring.
Follow Contentworks on Twitter for updates from the event and speaker news, you can also tweet us for 10% off tickets.