We love networking here at Contentworks and the upcoming Decentralized 2018 conference – which will take place from 14-16 November at the Divani Caravel Hotel in Athens – will enable us to meet some of the brightest minds in the finance and technology sector. The emergence of disruptive blockchain and crypto-related technology is sure to fuel many interesting conversations and we're thoroughly excited to be part of this eagerly anticipated summit. Plus… drumroll… Contentworks will be media sponsors for this exciting event. Bring it on!
Hosted by the University of Nicosia

The event follows the highly successful Decentralized 2017 networking conference and will be organised by the University of Nicosia (UNIC)– a leading global establishment in the blockchain and crypto field. As pioneers for innovative tech, the university is leading the blockchain revolution in Cyprus and is the first to offer a cryptocurrency course taught by Andreas Antonopoulos and Antonis Polemitis.
Milton George Head of Blockchain Marketing Initiative at UNIC told Contentworks:
"Decentralized is the largest and most in-depth event of its kind in Europe focused on the business and political implications of blockchain technologies. This year it will feature over 1200 attendees and more than 70 world renowned industry leaders from the Blockchain Industry such as Dr Larry Sanger (Wikipedia Co-Founder), Eva Kaili (Member of the European Parliament), Spyros Margaris (FinTech Expert) and Garrick Hileman (Head Of Research – Blockchain). Our goal is to make Decentralized the leading international blockchain-hub with chapters all over the world."
Not that we're at all excited…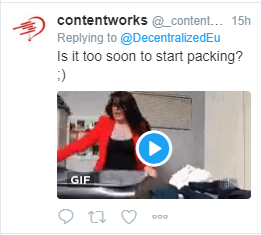 A rise in blockchain events
The conference follows a rise in blockchain-based events both in Cyprus and across the world. The recent iFXEXPO which took place in Limassol from the 22-24th May 2018, for instance, focussed largely on the blockchain revolution and the need for high-quality content in light of the recent 'financial services' ad bans. Talk about being in the right place at the right time (smiley face). Regulatory restrictions have encouraged companies to promote their products in a compliant yet interesting way – which has certainly kept us busy (not that we're complaining).
Contentworks and disruptive tech
And if you've not yet realised yet, we have quite a soft spot for blockchain and crypto products! Based in Cyprus – a well-renowned trading hub – we've seen first-hand how blockchain and crypto developments are evolving the finance sector with many companies now offering crypto-related products including a plethora of tradable digital tokens and crypto CFDs.
As a marketing agency, we've had the pleasure of working on many high-end ICO and blockchain projects and have enjoyed exciting collaborations along the way. Highlights to date include taking on the smash hit video script for Trade.io which helped them to raise 31+ million. We've supported a wide range of industries with their blockchain projects from gaming and entertainment to fintech and the pure research end of blockchain. The breadth of industries this technology touches on makes our job a lot more inspirational and fun overall.
Looking forward to Decentralized 2018
As our involvement with blockchain technology increases, we are keen to attend popular conferences such as Decentralized 2018 to ensure we're always up-to-date with all the latest innovations and revelations. The industry evolves at a rapid rate and we tend to stay on top of all blockchain/crypto developments in order to provide our clients with the very best insights possible. Our extensive knowledge is always reflected in our content which is designed to be intelligent, easy-to-undersand, engaging, forward-thinking and unique to your business.
Are you attending Decentralized 2018? If so, contact us to arrange a meeting with the Contentworks crew, we'd be thrilled to meet and discuss potential collaborations.