It's been a great year for the Contentworks Agency team which has grown substantially since its launch in January, adding team members and growing its client base. But the year is definitely not over yet because on November 30th 2017 Contentworks sponsors the 14th Digital Marketing Forum in Nicosia, Cyprus.
About The 14th Digital Marketing Forum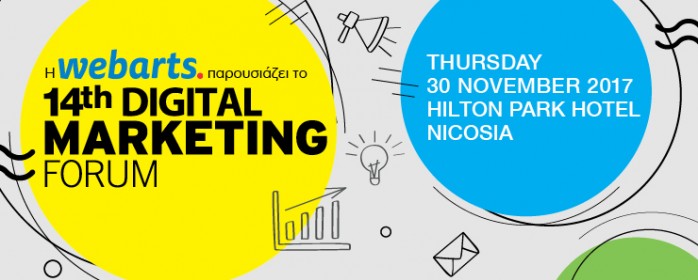 The 14th Digital Marketing Forum aims to help digital marketers equip themselves with the means to address the challenges of their ever-changing profession. It also aims to shed light on the latest trends and techniques for formulating an effective digital advertising strategy – the most powerful form of advertising. Well-known speakers from Cyprus and abroad will be present to share their experience and knowledge to give a fresh perspective on how to choose the best channel for maintaining reputation and reaching customers, how to boost sales and how to create an understanding on the technology needs for effectively marketing and translating those needs into roadmaps for development.
Why Is Contentworks Agency Sponsoring The Event?
Despite being a global agency, Contentworks Agency supports the initiatives of the Cyprus community in bringing together digital marketing professionals for great networking events. We are also a sociable agency and we love to grab a coffee with our clients, colleagues and other agencies on the island. As an official sponsor, Contentworks is giving visitors the opportunity to meet the team, get to know our agency and talk about their content marketing needs.
Event Details
Thursday, 30 November 2017, 8:30 – 14:00
Hilton Park Hotel, Nicosia
Presentations will be in Greek and English
Tickets available here
Who Should Attend?
We hope you will all attend, if not to learn more about the latest marketing innovations, then to stop by and meet the Contentworks Agency team! The Forum is a must-attend event for:
Business Owners, Chief Executive Officers, Directors and Managers of Marketing, Branding, Business Strategy, Sales, Communication, Customer Relations, Social Media, Public Relations, Business Development, Media
Executives from Advertising Agencies, Market Research Companies and Marketing Consultants
Digital Marketing and Digital Advertising Specialists and Platform Developers.
The 14th Digital Marketing Forum takes place on November 30th at the Hilton Park, Nicosia. Get in contact with us here or via our Facebook page for more information or to set up a meeting with the team.