In just a few months, we'll be attending and media partnering our first LIVE event of the year and we can't wait. That's right! We can finally step away from Zoom and head to UAE where event experts Ultimate Fintech will host iFX EXPO in Dubai. Taking place at the 5-star Grand Hyatt Hotel from 19-20 May 2021, attendees can enjoy luxurious networking at a prime location. Here's our media partner sneak peek at iFXEXPO Dubai.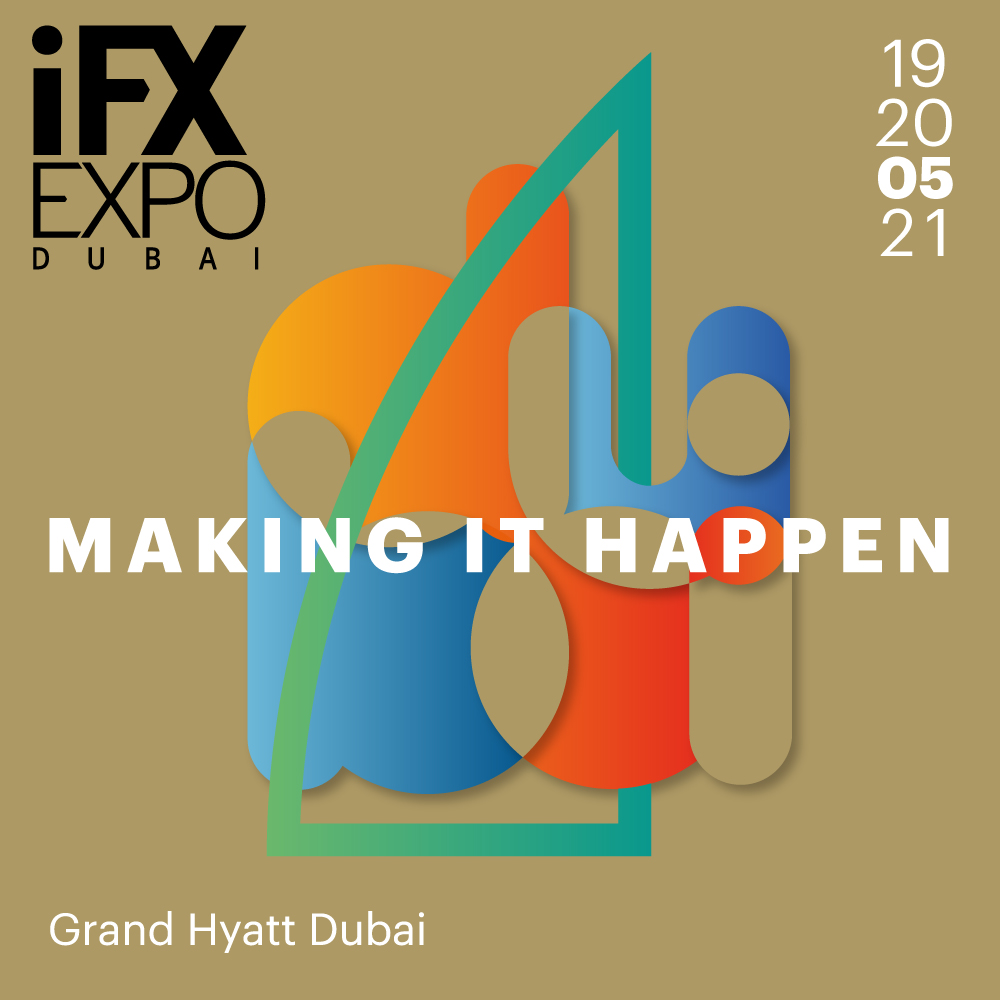 Ultimate Fintech – Making It Happen, SAFELY
When it comes to events, Ultimate Fintech knows how to dazzle. The EXPO floor is always bustling, there's high-end entertainment and with thought-leading speakers it's no wonder such events have attracted over 35,000 global attendees and 1,500+ exhibitors. We've media partnered and attended numerous iFX EXPOs and can't wait to get back to face-to-face networking.
While the thought of attending a real-life event might seem daunting for some, the iFX EXPO Dubai will follow all the health and safety guidelines set out by the local authorities. These are subject to change but will include things like mask wearing, social distancing, hand sanitising and so on. Making it happen safely is the ultimate priority so everyone can relax and feel a sense of normality.
iFX EXPO Dubai – The Ultimate Networking Experience
Time to dust off that corporate attire as the iFX EXPO Dubai provides the perfect opportunity to network with like-minded people from the finance and fintech space. Grow your network in style, discover new technologies, learn more about digital payment systems from leading exhibitors and reconnect with old colleagues and friends. The EXPO floor will be packed with leading brands all exhibiting the services they offer and with high-profile figures taking to the microphone in Speaker's Hall, you can garner many industry insights.
What Industry Fields Will Be Covered?
The finance sector is revolving at a rapid rate, with fintech innovations streamlining digital process and revolutionising the industry. There's a lot to cover, which is why the iFX EXPO Dubai will cover various industry fields including:
Technology and Liquidity
Digital Assets and Blockchain
Payments and Banks
Retail and Institutional Brokers
Affiliates and IBS
Regulations and Compliance
So, whether you're on the ledger and looking to connect with the industry or are an FX broker looking to compare and source service providers, this is the event for you.
Why Dubai?
There are many reasons why Dubai makes for a great financial EXPO location. It's recognised at the leading financial centre in the Middle East, Africa and South Asia region. It has a vibrant ecosystem of over 250,000 professionals working across more than 2,300 registered firms. What's more the historical signing of the Abraham Accords between Israel and the UAE has also put Dubai in focus from a financial perspective and has resulted in an open market for Israeli companies, with Tel Aviv also being a huge trading hub. The UAE's handling of the pandemic also tops Middle East rankings making Dubai an attractive place for an event.
What to Do in Dubai?
Many attendees will be guests in Dubai. Some will even be visiting for the first time. Exploring the local area is all part of the foreign EXPO experience, so why not take time out of your schedule for a Dubai Friday Brunch? Or go and see Burj Khalifa, the tallest building in the world which stands an impressive 828-metres high? Fancy a spot of shopping?  Dubai has some of the biggest and most luxurious malls in the world and there's also adrenalin-fuelled activities to enjoy such as a dune buggy safari across the desert.
Contentworks as Media Partners
As a leading content marketing agency for the finance and fintech space, we're the ideal media partner fit for such an event. It's a role we've enjoyed for iFX EXPO Limassol, Decentralized, Hong Kong Fintech Week and many more. We have many high-profile clients in the finance/fintech space and look forward to seeing many old and new faces at the EXPO.
We'll be following the event closely and live tweeting across both days in May. Follow us on Twitter @_contentworks to get a mention or shout out for your brand. Hashtags for this event are #iFXEXPO and #iFXEXPODubai if you want to join the conversation.
Register today to save your spot at the most exclusive event in the online trading industry. You don't want to miss it. Of course, be sure to check Dubai entry regulations as well as any travel restrictions that might be in place in your country of departure. Contact us to set up a meeting at the iFX EXPO.