It's International Women's Day on 8 March and Women's History Month throughout March so we're celebrating the role of women in the finance space. Hurray!  As a female-led agency providing content marketing solutions to the finance and fintech spaces, this is close to our hearts. We can't wait to salute all those female financial revolutionaries who have carved a place for women in a traditionally male-dominated sector. Join us in celebrating Women's Day in the finance space.
Women in Finance – A Brief History
For centuries, women have rocked the finance world in their own unique way, often overcoming multiple hurdles to get noticed. Notable women include:
Victoria Woodhull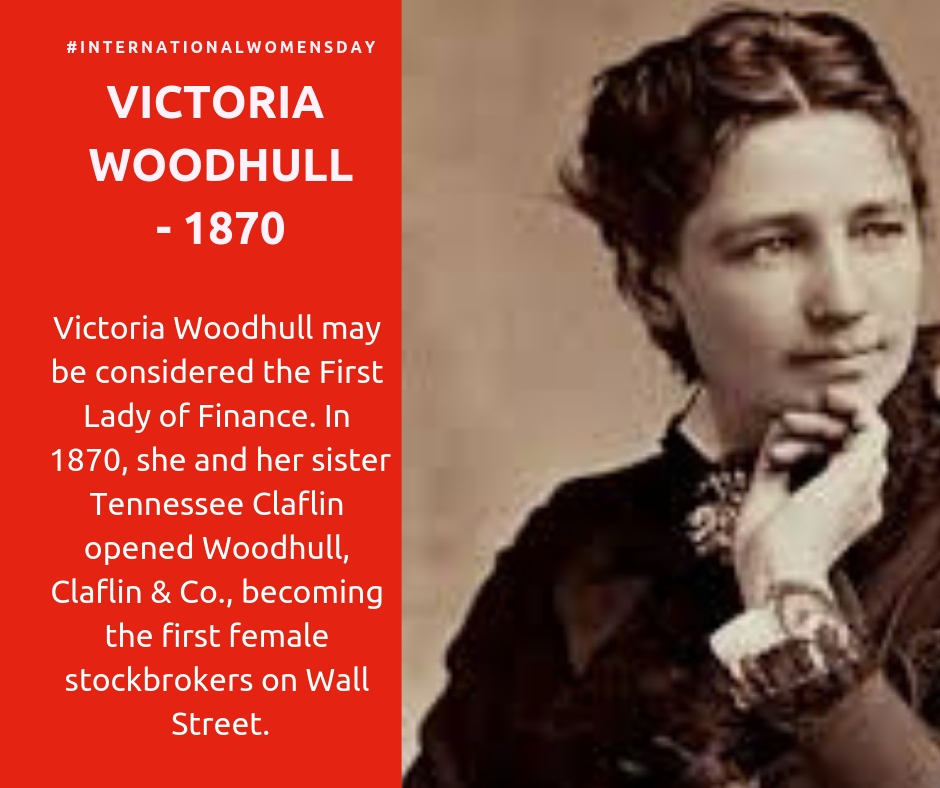 Fearless rule breaker Victoria Woodhull and her sister Tennessee made history in 1870 when they opened the first all-female brokers firm on Wall Street. The Woodhull, Claflin and Co brokerage house attracted society's finest including wealthy housewives, teachers and widows of astute businessmen.
Muriel 'Mickie' Siebert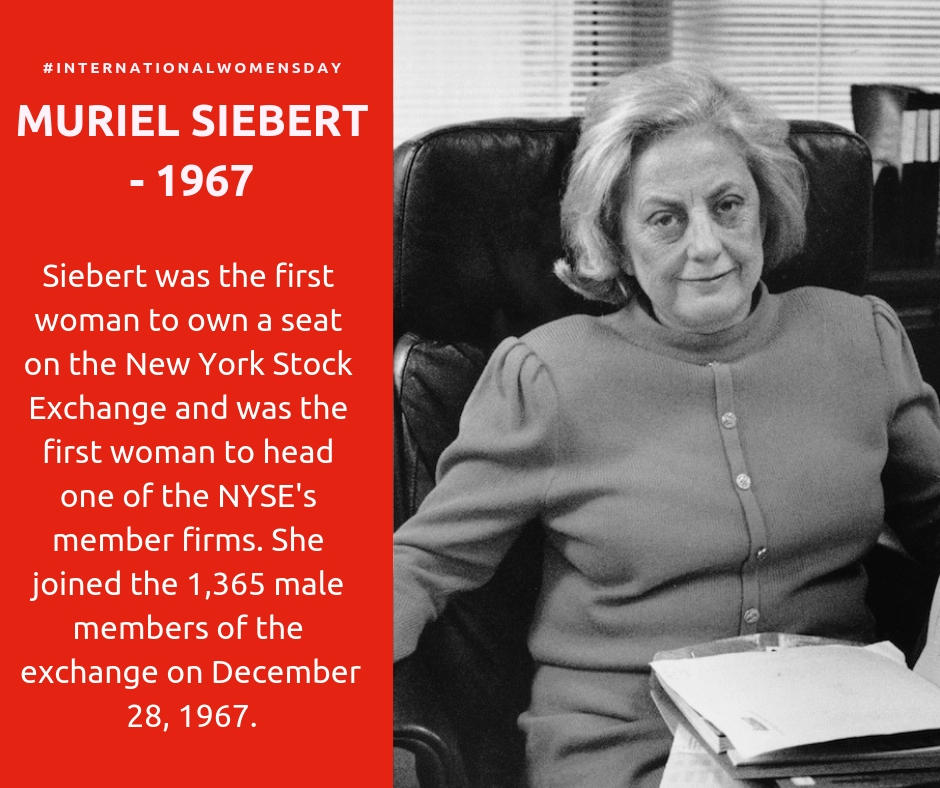 Known as Mickie to her friends, Muriel was the first ever woman to gain a seat at the New York Stock Exchange, overcoming gender stereotypes and even being banned from using an office lift because of her sex. On December 28, 1967, she joined 1,365 male members as the first woman at the NYSE and remained the only woman at the NYSE for a whole decade. Now that's what we call, GIRL POWER!
Hetty Green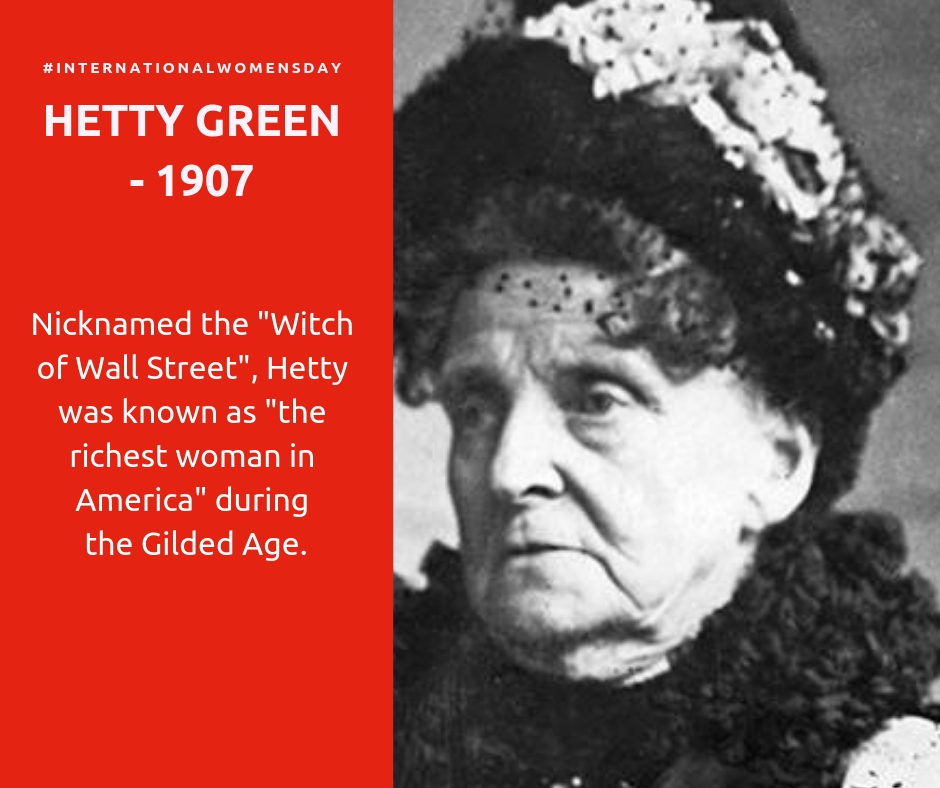 Hetty Green (November 21, 1834 – July 3, 1916), nicknamed the Witch of Wall Street, was an American businesswoman and financier known as "the richest woman in America" during the Gilded Age. Mercilessly mocked by her male peers, she made the vast majority of her $100 million fortune ($2.3 billion in today's dollars) herself, investing in railroad stocks and bonds, government bonds, and mining stocks.
Women at the Helm of Financial Progression
The world of finance has come on leaps and bounds in recent years, with technology radically transforming everyday operations. Women have played a prominent role in the fintech revolution, pushing for change and driving a brand new era of financial services. Women at the helm of notable projects include:
Luvleen Sidhu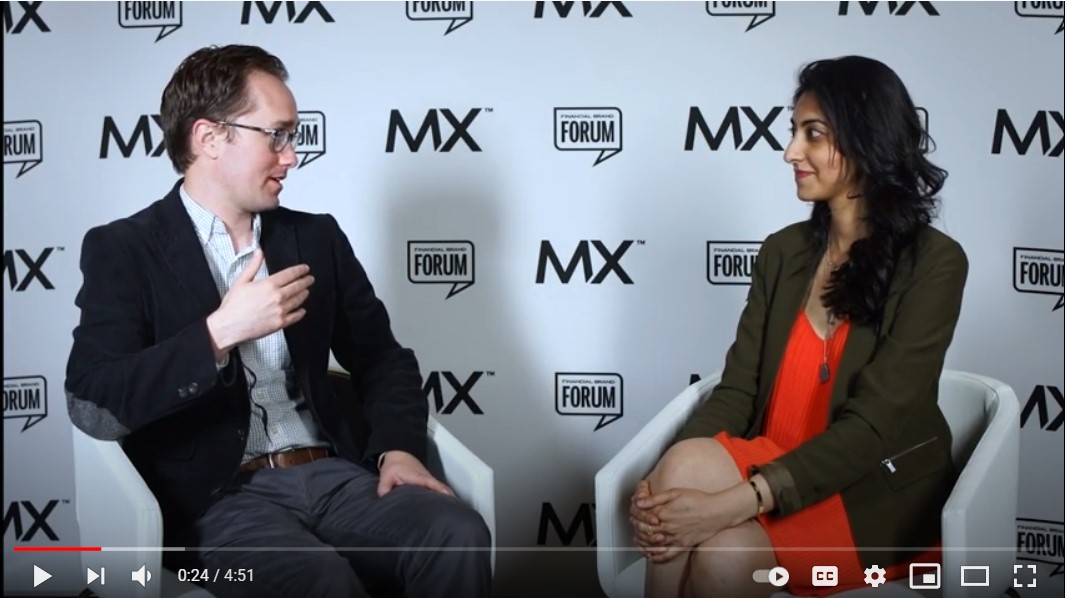 Luvleen Sidhu is the Chair, CEO and Founder of BM Technologies, Inc (BMTX) which is among the largest digital banking platforms in the US. Focussed on technology, innovation and offering easy-to-use products, the BankMobile operating model is aimed at helping underbanked millennials and middle-income Americans. Representing the underrepresented, Sidhu strives to cater to 'individuals that are not part of the traditional banking system' and who are 'locked out' due to monthly fee requirements.
 Dhivya Suryadevara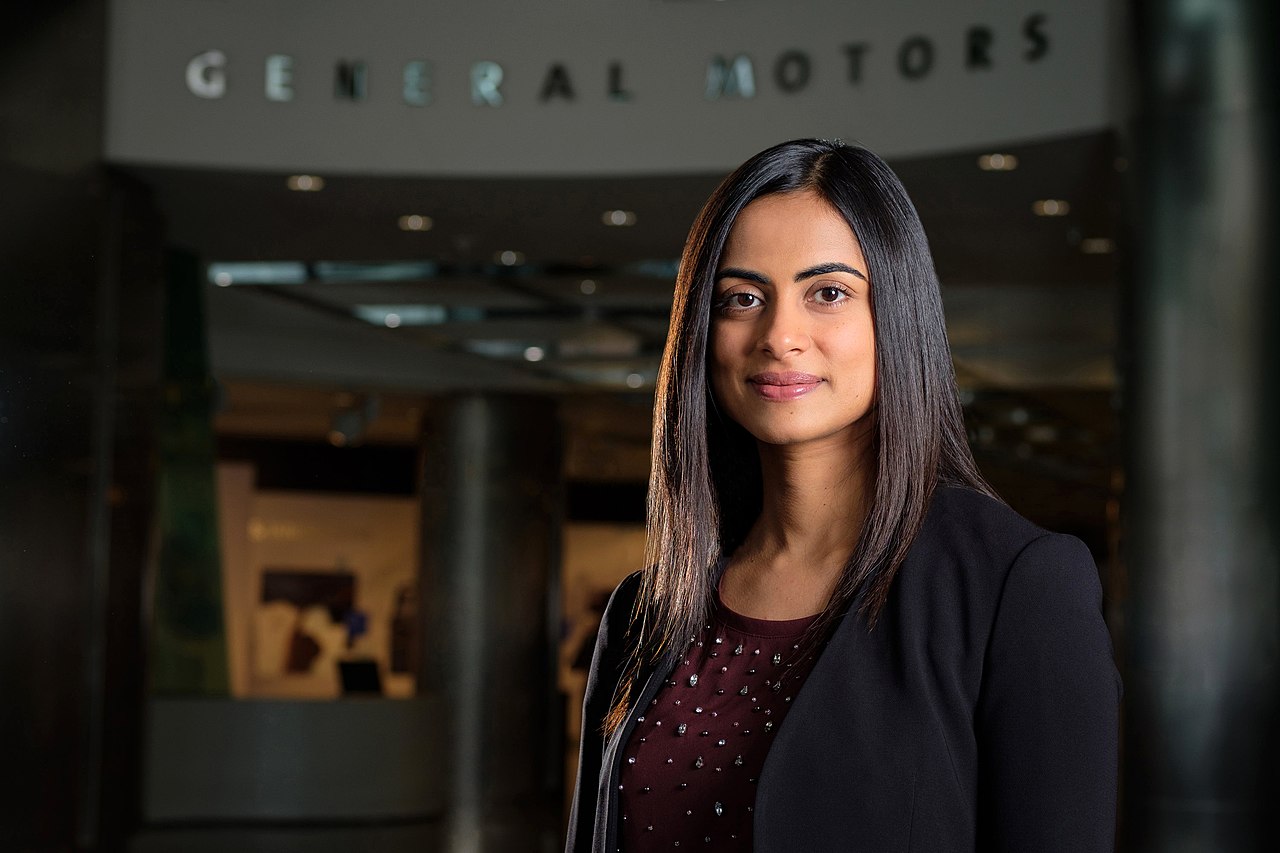 Dhivya Suryadevara is the Chief Financial Officer of Stripe, a company described by Forbes as one of the most innovative in the fintech landscape. Offering payment processing software and application programming interfaces for e-commerce websites and mobile applications, Stripe is a high-profile company led by a lady that's regularly featured in fintech power women lists.
The Growth of Female Fintech Power
According to recent reports, female-founded fintechs accounted for 17% of the UK's total fintech venture capital (VC) investments over 2020, up 6% from 2019. The UK's fintech scene raised $4.1 billion in VC funding last year, which means female founders landed more than $697 million of this.
Female-led fintechs entered the pandemic with the longest funding runway of the sector, according to KPMG's Fintech Focus study. Some 78% of them had 18-months or more of cash in reserves to weather the economic crisis. This compared to half of all fintechs, largely founded by men, which started the pandemic with less than 18-months of funding remaining.
Continuing Inequalities…
But sadly there are still inequalities that need addressing within the finance and fintech space. A study from Deloitte revealed that less than 30% of the UK's fintech workforce is female with only 14% represented on fintech boards. This disparity perhaps stems from the historic lack of senior women leaders within the industry, meaning there are fewer female success stories women can turn to in search of inspiration and motivation.
Sadly, such inequalities are not rare. Female directors at the UK's largest financial services firms are paid on average two-thirds less than their male counterparts. Shocking, we know! This underlines the pay gap that still exists between men and women at the highest levels in the financial sector. Average pay for female directors at financial services companies stands at £247,000, 66% lower than the average £722,300 paid to male directors, according to research by employment and partnership law firm Fox & Partners.
The significant gender pay gap at firms listed on the FTSE 100 and 250 indices suggest that there has been slow progress in recruiting women to more senior, higher-paid executive positions. The vast majority (85%) of the female company directors occupy non-executive roles, which tend to be lower paid than executive positions.
But things continue to change as women across the globe continue to make their mark in the financial space with many using social media to express their ideas.
Top Women in Finance to Follow on Social Media
Women in finance often have a strong social media presence and are active on platforms such as Twitter. But who should you add to your follow list?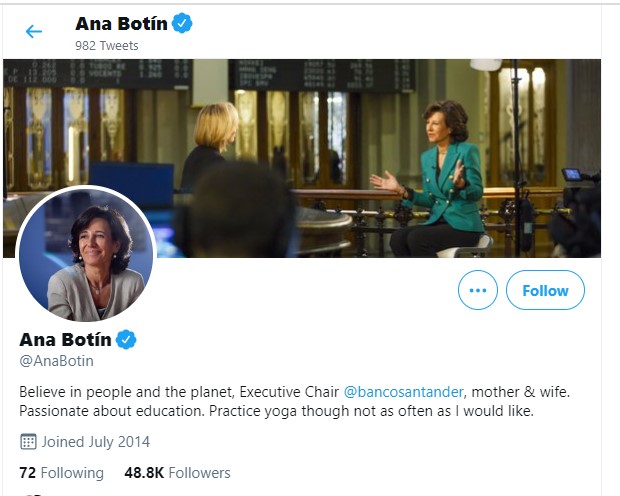 With 48.8K followers on Twitter alone, Ana Botín is the Executive Chairman of Spanish multinational financial services company Banco Santander. She's held this role since 2014 and currently ranks number 8 on the Forbes Most Powerful Women in Finance list.
The pandemic has been an important concern for Botín who has focussed on launching Banco Santander's Together Solidarity Fund. According to the Santander blog:
'The Together Solidarity Fund was launched in March with 25 million euros. It was financed initially through the decision of the Executive Chairman, Ana Botin, and CEO, Jose Antonio Alvarez, to forgo 50% of their total compensation (salary and bonus) this year; a 20% cut in compensation for non-executive directors, and voluntary contributions by employees. The fund has been increased to €54 million with additional contributions from the countries in which the Group operates, funded by voluntary employee donations, third parties, and the Group subsidiaries themselves.'
The initiative is specifically designed to donate sanitary materials and collaborate with governments and institutions to find solutions during the crisis. Writing in the Financial Times back in April 2020, Botin wrote:
"Our world will not return to a pre-coronavirus existence. We need to think fast and think big."
That same month, Botin was one of 12 people appointed to a new external advisory bard of the International Monetary Fund. The board was created to tackle financial issue, including those caused by COVID-19.
Ana also stands out due to her Net Zero goals for the finance sector which are designed to drive finance forward in an economical and environmentally friendly way. Botin frequently discusses Net Zero updates on social media, backing a government initiative to bring all greenhouse gas emissions to Net Zero by 2050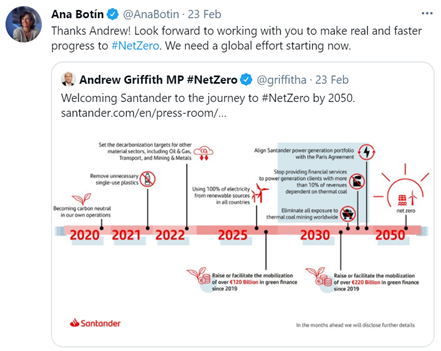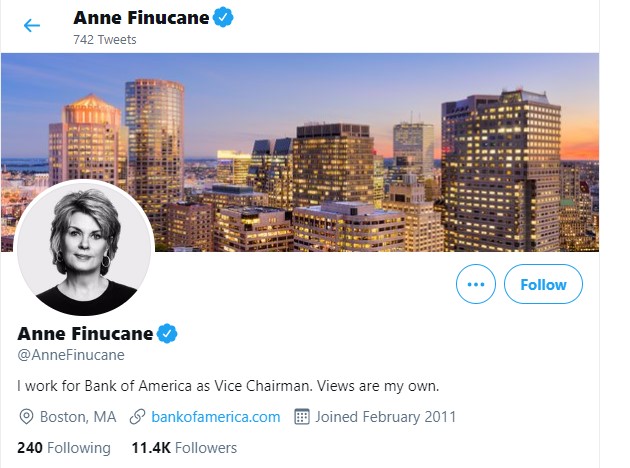 Another financial female revolutionary to follow on Twitter is Anne Finucane. As the Vice Chairman of Bank of America and number 36 on the 2020 Forbes Most Powerful Women in Finance list, Finucane has 11.4K followers on the social networking platform and is dedicated to expanding the bank's philanthropic efforts. Under her leadership, Bank of America has committed $100 million in grants to increase the accessibility of food and medical supplies. That's in addition to the $250 million it donates in philanthropy each year.
Bank of America has also committed $1 billion to advancing racial equality and economic opportunity over the next four years. With women at the wheel, banks are taking an increasingly progressive role when it comes to corporate responsibility.
Finucane's Twitter feed is populated with content supporting the advancement of women and the necessity to offer them the power and resources to succeed.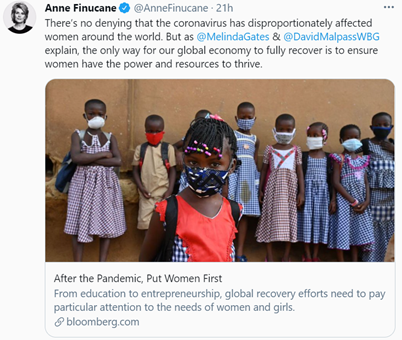 The above post links through to an article which states:
'Closing gender gaps in entrepreneurship would help reduce poverty, create jobs, and spur growth and innovation. Governments should thus target lines of credit and other forms of finance to women-owned businesses, boost the creation of e-commerce platforms to enable female entrepreneurs to access markets, and help business incubators to overcome biases when it comes to investing in women-owned businesses.'
Breaking Barriers in the Finance Space
The finance sector is no longer all ironed shirts and straight laces. It has become increasingly progressive and creative with women helping to break down more conventional barriers.
Excitingly, Bumble, the women-first dating app made its stock market debut in February, going public seven years after it was founded. Valued at up to $13 billion, the company set its Nasdaq share price listing at $42 and joined industry giant Match Group on the public markets. The listing made Bumble Chief Executive and Founder Whitney Wolfe Herd the youngest female CEO to take a company public.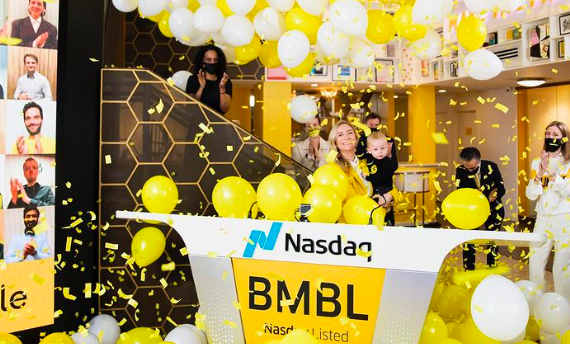 Here at Contentworks we fully support women in finance and every other industry. As a progressive agency we're focused on equality and empowerment, with our female directors Charlotte and Niki driving our business forward.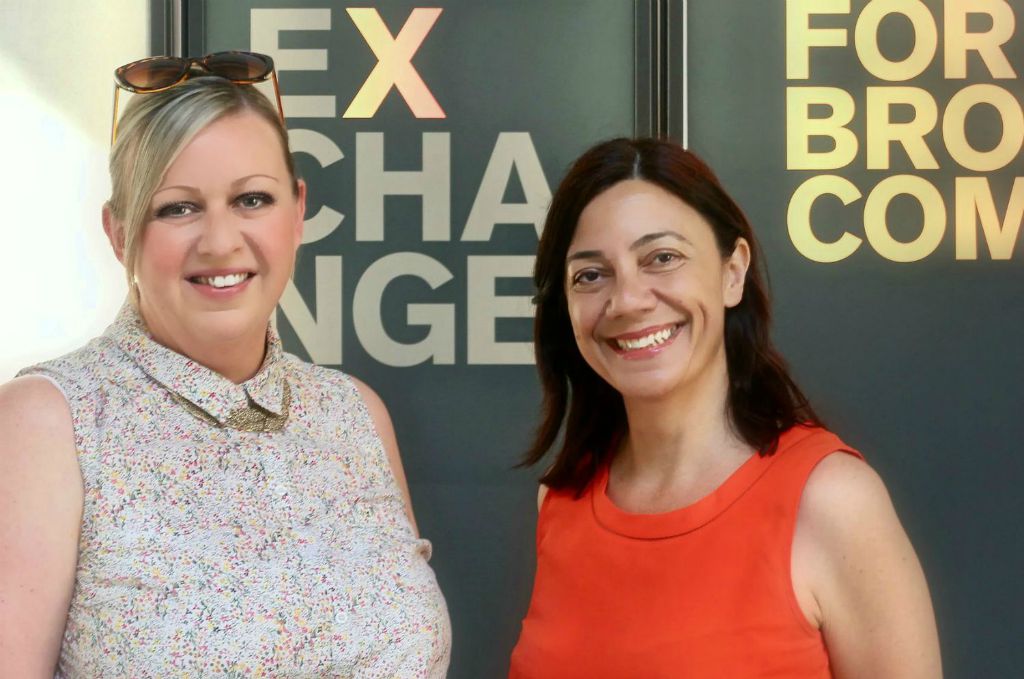 So our call to action today is to encourage you to support women led finance brands in addition to empowering the female leaders of the future. Learn more about our collaboration with Room to Read and donate to support the literacy and education of girls around the world.