Calling all crypto and blockchain enthusiasts! Spread your BTC butterfly wings this month by attending Bitcoin Club Cyprus' latest meet-up on May 28th, 2019. From public lectures and presentations to exciting networking opportunities, there's every reason to come along and find out the latest new about an industry that's growing at a rapid rate! As media partners for the event, the Contentworks team will be attending and are looking forward to hearing key insights from some of the industry's top thought-leaders. Here's the lowdown on the Bitcoin Club Cyprus Meet-Up – May 2019.
What to Expect?
Cyprus is home to pioneering blockchain development with Limassol being a world-renowned EXPO hub. It's one of the best places to clue up on everything crypto related and to meet like-minded people from the sector. This eagerly anticipated May meet-up will take place at the Cyprus International Institute of Management's premises in the city and be sponsored by Komodo – an initiative providing businesses with end-to-end blockchain solutions to create an empowering ecosystem.
The event will be recorded and live streamed for future use!
The organisation team has been involved with high-end events in the past such as Nakamoto's Den, a summit Contentworks also media partnered. This showcased the networking potential and blockchain insight offered by such social occasions.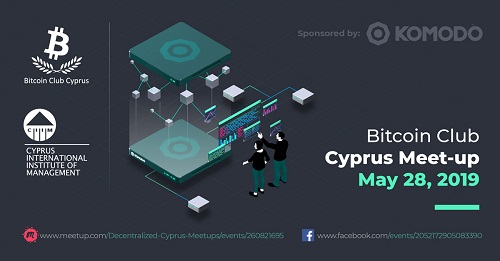 Meet-Up Schedule
The Bitcoin Club meet-up is free and open to anyone interested in crypto, decentralised technology and the blockchain revolution. Those wishing to attend can register their interest via the following Facebook page. The event will follow an informative and interesting schedule.  This is as follows:
18:45 – 19:00 – Welcome
19:00 – 19:30 – Vasil Mitov – Introduction to Bitcoin basics – Programmable money as part of a new digital age.
Vasil is a Certified Bitcoin professional and a passionate advocate of decentralized consensus mechanisms, distributed ledger technologies and digital currencies. He is also certified from the prestigious Said Business School University of Oxford in the area of blockchain technologies and regulatory frameworks.
19:30 – 20:00 – Angelos Leoussis – Stablecoins – Bridging the best of both worlds
Angelos has been working as an Operations and Project Manager in Coinomi Wallet since 2015-16. He has been in the space almost from the beginning and helped create BitcoinLib (a dot net port of Bitcoin core) in 2012-13. He has a BSc in Computation and an MSc in Constraint Satisfaction Algorithms from Manchester University in the UK.
20:00 – 20:10 – Break
20:10 – 20:40 – Daniel Pigeon – An Overview of Komodo Platform
Daniel is a Technical Writer on the Komodo Team with bachelor's degrees in Economics and Philosophy from the University of North Carolina at Chapel Hill. He started working with Komodo in January 2018 and has since helped the team with a number of major marketing efforts.
20:40 – 21:10 – Monis Chagouel – Introduction to Technical Analysis.
Monis has a Masters in Banking & Finance and has spent the last 9 years working as a Treasury FX trader within a Corporate Treasury function at a NASDAQ listed firm. He is also the founder of the Greek Cryptocurrency Community, an active telegram channel for Greek crypto enthusiasts.
21:10 – 22:10 – Networking
Contentworks and the blockchain sector
Here at Contentworks, we love blockchain events because we love socialising. We're also heavily involved with the sector, tailoring content that communicates difficult and often misunderstood topics in a clear and concise way. We are pleased to be media partners for Bitcoin Club Cyprus who promise to deliver an exciting evening gathering.
To date, we've collaborated with many well-known clients including NEC and have media partnered with industry events such as Decentralized 2018. We will be media sponsors yet again for Decentralized 2019 and will also media partner the upcoming iFX EXPO as well as the Malta AI and Blockchain Summit. As a leading agency for the sector, we have also worked alongside the University of Nicosia becoming content partners for their MSc in Digital Currency.
We will be attending the Bitcoin Club Cyprus event and look forward to finding out the industry latest as well as mingling with new and old faces. See you there!