At the start of the year, we renewed our support for Room to Read by purchasing 500 library books for 2021. And now, with Read a New Book Month taking place in September, we're checking out the latest news from this fantastic non-profit organisation. Here's a September Roundup from Room to Read.
Why Room to Read? A Recap
Prioritising the education of often underprivileged youngsters across the globe, Room to Read has a 'literacy for all' goal. As well as distributing educational materials across the world including 26 million books, Room to Read also works with community leaders to ensure as many children can attend school as possible. This often requires navigating societal roadblocks such as child marriage and extreme poverty. It also involves closely supporting families and providing technology where necessary such as mobile phones, computers and internet access.
As a women-led agency, we also love that this charity offers a Girls Education Program. Through this initiative almost 5,000 girls to-date have graduated secondary school and 79% enrolled in further education or found employment in the year post-program. 87% have also attended essential life skills training and have been inspired to follow their dreams. Room to Read believes educated women can change the world. This is something we can wholeheartedly support.
Find out more here and look at this example of how Room to Read gives young people the best chance of education, even in extremely difficult situations.
So, What's New?
The work of a non-profit never stops. So what's new on the ground and behind the scenes at Room to Read?
Continued Pandemic Relief
There are reports of new waves hitting continents across the globe including Africa and Asia which have already been significantly impacted. Room to Read is working tirelessly to ensure children aren't permanently scarred by what has been described as 'the worst crisis to education and learning in a century.' With one third of the world's children cut off from education, Room to Read has made it their mission to:
Urgently mobilise capital and resources through its 1,600 employees in 17 countries to ensure the most vulnerable children stay in education.
Reach an additional 20 million children and add 10 new countries to its operations by 2025, with COVID-smart programs in literacy and girls' education. To date, the charity has already reached 35,000 girls through individual remote mentoring sessions to help them navigate pressures to abandon their education. With 10 million additional girls at risk of child marriage over the next decade, supporting young girls in and out of school is very much a priority for the team.
Raise funds. Room to Read hosted a Resilience Rising Virtual Benefit which encouraged communities from across the globe to come together and raise money for ongoing educational support. The critical funds raised provided literacy, life skills and remote learning resources for an incredible 61,000 children. You can find out more about Resilience Rising and watch global performances from fundraisers here.
Match funds. Room to Read's social media activity includes encouraging people to donate. By matching donations for a limited time only, Room to Read also provides people with more of an incentive as they can see how every penny adds up.
A Game-Changing Donation
Summer also saw Room to Read receive a game-changing investment of US $25 million from philanthropists Mackenzie Scott and Dan Jewett.
"This transformation capital comes at a time when it's crucial to deploy funds to prevent drop out and learning loss, especially given the tremendous strain to education systems in many countries,"
Dr. Geetha Murali, CEO of Room to Read. He continued:
"This gift, the single largest in Room to Read's history, allows us to not only address the immediate education emergency but to invest in scalable approaches across varying contexts to benefit more children's learning outcomes, more quickly than ever before. We are immensely grateful for this investment, which will shape our capacity to accelerate impact for many years to come."
Room to Read's Author & Illustrator Advocates Expands
Room to Read firmly believes that books and improved literacy can change the world for the better. Room to Read's Author & Illustrator Advocates share this passion, bringing diverse experiences to life through incredible content. This global network of authors contribute exclusive content for the Room to Read Book Club and participate in events and campaigns for Room to Read supporters.
This initiative has gained impressive traction over the years with Dr. Nguyễn Phan Quế Mai, recently joining the Author Advocates. Born in a small village in the north of Vietnam, Quế Mai is the author of eleven books of poetry, short fiction and non-fiction in Vietnamese and English. Her debut novel and first book in English, "The Mountains Sing," is an international bestseller and has won several international book prizes and awards including the 2021 International Book Awards.
Speaking of her collaboration with Room to Read, Quế Mai said:
"I am thrilled to work with Room to Read to help enhance equal access of children to books and educational opportunities so that no child will be left behind as we work together to build a more inclusive and just world. In particular, I look forward to supporting girls to pursue their educations and chosen life paths, expanding access to school libraries in high-poverty areas, and fostering a culture of literacy and love for reading within Vietnam."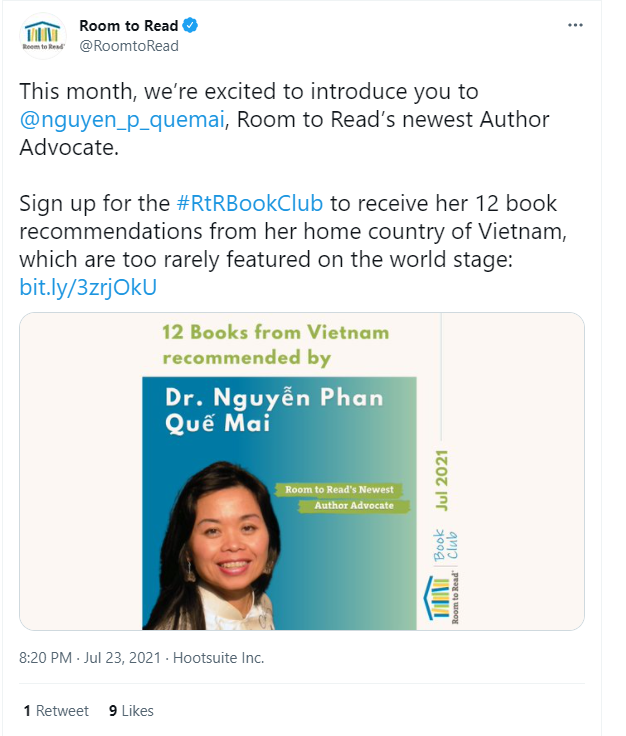 Join the Room to Read Book Club today by filling out a quick and easy form and access a wide range of literature including Quế Mai's 12 book recommendations from her country Vietnam. The Book Club provides a unique way to learn about different cultures while improving your literacy skills from the comfort of home.
Supporting Room to Read
Here at Contentworks, we do what we can to support this literacy-focused charity. Room to Read is a perfect match for our content marketing agency and a team that values education and adores reading. We've all got our favourite books from Memoirs of a Geisha to The Handmaid's Tale and believe books should be accessible to every child across the globe. Not just the rich or privileged.
You can do your bit to show your support too. Donate today and, for a limited time, your money will be matched by Room to Read board members. Every penny really does make a difference. Just $50, for example, can teach a child how to read and write for an entire year and $300 will support a girl in secondary school for a year. $3,000 will keep ten girls in secondary schools for a year, so why not think big and host your very own fund raising event with your friends and family?
Setting up your very own fundraising page is easy and can be managed entirely online. Good luck in your efforts for a very worthwhile cause. Let us know how you get on by tweeting us @_Contentworks