As owls hoot, and coffins creak, it's time to embrace the Halloween marketing spirit.  There's a spine-tingling chill in the air, so here are our top 3 Halloween marketing campaigns to ramp up the scare factor.
The Importance of Halloween Marketing
Halloween's just about watching a horror movie and eating too many sweets – right? Well yes and no! Sure, binge watching the Scream trilogy has all the makings of a great night. But when it comes to business, it's essential to celebrate this holiday with a corporate fright-fest of your very own!
Why? Because Halloween pays! It's one of the largest spending holidays of the year with Brits estimated to have spent a whopping £320 million on Halloween goodies in 2017 alone and Americans shelling out an impressive $9 billion. With 25% of consumers believed to do the majority of their shopping in the last two weeks of October, there's still plenty of time to make an impact – so what you waiting for?
Here are 3 Halloween marketing campaigns for inspiration:
#1 Burger King – #ScaryClownNight
Last year, fast food giant Burger King pulled an epic publicity stunt out of the bag by giving people a free WHOPPER Sandwich on Halloween night – but there was just one catch. Participants had to come dressed as a clown in what was a bold and cheeky dig at rival McDonalds and their brand mascot, Ronald. Encouraging people to 'come like a clown and eat like a king,' the campaign was launched on social media with a chilling video directed by award-winning filmmaker Rodrigo Cortés with the hashtag #ScaryClownNight tempting followers to join in the buzz.
Perhaps unsurprisingly, this marketing attempt of digital communication brand LOLA MullenLowe was highly successful. It was mentioned in more than 1100 articles across 40 countries, reaching 2.1 billion of earned impressions at a total media value of $22.4 million. It was recently declared the 2018 Golden Glove Winner.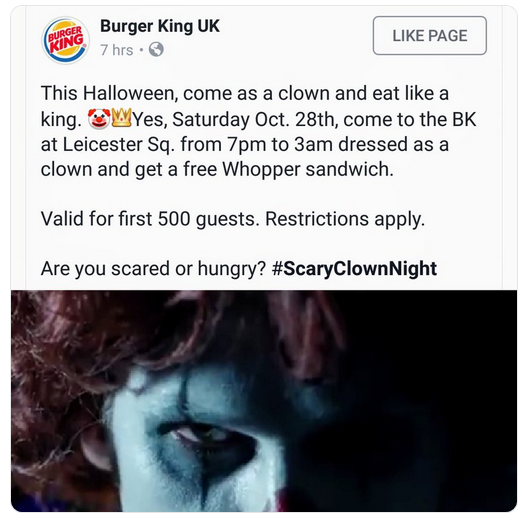 Marketing takeaway 1: Increase social media engagement with unique campaigns and giveaways.
Marketing takeaway 2: Utilise your digital expertise with a multi prong Halloween marketing approach across multiple platforms.
Marketing takeaway 3: Make the most of catchy slogans and appropriate hashtags to make your campaign stand out and to help people join in brand-related conversations.
#2 Fanta – Halloween QR Codes
Halloween marketing can be as spine-tingling terrific and fangtastic as you want it to be. Fanta's 2017 campaign being a great example of how offline and online marketing can mesh nicely together to generate excitement. Not only did the brand launch a whole range of Halloween-themed packaging, but each pack also contained a QR code. This allowed consumers to unlock a whole range of Halloween-themed filters and lenses. And it gets even cooler. The QR codes changed on a daily basis, encouraging people to buy more and more of the beverage.
The campaign ran from 16 September until 11 November, giving Fanta fans enough time to fully enjoy the social media experience – and the fizz.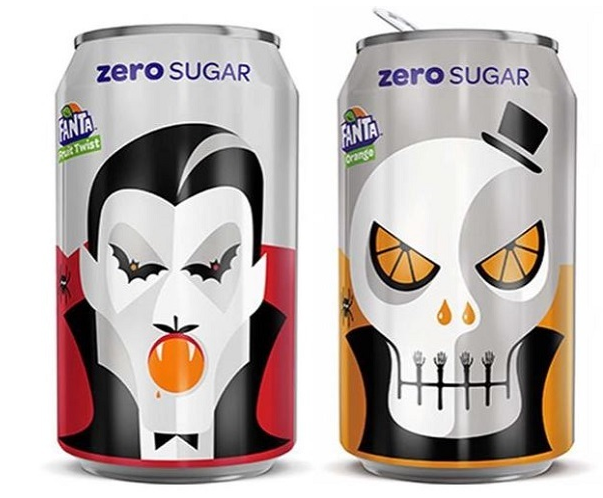 Marketing takeaway 1: Give your Halloween marketing campaign an extra dimension by utilising popular social media platforms like Snapchat. This encourages engagement and the sharing of branded content.
Marketing takeaway 2: Don't think a Halloween marketing campaign expires at midnight on October 31st. As Fanta smoothly showed, it's still possible to keep the buzz going post-event. That said; give yourself enough time to catch the Halloween build-up.
#3 Dunkin' Donuts – Fancy Dress Competition
Halloween is an extremely visual holiday with dressing up in outrageously scary or quirky costumes being a big part of the fun. Dunkin' Donuts recognised this and used the hugely popular social channel, Instagram, to launch a Halloween costume competition using the branded hashtag #DDHalloweenContest. The winner featured on the Dunkin' Donuts Times Square Billboard in New York City, receiving $2,500 and a year's supply of coffee too. There were some pretty awesome entries but the winners totally rocked Dunkin' Donuts-themed costumes – even the dog (see below).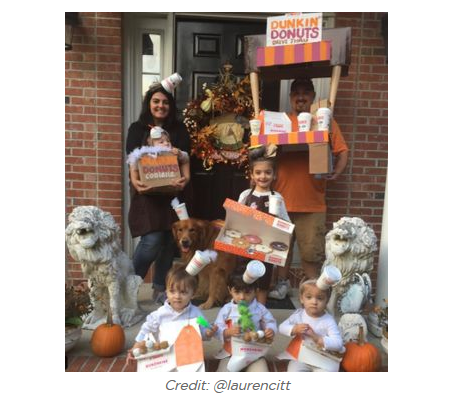 The campaign also featured an interactive Snapchat game called Donut Pop which allowed users to unlock special features and lenses.
On top of all this, Dunkin' Donuts pushed their Halloween marketing efforts one step further by including a whole load of Halloween tutorials on their official blog and sharing such advice across social media channels. Blog topics included: 'Doughnut-Inspired Pumpkin Designs,' 'How to Throw a Halloween Party' and more.
Marketing Takeaway 1: Encourage engagement with a fantastic prize incentive.
Marketing Takeaway 2: Write content people will want to read at this time of year. Useful hints and tips regarding costume creation are both extremely helpful and easily shareable on social channels.
Want to rock your holiday marketing campaigns? Let's chat.