Your finance brand doesn't belong on Instagram, right? Wrong. What used to be a dull and unimaginative industry is becoming increasingly innovative – and for good reason. It's essential to adapt to today's consumers and give them what they crave. Authentic interaction, fun campaigns and accessibility. Instagram for Financial Services – Yes or No?
Instagram: The Stats You Need to Know
When it comes to Instagram, the stats speak for themselves. It's no longer kids wanting to share snaps of their holiday. But a serious platform for businesses to boost their engagement. Here's a rundown of the latest figures from 2019.
Instagram now has 1 billion monthly active users
Over 60% use Instagram daily, making it the second most engaged network after Facebook
35% of users log in more than once a day showing constant and persistent platform usage
Instagram clocks up a whopping 3.5 billion likes per day – that's a whole lot of engagement
The top 100 brands have seen engagement on Instagram grow by 53% year-on-year
The average engagement rate on Instagram is 4.3% compared to 0.17% on Facebook
36% of B2C brands view Instagram as critical to their social media marketing strategy
Standout Facts of the Finance Sector
All good, so far right! Well there's more. 75% of Instagram users are aged between 18 and 24. 90% of users are also younger than 35. So, if you're targeting millennials or Gen Z who are likely to be in need of many financial products and services from credit cards to mortgages and loans, Insta is the place for you. This is also significant for brokers with currency trading being a growing trend among younger generations. Indeed, 45% of traders are millennials. So, having an Instagram presence makes sense.
The question now seems to have shifted from "Instagram for Financial Services – Yes or No?" to "How can we make Instagram work for us?" Let's take a deeper look.
Mastercard #StartSomethingPriceless
If you want a few tips on how to get it right on Instagram, it's well worth checking out @mastercard for some inspiration. The brand's #StartSomethingPriceless campaign launched in January 2018 and is still going strong. It revolves around the idea that Mastercard makes priceless experiences possible, urging people to pursue their passions, help others and create cultural changes through even the smallest of acts. This is a significant and direct call to action.
The campaign has, to date, focused on multiple passion points like travel, music, sports and philanthropy as well as big events like the Brit Awards, UEFA Champions League, Rugby World Cup, Australian Open, Cannes Film Festival and philanthropic causes such as The World Food Programme.
Why We Like This
The #StartSomethingPriceless movement is designed to connect with people from all walks of life. As Jennifer Stalzer, an external communications expert for Mastercard said: "Instagram enables us to micro-target content around consumer passions and interests." This instantly removes irritating sales rhetoric and gives Mastercard endless opportunities to share relatable, often user generated content around many different subjects such as sport.
Take note marketers. Storytelling is far more effective than pushy ads. Remember 47% consumers are blocking ads these days, so a more humanistic approach is necessary.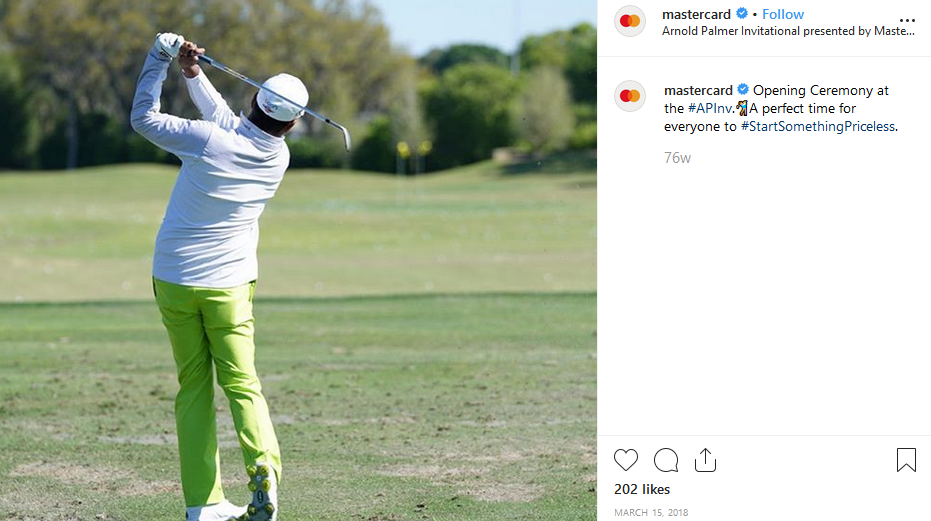 Mastercard gives back to the community. This is important considering 40% of millennials want to work for a company with strong corporate responsibility and 87% of Americans will purchase a product because a company advocated for an issue they cared for.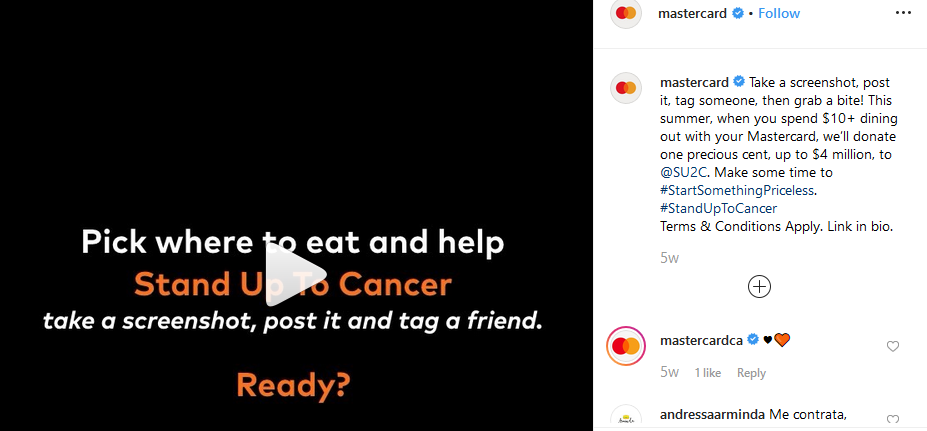 The campaign is inclusive and indiscriminative. #StartSomethingPriceless recognises people in the community who have done something unique or special. The post below, for instance, celebrates Michelle Cadore, the Designer, Owner and Founder of Yes I Am – a fashion company which essentially makes it possible to #brandyourself.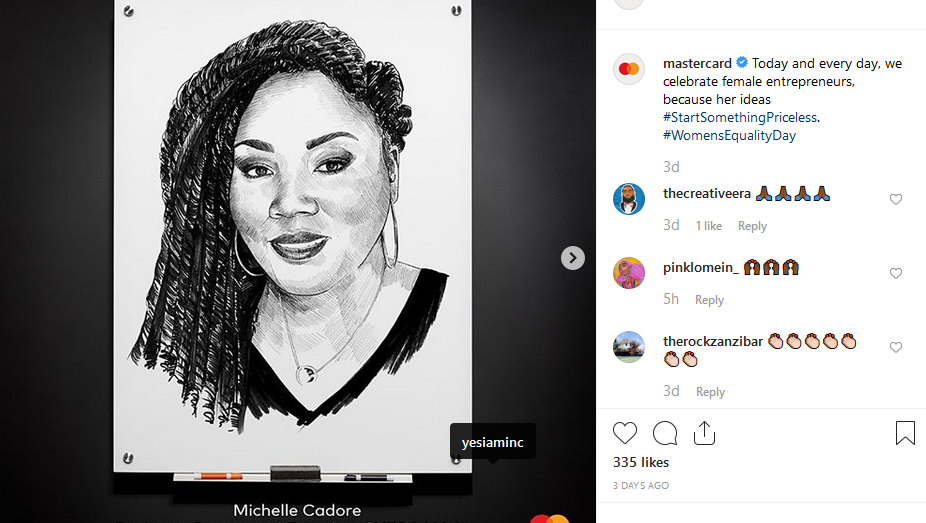 Top Takeaway 1: Marketing a product on Instagram is not enough. To stand out from the crowd, you need to have a unique angle, something which connects people to your posts and makes them want more. Raja Rajamannar, Chief Marketing and Communications officer for Mastercard, said: "People today expect more than a great product – they expect brands to have a point of view, and it's through Start Something Priceless that we show ours." By creating your own branded or unique hashtag, your content also becomes distinguishable and easy to find.
Top Takeaway 2: Support each image your post with strong written content explaining what your post is about. Include a strong call to action where necessary and an incentive to encourage engagement.
NatWest #Pride
#Pride is widely recognised and celebrated by many brands across the globe. But it must be done with care. Superficial attempts to support a cause while flogging a branded rainbow t-shirt won't go down well, so if you're going to get involved, it's important to do it properly. NatWest's 2019 #Pride efforts on Instagram received plenty of positive engagement and rightly so.
Why We Like This
Firstly, NatWest has a long history of supporting the LGBT community and was recently the headline sponsor for the fifth annual British LGBT awards. The brand is regularly in the top 30% of the Stonewall workplace equality index and as part of RBS they even have a dedicated Rainbow Network which champions the LGBT community in NatWest. This means their #Pride posts reflect existing morals.
Secondly, the team and their families were pictured out and about getting involved in Pride events across the country. This hands-on interaction creates comes across as genuine and gives content a more authentic vibe. After all, it takes much more effort to attend an event than to advertise your product under #Pride alone. A poor marketing strategy riding off the back of a culturally significant event could actually tarnish your reputation, so beware.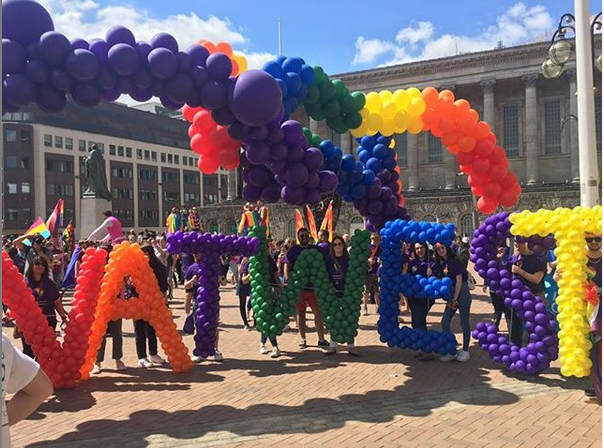 Top marketing tip: Create supporting content that describes your post. Use relevant hashtags and remember to tag people and events to increase outreach.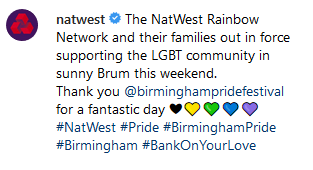 The brand also went above and beyond to decorate cash machines in a Pride fashion. This combination of offline support and online support attracted much positive sentiment on Instagram.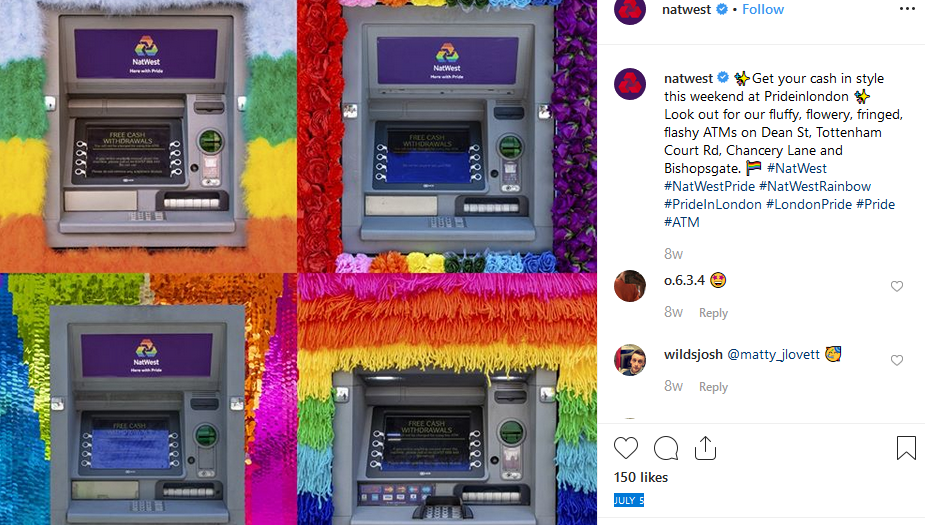 Top Marketing Tip: According to a study by Curalate, images that have more visual texture perform better than those that are perceived to be smoother. So, as well as the messaging behind your Insta post, also think of the image. Other image types that perform well on Instagram include images with a background, motivational images, seasonal images, behind the scenes images, influencer images and user generated content.
Robinhood #RobinhoodSnacks
Targeting the millennial investor, it's perhaps no wonder that Robinhood's on Instagram. They're very much in the right location for their demographic and have used the site to promote #RobinhoodSnacks which provides consumers with a daily newsletter and podcast.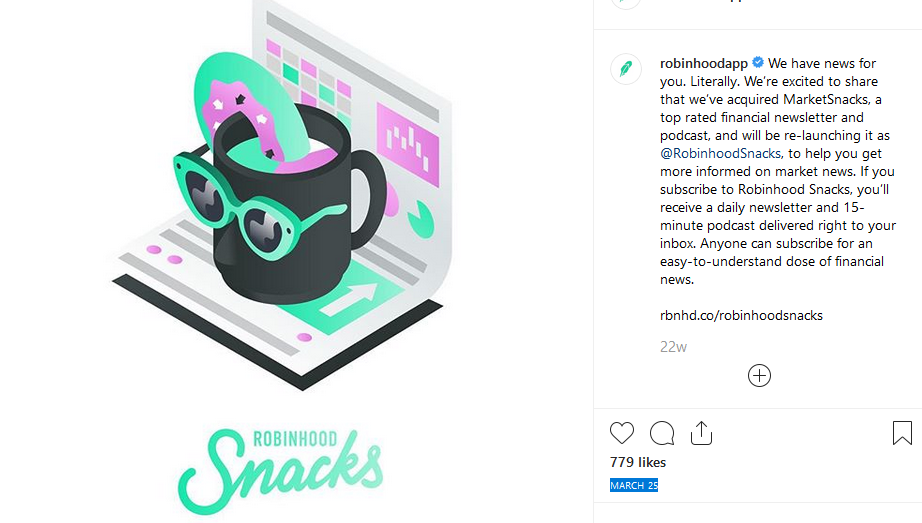 Why We Like This
There are many reasons why this works for us. The graphics are simple and effective. They appeal to a younger audience and are perfectly in tune with the laidback 'snacks' vibe of the campaign. Dip in dip out as you please.
The accompanying text is also short and to the point being sure to tag the @RobinhoodSnacks page which gives Robinhood another avenue for promoting their brand via Instagram. There's also a link back to a news story explaining more about how the brand acquired MarketSnacks. The same branding is used throughout for consistency which is very important which trying to confirm your position in the market while avoiding confusion.
Top Marketing Tip: As a brand targeting a millennial audience, you should also think about the type of language being used. Robinhood does this well by getting on the same wavelength as their consumer. Think about what your target market does on a daily basis and how your product/services can fit into their lives.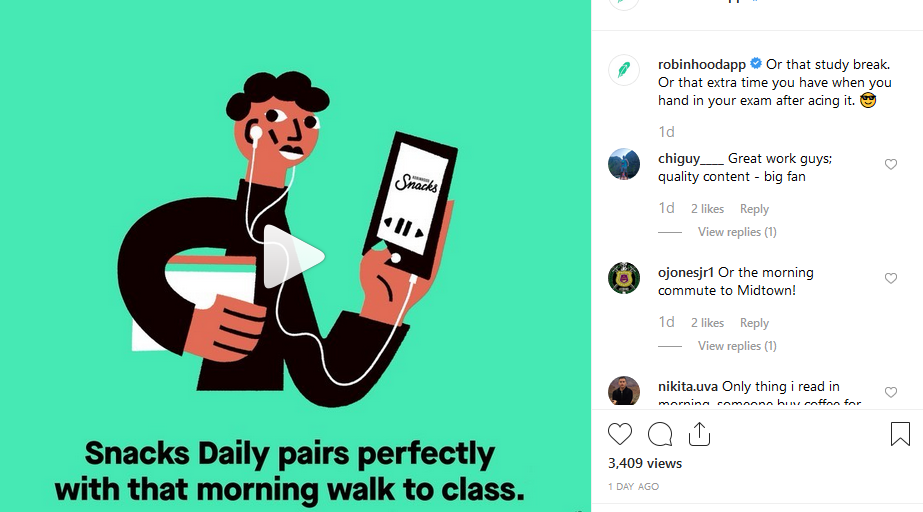 Ellevest #AskSallie
Ellevest is on a mission to redefine investing for women and close the gender gap. Encouraging women to educate themselves and take control of their money, this is a feisty female-focused brand with a strong girl power vibe that's reflected across Instagram.
As a financial services content marketing agency led by female directors, it's clear we can relate to Ellevest as a company. But there's more.
Why We Like This
Their marketing is on point. A quick look at their Insta page screams female empowerment. The visual imagery used is clear, strong and direct.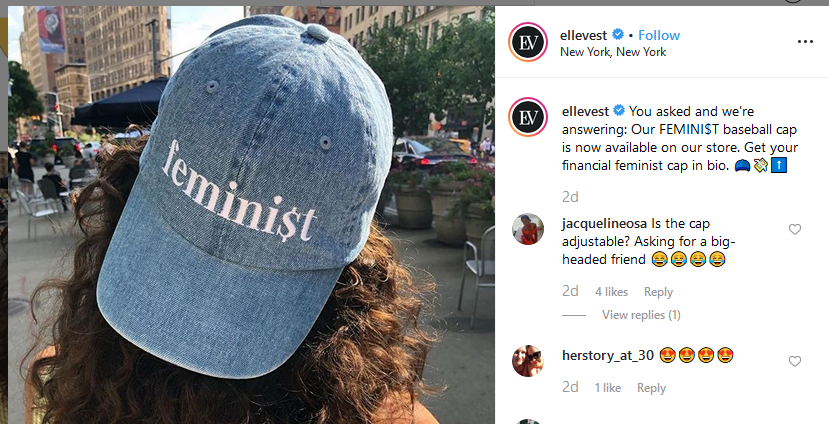 There are strong calls to action throughout and it's clear Ellevest has the needs, questions and concerns of their audience in mind. Ellevest also make their posts authentic and credible by featuring key team members such as Founder and CEO Sallie Krawcheck. A regular video feature on their Insta channel is Ask Sallie. Here, Sallie answers many relevant and topical questions that are essential for female investors. Regular, structured content like this makes it easy for Ellevest to fuel their feed and garner interest.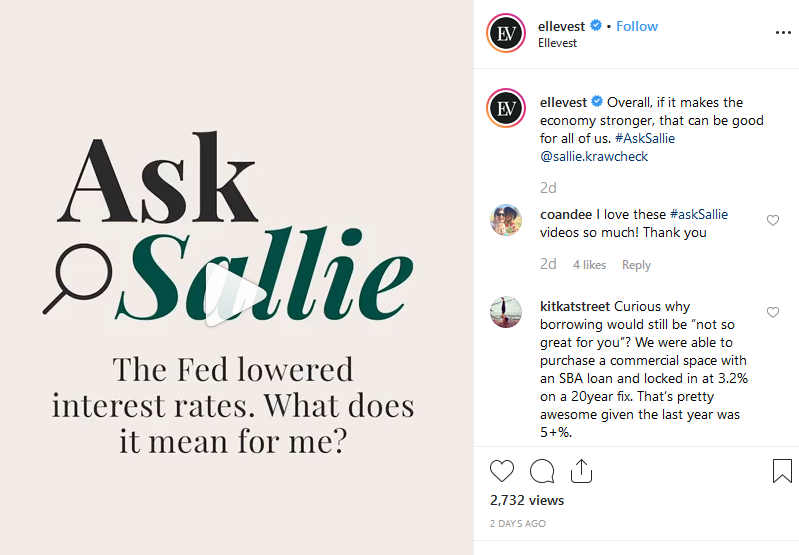 Top Marketing Tip: Feature your top people in posts, go behind the scenes and take responsibility for your content. The finance industry is alive with scams, so it's important to be upfront like "hey guys, we believe what we are saying and aren't hiding anything."
Here at Contentworks, we also love the Ellevest Story feed. This is broken down into numerous categories which promote essential content in a fun and easy to understand way. The Magazine section for instance links back to the Ellevest Magazine via a single image and caption. There's also a whole video stream about the Team which creates transparency and intrigue while taking followers on a journey.

Top Marketing Tip: Instagram Stories are viewed by 500 million users per day. 1 in 3 of the most viewed stories also come from businesses. So, get involved. Here are some tips for creating great Instagram Stories.
#1 The tap forward progression of Instagram Stories makes it possible to tell you story in sequence, so don't muddle things up.
#2 Take a look into your Instagram Stories analytics. If you notice people dropping off with longer stories, keep them shorter.
#3 Use fun elements such as GIFs, stickers and hashtags to keep people engaged. For example, a lot of businesses use the Sound On feature to indicate sound is needed.
#4 Brand your videos with company colours, slogans etc.
Did you enjoy reading Instagram for Financial Services – Yes or No? If you did then hit the share button. Instagram is an exciting place to be for finance brands with a relevant audience. Speak to the Contentworks team today about getting Socially Sorted, our complete social media management solution.