iFX EXPO Dubai 2024 is happening between January 16-18 at the Dubai World Trade Centre. The upcoming event is set to be the biggest yet and will include some exciting B2C features. These include the freshly launched Traders Arena and Lounge, an exclusive environment for traders to integrate themselves into the iFX EXPO community. iFX EXPO Dubai 2024 will take a deep dive into the B2C space, allowing attendees to learn, share, and grow in the world of trading. As returning media partner, we're taking a look at what's coming up.
Don't miss out on the exclusive Early Bird offer for a limited time only. Secure your spot in advance and avoid waiting in line!
Introducing the Traders Lounge & Traders Arena
Every iFX EXPO is unique in its own way, with the upcoming 2024 event in Dubai looking to bridge the worlds of fintech and online trading. For the first time ever, traders will be able to explore dedicated areas; the Traders Lounge and the Traders Arena. The Traders Lounge will function as an exclusive hub for collaboration among traders from around the globe, exchanging insights and building relationships.
Prospective attendees can also immerse themselves into the Traders Arena. This dynamic stage will provide the ideal atmosphere for trading education and community building. Its aim is to foster learning, sharing, and inclusion. All attendees can expect to be a part of an innovative stage. This forum will touch on the latest market & technical analysis, networking opportunities, trading technology, and inspiring success stories.
iFX EXPO Now Brings the World of Online Trading Even Closer
This is your chance to step into the global trading spotlight in the MENA region. The expanded B2C presence at iFX EXPO Dubai 2024 means all attendees can learn how the latest trading technologies and platforms compare, as well as catch a glimpse of never-before-seen improvements and developments. Exhibitors will also have a chance to showcase their products or services and speak directly to a pool of traders that is expected to number in the thousands. Attendees can connect with fintech innovators, industry-leading brands, the most trusted brokers, and service providers.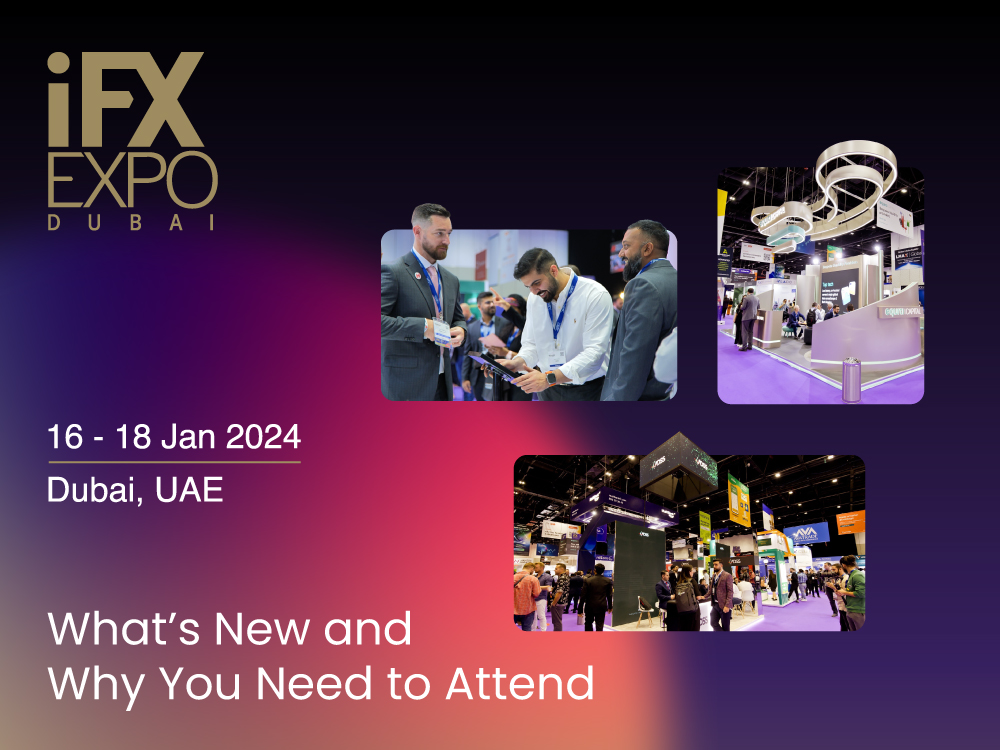 Book Your Sponsorship and Booth at iFX EXPO Dubai 2024
Don't let the calendar fool you, January will be here before you know it.  iFX EXPO Dubai 2024 will present the biggest branding and sponsorship opportunities of the New Year.
A few sponsorship opportunities still remain, including Gold Sponsorship, Traders Arena Sponsorship, Gelato Sponsorship, Idea Hub Sponsorship, Welcome Party, Attendee Bag, Executive Lounge Sponsorship, and Business Lounge Sponsorship.
Or perhaps you are interested in showing off your brand at a booth. If so, the time to book yours is now, with over 90% of booth opportunities already gone. Contact sales@ifxexpo.com for sponsorship or booth opportunities.
Exclusive Accommodation Offer Available
It's never too early to plan your trip to the iFX EXPO Dubai 2024. Doing so is easier than ever with an exclusive accommodation offer. Book your accommodation using the promo discount code provided through the Official Hotel Booking Partner and Travel Care.
Why Dubai?
Dubai makes for a great financial EXPO location for many reasons. It's the leading financial centre in the Middle East, Africa and South Asia region. It has a vibrant ecosystem, with new company registrations at Dubai International Financial Centre rising 59% annually in the first half of 2021. Dubai is also an attractive destination for tourists thanks to its wide array of spectacular sites which include the Burj Khalifa (the tallest building in the world), the Burj Al Arab and the various shopping malls dotted across the city. The Dubai Marina with its famous Musical Fountain show is also not to be missed.
How We Support Finance Brands
As Europe's leading content marketing agency for the finance and fintech space, we're a great media partner fit. Over the years, we've worked with many global brands in both sectors. From financial services web content to daily reporting, blogging, videos, e-books and whitepapers, we take brands to new levels of success. We'll be covering the upcoming iFX EXPO Dubai on our Twitter channel so tweet us your expo news.
Stay tuned for the latest updates surrounding iFX EXPO Dubai 2024 by following the official social media channels. See you in Dubai this January!