From $334.5 billion in 2021, the global content marketing industry's size is projected to grow to $416.23 billion by 2027. That's huge. So if you've been neglecting your content strategy, it's important to get switched on, as competition is about to go through the roof. As it stands, 54% of organisations spend up to 50% of their marketing budget on content marketing. Here's our take on content marketing for struggling brokers and some expert tips to get you started.
#1 You Need a Kickass Content Marketing Strategy and a Solid Tone of Voice
According to reports, marketers globally are in a bit of a jam when it comes to their content marketing strategy, with 49% having no idea how their content is performing. Yikes! 9% of the 800 marketers surveyed are not tracking metrics and 8% don't know if they're being tracked or not. Without solid data and a clear overview of goals and missions, a clear strategy can't be executed and even if it was, you wouldn't actually know! Lacking a clear focus,  marketers are too often influenced by other departments. It was found that in 2022, 69% of content strategy decisions come not from data-driven analysis but from other teams (sales, support and such like). And that's the content marketers that actually have a strategy. 43% don't.
Here's what you can do to regain control:
Create a tone of voice document to share with your team. This should include brand representation strategies, how to talk to clients and what's hot and what's not on your social media channels. Be specific. Does the brokerage have a detailed naming format? Are there certain terms and phrases that should be avoided? Do you allow colloquialisms, emojis, memes and such like in your content? Is there a specific bank of approved images that must be used? What can't you say for compliance reasons? Anything that's content related should be in this document as this will ensure all marketing communication is consistent which is of paramount importance in a challenging and often mistrusted sector.
Know your audience. Getting to grips with your demographic is non-negotiable as it'll allow you to tailor content accordingly. The level of investor/ trader, their region, their interests and their favourite social media channels all come into play.
Create Key Performance Indicators (KPIs) based on real data. Interpreting data regularly will inform your content strategy and allow you to set actionable targets and easy-to-monitor goals known as KPIs. 
Contentworks Agency works with brokers to strategise and deliver winning strategy and Tone of Voice documentation. We also provide training and consultation on how to implement your winning strategy internally.
#2 You Need a Winning Blog For Your Traders
Traders and investors are looking for everything in one place. This is especially true for Gen X, millennials and Gen Z who don't want to scratch around for information. So, if you can be the broker that provides all the information they need in one place, you're winning. When we say "everything" what do we mean? We mean a site where they can trade everything (the utopia would be Forex, CFDs, Indices, Metals, Cryptos and commodities). Then the site would contain updated analysis, marketing information and optional text or email alerts. It would include education from beginner through to advanced including videos and tutorials. And lastly, it would contain a great mix of social media, company news and corporate social responsibility.
Here's what you can do to regain control:
Talk to your audience. First and foremost, deliver engaging and educational content that your audience will love. They need to be able to walk away knowing that their time spent with your article was valuable and not a waste of time. This will keep them coming back for more. FX brokers with cryptos, for instance, could look at top cryptocurrency trends or how the current market is performing. Price predictions and insights from expert traders, economic observers and popular analysts also go down well as they'll help to give your blog authority.
Utilise an agency. By utilising an expert financial services content marketing agency like Contentworks, you can benefit from a whole team of writers. That will allow you to create a diverse mix of analysis, news, explainers, PR and social updates. It's very difficult for a small team to achieve this and impossible for one writer.
Update your blog regularly. Yes, you're busy, but your blog should be viewed as a full-time project. People do not want to land on your blog only to find it's really out-of-date. you need to be following market trends and including them in your roundups. This is also essential if you want to maintain a decent ranking on Google. Whether it's Elon Musk, Boris Johnson, Meme stocks or gas prices, aim to include it.
Answer FAQs. If you're in need of blog inspiration, check out what's being searched online and on People Also Ask results. This should unravel a wide range of queries and consumer questions that you can answer in blog form. Answering FAQ questions directly is an excellent SEO opportunity that'll help you to rank for specific search terms.
Divide topics for searchability. Nobody has time to scroll through every single blog you've ever written to find something that interests them. They're more likely to bounce off your page than put in any type of work. So make things easy by dividing your blogs into topics. An example might be Daily Analysis, Platform Updates, Company News and Press Releases.
Include breaking industry news. Be seen as a go-to for anything urgent happening in the industry. This will take time, but by creating a news tab and being on-the-ball with alerts, you can start to pull more and more people to your brand. Remember to share your posts on social media, emphasising when something is urgent.
We love the choice over at XM and how clearly it is laid out for traders to choose from.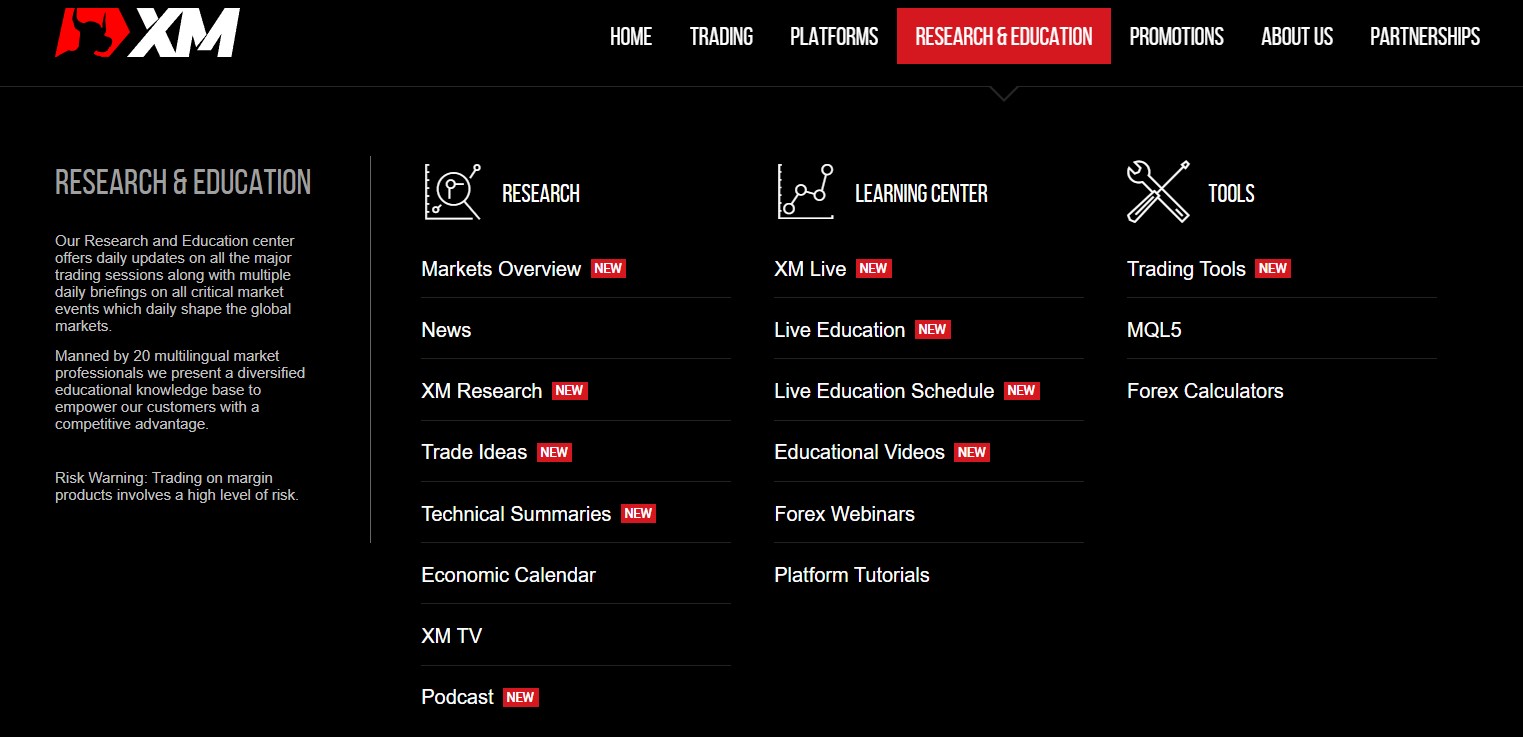 #3 You Need a High-Quality Education Centre
There are so many interesting things you can do to attract and engage followers, such as creating a high-quality education centre. Many brokerages already have these, so you really do need to up your game if you haven't built one yet. And we're not just talking FAQs or glossaries. Instead, you can go to town creating everything from trading videos and tutorials to e-books, courses and quizzes. Lots of this content can be 'unlocked' when users sign up, helping you to build leads and create a strong database. Remember GDPR consent regulations.
Check out our fun finance quizzes –  we can create these for you too, customised to your brand and educational focus.
Here's what you can do to regain control:
The more creative you can be, the better. Look at Revolut's Crypto Learn and Earn Quiz for inspiration. The company's Crypto Learn & Earn initiative gives people the opportunity to learn about a specific cryptocurrency and familiarise with the world of crypto by completing lessons consisting of videos or cards and answering questions designed to test their knowledge and understanding. Once a lesson has been completed, participants have the chance to receive a small amount of cryptocurrency as a reward. What a great way to build trust and keep people interested in what you have to offer.

Financial literacy is surprisingly low. In fact, a recent survey revealed that 76% of American adults want to understand more about cryptocurrency, but don't know where to start. A whopping 64% said they'd be much more involved with crypto if it was easier to understand. So break your content down into easy-to-search topics and offer beginner lessons as well as content for more advanced traders.
Create a space for partners. If you want your IBs and partners to bring you business then you need to give them some marketing support. You also want to avoid them creating their own non compliant marketing materials and landing you in trouble! Create banners, social media covers, samples posts, free blogs and content they can copy. Provide guidelines and keep your blog updated with helpful partner tips.
#4 You Need to Be Killing It On Social Media
If you haven't got a strong social media presence then you're certainly losing out to other brokers. In our experience, brokers who are succeeding in 2022 have a presence on numerous social media and forum channels including TikTok, Instagram, Twitter, Facebook and LinkedIn. And we mean unique content for each platform, updated regularly each week. Broker struggle with this because it's a lot of content to produce and certainly too much for one person. Additionally, social media managers will probably need a financial services content writer to help them prepare content. And lastly, you need to provide support and engagement for the fans on your channels. It isn't just about posting and leaving!
Here's what you can do to regain control:
Go where your audience is. First and foremost, you must know where your target audience hangs out online. If they're on TikTok and Instagram, like most Millennials, and you're slogging away on Facebook, this is just a waste of time. Similarly, find out when they're online and most likely to view your posts. If you operate in different parts of the world, be sure to address the time differences by scheduling posts.
Post a diverse range of content. If you're posting trading charts every day on every social media platform then we know why you're struggling. Content needs to be diverse to keep your audience interested and interacting. Mix it up with posts, memes, gifs, videos, polls and Reels.  You could also post reviews, Stories and Live content from influencers or top people within your company. Remember, putting a face to your brand can help to build trust. You must also acquaint yourself with the vibe of each channel. TikTok, for instance, is renowned for its short, snappy videos. Many brands get a little crazy on this platform and let their hair down. But with #finance receiving 8 billion views, people are also looking to be educated.
Remember Compliance. As a broker, you know the finance industry is heavily governed and social media platforms have their own rules too. For example, Facebook now allows ads that promote cryptocurrency but only from pre-approved advertisers. Avoid bans, penalties and delays by seeking the right permission. What's more, finance-related content is watched with an eagle eye, so remember to include warning messages where necessary and don't post anything that could be considered one-sided or misleading. Warnings must be visible and written in the same font as the other content.
We love the fun and informative social Instagram page over at Trading.Com. Their designs are awesome too which is important for today's image heavy social media.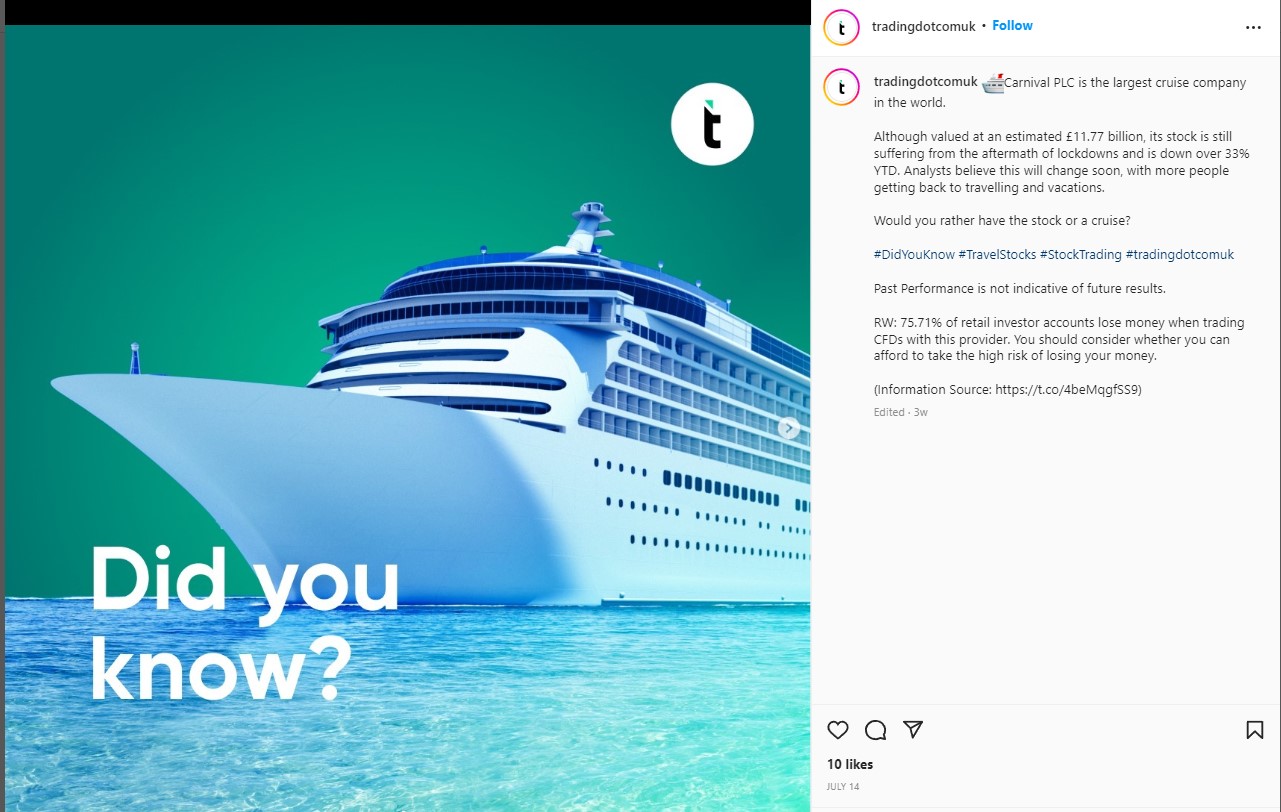 #5 Your Email Funnels Need to Be On-Point
You wouldn't want to send an acquisition email to an existing trader as this shows a lack of respect and professionalism. So your email funnels really need to be on point. Target users at different stages of their journey. For instance, if someone has signed up for a demo account, you can send them hints, tips and incentives to switch to Live. If people have already started trading, you can get them to join trading communities, become a pro trader and join any contests you're running. Split test emails to see what performs best. Perhaps one will have a click-through button and another will have a form. All this information can be used to your advantage.
Here's what you can do to regain control:
Embrace personalisation. Simple things such as using the consumer's name or writing a short snippet about their trading journey to-date will show you value their presence with your brokerage.
Keep it short. your emails don't need to rank for SEO so keep them short and punchy. Most subscribers won't reach the bottom of your emails if they're too long, but they will read short ones.
Watch your subject naming. The title or subject of your email matters for many reasons. Firstly, some words by brokers will be on a spam list so your audience may never receive them. Words like: Bonus, FREE, Earn up to, Get % Back, Hi There, 100% guarantee will ensure your mails get flagged. However, the subject should be interesting and relevant to get a good open rate.
Only email opted in recipients. In the finance space, trader and investor lists are rife and easily bought. But it's against GDPR rules to email anyone who didn't choose to opt in. This can land you in a lot of trouble. Plus, your chances of success are low seeing as the recipient doesn't know who you are. Instead, work on building your subscriber list by offering juicy offers for an opt in. Exclusive trading guides, expert investing tips, free video tutorials or even one 2 one coaching. All this will sway a serious trader.
Our team of financial services content marketers can provide technical analysis, financial blogging and finance-focused social media. Compliance are not our enemies and we follow regulatory news and updates from ASIC, CySEC, MFSA, FCA, FSA, FRB, SEC, MiFID II and more. Become the go-to expert in your sector with news, analysis, education, social media and PR. Contact our team now.
Enjoyed reading How Can Content Marketing Help Struggling Brokers, hit share!