Imagine a world without YouTube. Hard isn't it? Singing cats, dancing grannies and number one hits have all found a home on this video sharing website. And since its conception in 2005, both brands and influencers have crafted a YouTube presence. Just check out Bloomberg Television with over 359K subscribers or The Financial Diet with close to 700K followers. Failing to give your business a video marketing presence in 2019 risks your company being outshone by competitors. So, here's our team with some easy YouTube marketing hacks for your finance brand.
Why is YouTube Relevant?
Cisco predicts that video will account for 82% of all internet traffic by 2022.
92% of internet users now watch videos online each month.
54% of consumer want to see more video from a brand they trust with 72% preferring to learn about a product/service through video over text.
YouTube is the second largest search engine in the world with around 30 million visitors per day and 1.5 billion active users per month.
There are 300 hours of video uploaded to YouTube every minute.
Traditional TV is declining, weekly watch time dropped 12% among 18-34-year olds in 2018.
YouTube supports 80 different languages and has local versions in 92 different countries. That means it reaches 95% of the internet worldwide.
We've established YouTube is the place to be. So how can you tap into your audience, stay true to brand and start converting your marketing activities into profit?
YouTube Marketing Hack #1 Increase Engagement, Improve Rank
Algorithms are everywhere helping platforms like YouTube to rank content according to popularity. This enables them to deliver the best search results to consumers. The more people interact with your YouTube video, the higher it will start to rank. But if you're new to the world of YouTube, how do you grab consumer attention in the first place?
Here are some tips.
Think keywords – gone are the days of stuffing as many keywords into content as possible. Phew. But they are still relevant helping to greatly improve the searchability of your content and showcase your relevancy.
Analytics rock – how are you supposed to grow your YouTube strategy if you don't know your stats? Analytics are gold dust for marketers allowing you to keep track of performance. And, YouTube's administrator analytics panel is pretty awesome making things a whole lot easier. Learn all about audience demographics, popular videos, watch times and more. Use the facts to spot trends and fuel upcoming campaigns.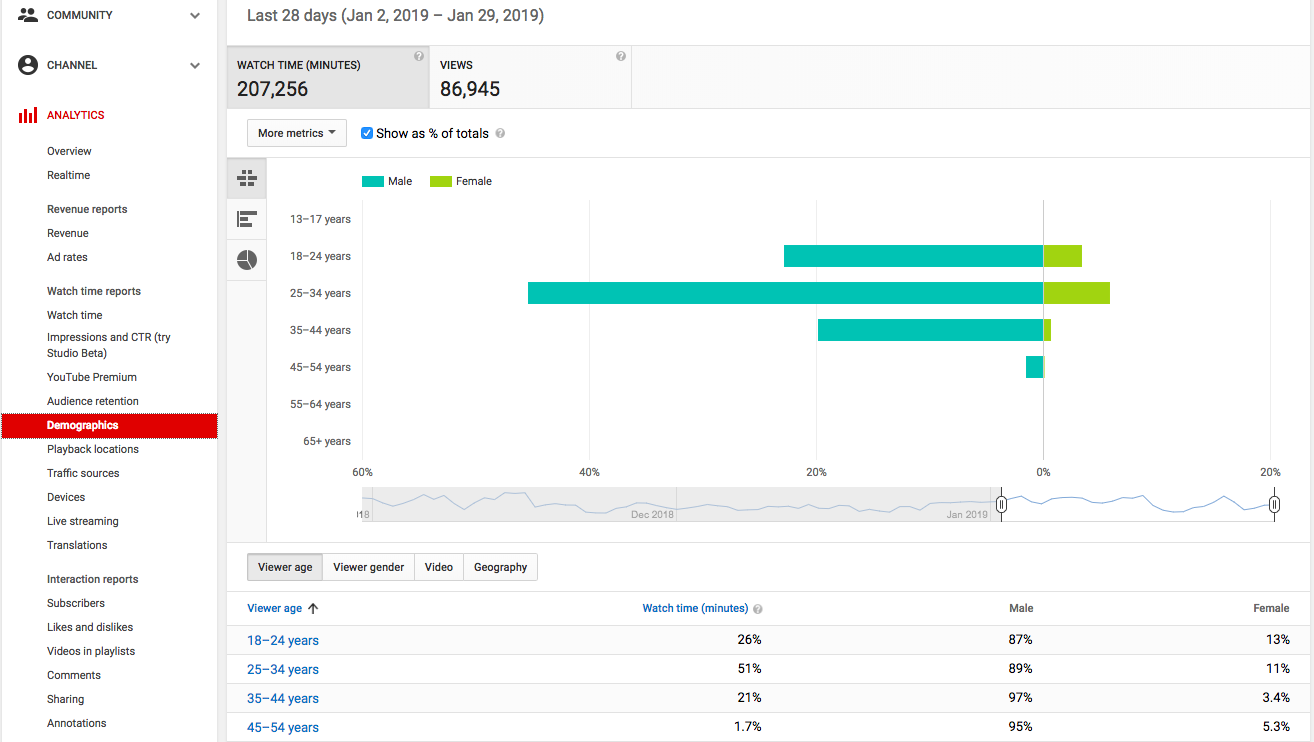 Don't waffle – keep your videos short and sweet. 33% of viewers will stop watching a video after 30 seconds with 45% leaving after one minute and 60% by two minutes. If consumers jump ship before your video has ended, YouTube's algorithm will not rank it highly. So, keep things snappy.
MoneySuperMarket has this strategy nailed offering useful tips and information snippets in a short, sharp and on-point kind of way. They also load their videos with humour to encourage people to watch from start to finish. Even their video titles are quirky in order to entice clicks.


Top Tip: Ask questions that resonate with your audience. This will encourage your followers to click and find the answers. You can then showcase the relevancy of your product. It's a great marketing technique to gain the attention of consumers in a useful way.
Don't buy subscribers – buying subscribers. Sounds like a great idea doesn't it? Well it's not. In fact, buying subscribers could see your channel penalised. That's right; YouTube takes a close look at how many followers you have in comparison to video views. So, if you have 50K subscribers and only 10 video hits, it looks like your content is underperforming and therefore the YouTube algorithm may not present your content during a search.
Get chatting – whenever you embark on a YouTube marketing journey, keep that all-important algorithm in mind. It favours videos with impressive engagement rates, so try to stimulate conversation to incentivise comments. Perhaps by asking a question or encouraging followers to enter a competition by engaging. Asking a sizable workforce to comment on any new content you post will work too. And, if you want to enjoy a quick algorithm boost, how about emailing your video link to your opted-in database?
YouTube Marketing Hack #2 – Drive Traffic to your App/Website
There are many elements to YouTube marketing. While it's important to create memorable video content that will boost engagement and encourage subscribers, you probably also want to drive traffic to your app or website. So, what marketing hacks can we use to drive this all-important traffic to the right place?
Work on your CTAs – telling users what you want them to do and providing a strong call to action as part of your YouTube marketing effort is a great idea. Often, if you don't spell it out, consumers won't know what to do next and may go looking for their next web-based activity. Keep them with you brand for as long as possible by creating a useful video description and title. Provide links too as this prevents users from getting lost on your site.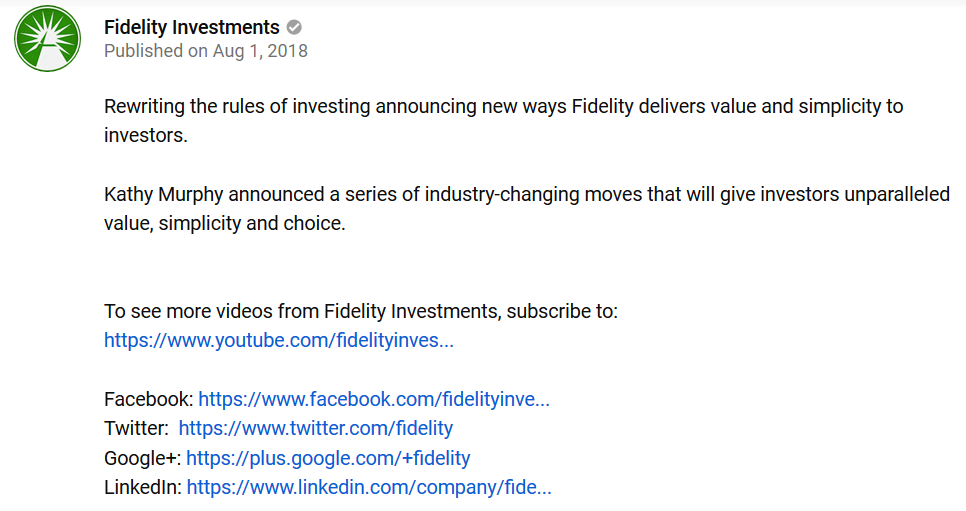 Create content that's useful – being useful to your viewers is a must. Don't be overly promotional as this is a good way to get on the nerves of your consumers. Instead, showcase the benefits of your product through user-generated reviews, product explainers and demos using your product. If you can solve a user problem or question, you're more likely to create a need for your product that will drive traffic.
Revolut is a revolutionary finance brand that does this perfectly. As an online-only business model, their YouTube efforts are catered to impatient millennials who require quick answers in video format.

Add annotations and end screens – while no-one likes a busy screen with pop-ups everywhere, it's important to draw attention to key messages in a bid to drive more traffic. And this is what annotations and end screen cards do. Essentially, they act in the same way as call-to-action buttons, prompting people to subscribe to channels, watch other videos and so on. Call-to-action cards appear at the end of a video and help keep consumers focused on your brand.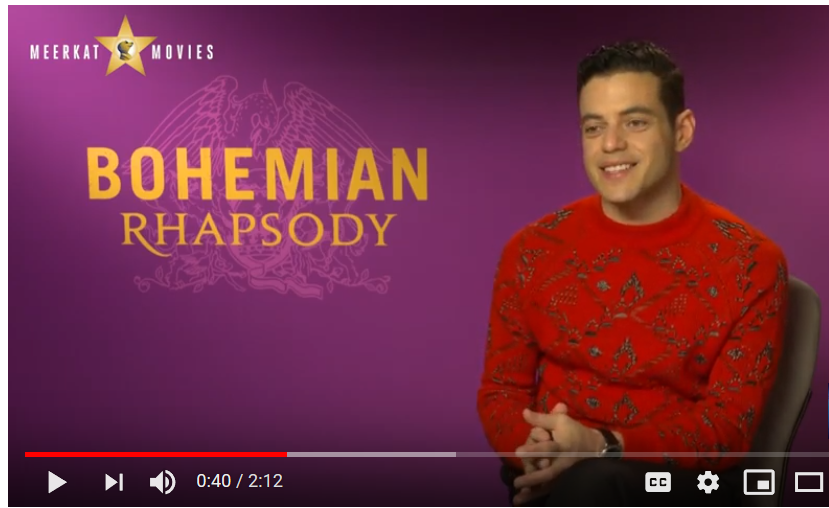 Embrace trends – one way to drive traffic is to embrace popular trends. If you can find a way to stay on brand but to discuss topics that are getting everyone excited, you can use hashtags and tailored content to attract followers and potential consumers. Compare the Market did this by interviewing Bohemian Rhapsody Star Rami Malek who won an Oscar for his portrayal of Freddie Mercury.
YouTube Marketing Hack #3 – Tap into Influencers
Thinking about onboarding influencers as part of your marketing strategy? Then take a look at these useful tips. Remember, influencer marketing can be expensive. Particularly if you aim for macro influencers. So, be sure to budget carefully in order to maximise your ROI.
Here are some tips to keep in mind:
Set your KPIs – Key Performance Indicators (KPIs) will help you to set realistic time frames and achieve your desired goals. They enable you to identity starting points and to track progression over time. This is important when working with influencers as you need to see that your marketing budget is being used effectively.
Create an influencer kit – collaborating with an influencer takes careful planning. There's no way you can simply ask someone to 'represent' your brand and expect them to get it right straight away. With this in mind, always create an influencer kit which details specifics such as goals, timings, deadlines, hashtags, tags, UTM tracked links and product specifications.
Mention and tag influencers – if you have a tight budget, why not mention and tag influencers? It's possible to get free influencer marketing this way. Embedding a YouTube video into a blog which links through to an influencer's Twitter page is one way to connect to influencers. Or, you can even ask nano and micro influencers to star in a branded video which they can then use to elevate their popularity and keep their followers engaged. Don't forget, influencer marketing can be a two-way deal.
A good example of influencer marketing can be seen by Chase Bank. They not only collaborated with Serena Williams for a TV commercial but also promoted an investment interview with her via YouTube, making sure her name was mentioned in the video description.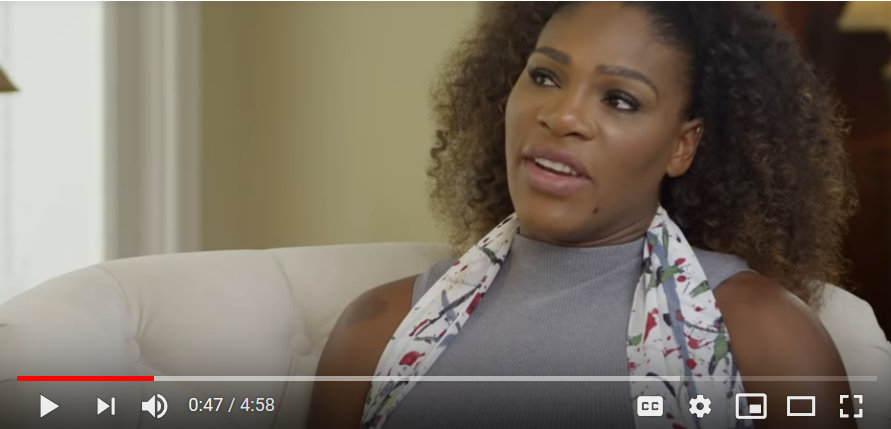 YouTube Marketing Hack #4 – Repurpose Video Content
If you've spent time creating an awesome video, why not repurpose it in order to increase outreach, boost brand awareness and improve ROI? With YouTube, it's really easy to embed videos into your blog or even turn them into gifs. You can also add video transcripts to your blog in order to utilise keywords and attract and audience who may prefer to read/listen to the content of your video. Here are our repurposing top tips:
Create GIFs from your videos – GIFs are ideal for social medial platforms such as Twitter as they can be entertaining, are easy to share and drive high levels of engagement. To create a GIF from a YouTube video, select the URL at the top of your browser. Add the word "gif" right before the domain name so it reads, gifyoutube.com/[your-video-tag]. This will bring you to gifs.com, with your video already uploaded and ready for editing.
Spice up your blog with embedded video – sharing YouTube videos on WordPress is a piece of cake. Under the video, click SHARE, then Embed. From the box that appears, copy the HTML code and paste it into your blogs HTML.
Create transcripts – translating your video content into multiple languages will open up your brand to a larger, global market. YouTube automatically generates a written transcript for every single video uploaded to its website. But that's a transcript of the existing video- presumably English. To add other languages; Open the video, click the icon on the far right for "Subtitles/CC." (CC stands for "Closed Captions.)
Set your language then upload or paste your alternative language transcript. Remember, this works well to dub voiceovers but not so well with videos containing onscreen text.
YouTube Marketing Hack #5 Amateur Video Tips
If you don't have a huge video marketing budget it's ok. You can create a decent brand video using just your smartphone. Video types that can be recorded in this way include interviews, product demos, behind the scenes insights and Q&A videos. These can all be uploaded to YouTube and shared across other social sites.
And if you think you need the acting skills of Brad Pitt think again. A more natural, realistic approach can help your brand to come across as authentic rather than staged. So, forget the Hollywood smiles, but remember to rehearse your lines.
Let YouTube help – did you know that YouTube itself has a variety of video editing tools? Enhancements is particularly awesome allowing you to:
Apply time lapse
Apply filters
Auto-fix lighting and colour
Rotate the view
Stabilize shaky camera motions
Apply slow motion
Trim out parts of your video
Custom blurring
Blur faces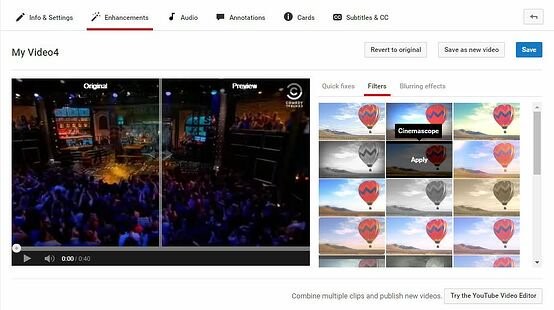 Images via filmora
Live stream videos to YouTube – if you have a webcam or mobile device, you can live stream video. Live streaming is hugely popular and has seen increased adoption since the advent of Facebook Live and Instagram Stories. Streaming live events is a great place to start as it doesn't require a large budget yet livens up your channel in a fun way.

Did you enjoy reading our easy YouTube marketing hacks for your finance brand? Whether you need an explainer video, promotional campaign or Q&A, you need great content to make it pop. Talk to the team at Contentworks to get started with your video marketing.