We love a good networking opportunity here at Contentworks, even if it means mingling online during this new #StayAtHome era …. booooo! That's why we're thrilled to announce we'll not only be media partnering with Virtual Vision Finance but hosting our own marketing panel at the event! Now that's something to brighten up this very strange year.
Virtual Vision Finance – What's It All About?
This innovative conference returns following the success of the revolutionary Virtual Vision Finance event back in June 2020. Brought to you by Ultimate Fintech, producers of the renowned iFX EXPO, this is an exciting, creative and innovative B2B digital finance expo that's fully tailored to the current 'COVID' climate. While gathering in a physical location is hard due to restrictions, Virtual Vision Finance offers businesses the chance to network, connect with potential business partners and generate those all-important leads.
Times are hard right now but with digital interaction keeping spirits high, we're proud to be part of such an innovative event. So what can you expect from Virtual Vision Finance?
Virtual Vision Finance  – Raised Expectations!
We've seen what can be achieved online in recent months. And the effort that goes into these events from both organisers and participants is impressive. A second round brings higher expectations and Virtual Vision Finance is set to deliver, offering:
Insightful Content and a Full Agenda
If you attended the last Virtual Vision finance event, you'll know that the conference featured 12 hours of insightful content delivered by industry professionals. And the follow-up event is set to be just as thought provoking. As we move towards the end of the year, all eyes are focused on 2021 and what that means for the finance realm, with this summit delving into everything you need to know for the turbulent months ahead.
Check out the full agenda here
24-hour LIVE virtual expo day
The online Virtual Vision Finance platform will support international time zones, making it possible to engage with attendees and exhibitors world-wide in live format. The virtual platform will also be accessible for 30 days after the event allowing you to truly solidify any new business connections and correspondence.
Virtual speaker hall and workshop room
Virtual panels work. They're fun and exciting to be involved with as seen at the first Virtual Vision Finance event. Fireside chats are also eagerly anticipated as well as workshop sessions with live Q&A polls giving the audience and speakers the chance to interact directly. Being a virtual conference, this event is all about engagement and allowing people to get involved as much as possible from the 'comfort of home.'
Top Tip: Get your digital presence prepped and ready. That's your Linkedin profile, website or landing page.
Disclaimer: Don't worry, if you're wearing pyjama bottoms and a shirt for the Expo – who are we to judge?
Contentworks Marketing Panel – Marketing Strategies for a 2021 Landscape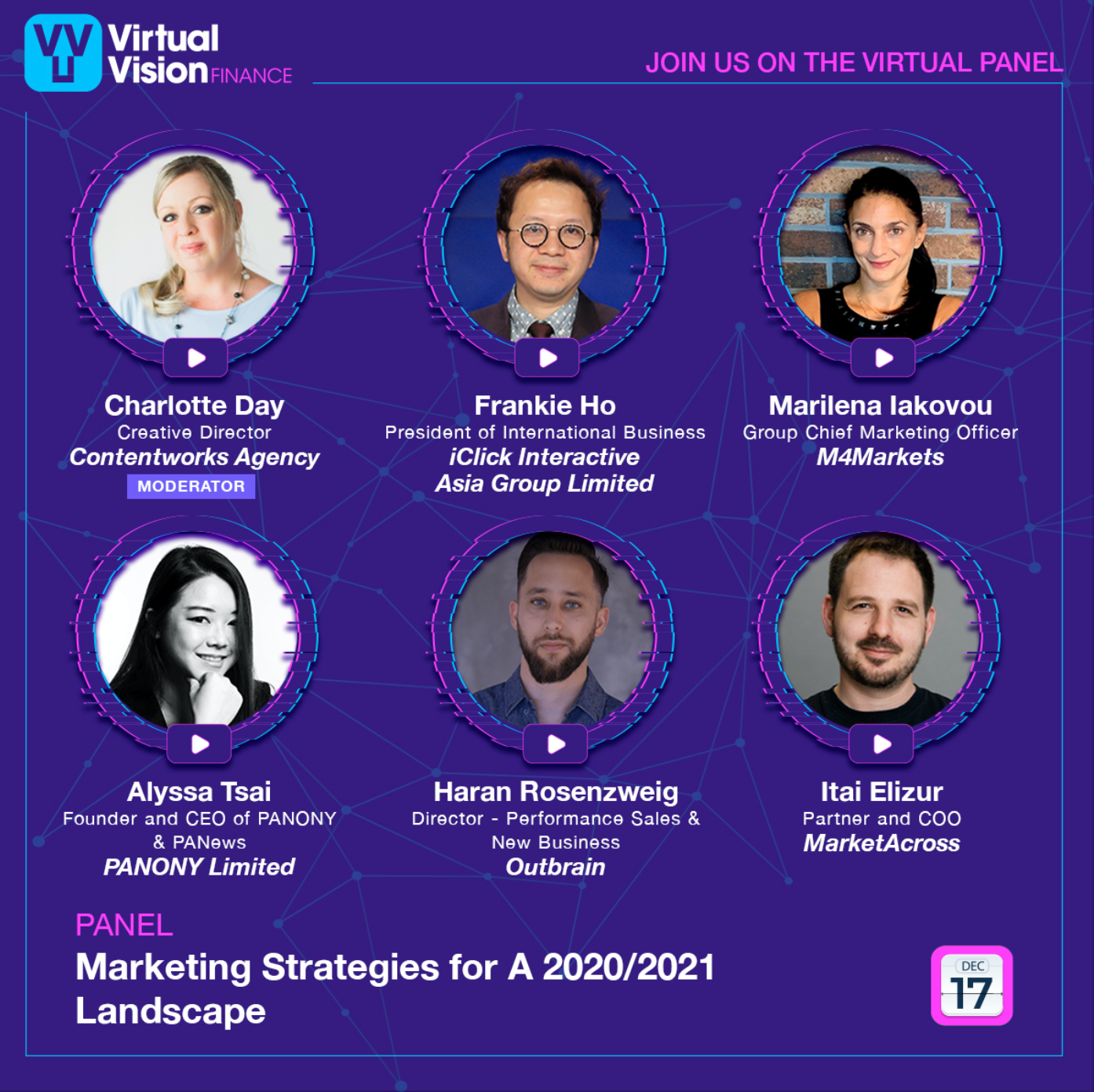 2020 was a wild ride. With consumers stuck at home, forced to go digital but facing financial and emotional hardships – the landscape has changed. This session brings together leading marketers in finance to discuss the best strategies and channels to engage your audience and seize the opportunities created by the pandemic from trading volumes to acquisition.
Media partnering this event makes perfect sense for the Contentworks crew as we're expert marketers for the finance realm. Our experience also puts us in good stead to host our very own marketing panel: Marketing Strategies for a 2021 Landscape. This will be moderated by our very own Creative Director, Charlotte Day, and is designed to prepare marketers for the coming months while looking at effective ways to thrive.
The panel will run for 1 hour and will include numerous discussion points for panellists. These include:
Marketing highs and lows. What worked for the marketing experts of 2020 and what didn't this year?
Social media/content strategy adaptations in 2020. What changed and was channel usage/spend impacted?
Marketing tactics from brokers. Discover the latest broker requests from videography to software and webinars.
Maintaining the human element of digital marketing during lockdown situations. How was this possible?
Marketing spend in Q1 2021 as well as predictions for 2021.
Marketing Panel Speakers
We're thrilled to welcome an array of marketing professionals to the panel who are sure to bring fascinating insights to the table. Panel attendees include:
Moderator- Charlotte Day Director at Contentworks Agency
Charlotte is a content marketing strategist heading up social media and storytelling at Contentworks Agency. A content marketing thought leader, she has 1000+ articles published, guest writes for leading social media hubs and frequently speaks at events. Charlotte creates enviable content and social media marketing strategies for leading FX, banking and fintech brands around the world.
Itai Elizur Partner and COO at MarketAcross
Itai has spent the past decade helping enterprises and start-ups to develop and execute marketing and growth strategies in the digital space. In his latest position at MarketAcross/Inbound Junction Itai has managed marketing and PR campaigns for ventures like Binance, Etoro, TRON, Cardano, Qtum, and many more.
Alyssa Tsai Founder and CEO PANONY and PANews
On the panel is Alyssa Tsai, Founder and CEO of PANONY and PANews-  companies working to bridge the knowledge and resource gap between Asia and the global blockchain industry. Alyssa is also an honoree of Forbes 30 Under 30 in "Media, Marketing & Advertising" for both Asia and China versions.
Haran Rosenzweig Director – Performance Sales & New Business Outbrain
Haran is leading the performance sales & new business efforts at Outbrain in the EMEA region. Prior to his current position, he was an affiliate, content creator and managed teams and projects based on content and performance oriented native advertising media buying.
Frankie Ho – iClick Interactive
Frankie Ho is one of the Internet veterans in Hong Kong who has successfully developed various ROI driven online solutions to top-tier MNCs and premier brands in Hong Kong and the region. Prior to joining Baidu International, Frankie was the Head of Sales in Yahoo! Hong Kong, specialising in new business and partnership development for Yahoo!'s search and performance display solutions.
Marilena Iakovou – CMO M4 Markets
Marilena holds a degree in Marketing and Advertisement and a master's degree in Public Relations & Communication from the La Salle University of Philadelphia. She brings more than 10 years of hands-on experience in planning and executing effective marketing campaigns aimed at driving revenue and growing awareness for renowned Global companies. Marilena has been working in the financial sector since 2012 and has held key marketing positions with major global financial companies. As M4Markets Group's CMO, Marilena is responsible for developing, implementing and monitoring the overall marketing strategy of the Group.
Excited yet? Sign up to Virtual Vision Finance and get the insights you need to take on 2021. At Contentworks, we will be happy to answer any questions you may have on the day, we will also be tweeting so be sure to follow us @_contentworks on Twitter. Contact our team here.