The iFX EXPO is the biggest fintech expo in the world, with editions taking place annually in Cyprus, Dubai and Bangkok. Contentworks Agency, a leading marketing agency in the space, has been media partnering with iFX EXPO from its inception. In this exclusive interview, Ultimate Fintech CEO George Panayiotou is talking with Charlotte Day, Director at Contentworks Agency to share the lowdown on the iFX EXPO Dubai 2023 taking place between 16-18 January.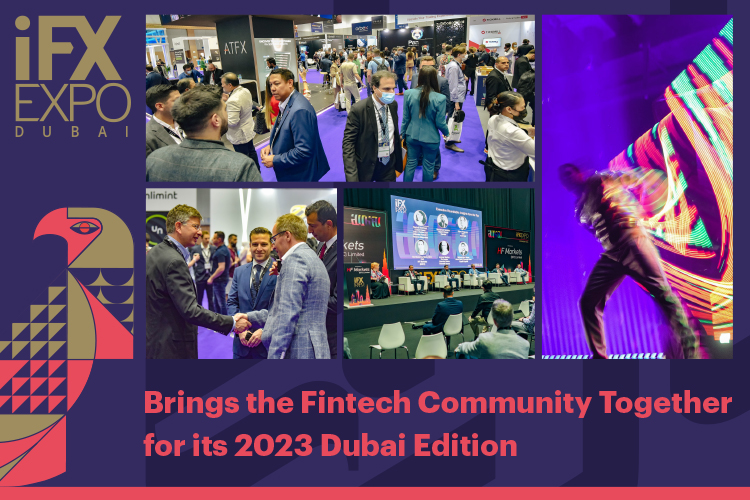 CHARLOTTE: Thank you for joining me today George. iFX EXPO is as much a mindset as an event. If you were to identify 3 things that distinguish iFX EXPO Dubai 2023 from previous editions, what will they be?
GEORGE: Thank you, for having me. It's always a pleasure to speak about iFX EXPO. It is indeed a mindset, a vision, a mission, and a spark of ingenuity that brings industry players together. I believe this year's edition will distinguish itself by three things:
Primarily, this year iFX EXPO comes with a feature-packed mobile app that our attendees will love. We asked ourselves, what could we bring new this time, and my team came up with this brilliant idea to enhance everyone's networking experience and enable every attendee to make the most of the event, meet the right prospects, establish meaningful connections, and have some fun in between.
Secondly, 40% more exhibitors have shown interest in this year's event. So, this edition will gather more participants and hence, the offering on display will be far more diverse.
And last but not least, 2023 will mark the first networking area where we will have an alcohol-serving bar to lighten up the spirits allowing participants to unwind, put business matters aside for a while and just feel good.
CHARLOTTE: An app is a good move for iFX EXPO and will be hugely beneficial to attendees. The alcohol serving bar will be too! What's it like organising such a huge expo? How does it look behind the scenes?
GEORGE: Yes, this new app will hopefully make it easier and smoother for everyone to navigate the event, leaving nothing and no one out of sight and out of mind, but no more spoilers.
As far as the organisation of a large-scale event like iFX EXPO goes, I can only say this. It's rewarding to see the finished product after a lengthy and detailed planning and organisation process. You know, it's almost like a living organism, you need to nurture it to grow. As the organisers of the iFX EXPO shows, we work closely with an amazing team of creative people behind the scenes who put everything into the show. It's really amazing and I am lucky to have them around me, as without this great team who invest their energy and ingenuity in these shows, iFX EXPO will not be possible. A lot goes on behind the scenes, as you might imagine, we're all busy bees and will go above and beyond to offer the best experience to our exhibitors, attendees, and speakers.
Speaking of exhibitors, it's refreshing to see them in action as well, setting up their booths, and most of all, see new creative designs every time. Working closely with our clients, building solid relationships is truly remarkable in a world that functions in fast-forward mode – and, at Ultimate Fintech, I believe we've achieved to marry fast-forwardness and stability. As our clients grow, we grow. At the same time, new names and logos also decorate our exhibitions year after year and that's what makes us truly proud.
Now, referring strictly to the practicalities of setting up a show like iFX EXPO Dubai, I can say a lot of brainstorming, thought, afterthought, staring at the ceiling and sometimes countless discussions with our clients and contractors on-site go into it. But without these ingredients, iFX EXPO will not exist. We must be vigilant and oversee every single aspect from fit-out to interior decorations, booth setting, catering, and everything else in between. We must ascertain that everything is in place, according to the approved mock-ups. But once it's all brought into place, all the long hours and sweat will only prove worthwhile. Nothing compares to the satisfaction of work well done. You know, we love what we do, and I believe it shows. Most importantly, our clients also notice it. That's why they attend our events year after year.
CHARLOTTE: The iFX EXPO exhibitor hall and organisation always looks immaculate for attendees and exhibitors. Does anything ever go wrong or not according to plan? Tell us a funny story of when that happened.
GEORGE: Of course, there are always "issues" but as a team, we will always find a solution together.
Many things go wrong or if not outrageously wrong, as you well put it "not according to plan". This is one of the things that keeps us going. The drive and push to avoid mistakes or last-minute issues. But no, things don't always go according to plan. I remember one instance when – of course, I was fuming at the time – we arrived at the venue only to find that instead of the nice LED screens that we had been promised turned out to be just a projector on the wall, which had 0 visibility and was of no use to our clients. We sat, huffed and puffed but after a while we picked ourselves up and built an LED screen ourselves out of parts we purchased ourselves to keep our standards. It's moments like these that build a team. Let alone that we had to have it up and running in 48 hours. But we made it. That's when we all learnt to trust actions, not words. The most important thing? It was an amazing expo, and our clients were happy.
CHARLOTTE: All's well that ends well! We heard from attendees that Dubai was the best iFX EXPO show last year- do you agree?
GEORGE: Dubai is an amazing location for iFX EXPO not only geographically because of its position in the Middle East, but also because of the Emirate's remarkable technological capability to emerge as the ultimate destination for high-end fintech and financial industry insiders. However, producing shows in Europe and Asia is equally amazing, and we love being able to appeal to many different clients in many different markets around the world. Offering variety is always exciting in our eyes. All our expos are GREAT. However, the Dubai EXPO feels more prestigious since our basic booths are made by MDF rather than a modular system. This gives it an exclusive appearance.
CHARLOTTE: What is the formula for iFX EXPO's success, in your opinion?
GEORGE: Simply explained, teamwork, passion, and pride in the work we do! Bringing people together and building long lasting relationships is certainly a great recipe for success. The iFX EXPO's success stems from the hard work and effort the team puts into producing the Expo. As a brand, iFX EXPO has established itself as the Leading B2B Fintech Expo out there and it is also connected to the Work Hard Play Hard model. We have seen, proved and networked with Expo participants during the 2 Exhibition Days. However, our parties connect and allow networking beyond the exhibitions space in a more relaxed and pleasant atmosphere.
CHARLOTTE: What's your absolute favourite thing to do in Dubai?
GEORGE: There are lots of things to do, see and absorb, but my absolute favourite activities include: exploring the cosmopolitan city as much as possible, getting a gist of that haut-couture lifestyle and enjoying every gourmet bite, of course. But this is not all. Dubai is more than glamour and skyscrapers, Dubai is also famous for its baffling desert, dune bashing, and sandboarding, alongside some adrenaline-pumping activities like skydiving and helicopter tours that offer you a stunning view of the city from above.
CHARLOTTE: What's your message to anyone who didn't sign up yet?
GEORGE: If you haven't experienced iFX EXPO yet, come and promote your company in some of the most amazing locations and markets around the world. Build outstanding, long-lasting relationships with the most influential members across the Fintech industry and let your hair down at some of the best networking parties you have ever experienced. Our personal touch is why so many of our exhibitors continue to visit us show after show. So, join the party and let's all connect, engage in thought-provoking debate, and have fun together.
CHARLOTTE: Thank you, George for your time and for letting us peek behind the scenes of the legend that is iFX EXPO!
GEORGE: Likewise Charlotte. See in Dubai!
Will you be joining us in Dubai? Make sure you register to be part of the greatest B2B Fintech Expo in the World! Contentworks Agency will be covering the upcoming iFX EXPO Dubai on our Twitter channel, so follow us and tweet us your brand so we can share your expo news and photos.