The finance sector is heavily governed by regulatory warlords such as the FCA and CySEC and MiFID II. But amidst this rigid, straight-laced backdrop lies a wealth of companies determined to thrive. The question is can financial firms such as banks, investment companies and fintechs do storytelling? In this article we are looking at some examples that demonstrate the power of storytelling for the finance sector.
Stories Elicit Emotion
Storytelling is a highly effective and impactful marketing tool. This is because stories elicit emotion which is an important part of the decision-making process. The more a consumer can emotionally connect to and understand a brand, the more likely they are to take the next step and either buy a product or make use of a specific service such as a trading tool or platform.
Here's a reality check. 74% of brands have no meaning in consumers' lives. Storytelling is all about giving people a reason to trust, relate and connect with your brand. This is how the finance sector can utilise storytelling.
#1 Think about a brand character
Think about the stories you enjoyed as a child. They all had a protagonist, right? Integrating a brand character into your marketing strategy is a great place to start when it comes to embracing the storytelling approach, helping to boost shares and engagement. For example:
Compare the Market enjoyed an 80% jump in internet traffic following meerkat Aleksandr Orlov's initial TV advert appearance.
The return of Go Compare's moustached Italian opera singer, Gio Compario, to TV screens in the UK contributed to a 26% increase in customers looking for quotes, while insurance revenues rose 17%.
Insurance company Churchill's famous nodding dog helped to boost pre-tax profits for the Direct Line Group by almost 50% as part of an extensive rebrand.
The Aflac Duck: An Example of a Brand Character in Action
The Aflac Duck first came to light when an agency creative realised that the name of insurance company 'Alfac' sounded like a duck's quack. This character then became the star of numerous adverts waddling its way onto social media platforms too. Note how the Alfac Duck has 784,000 followers on Facebook and counting as well as 65.5 followers on Twitter. Its feeds are full of humorous videos, pictures, updates and memes.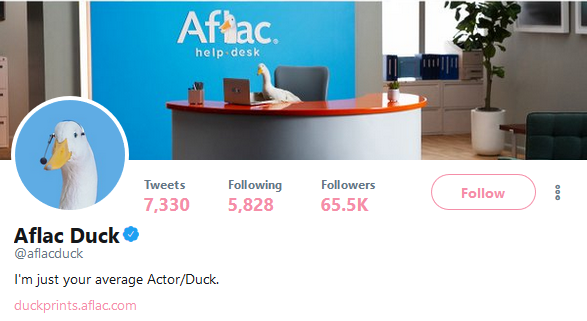 According to the company, the Alfac Duck catapulted the brand's awareness to where 9/10 people in America and Japan recognised the brand.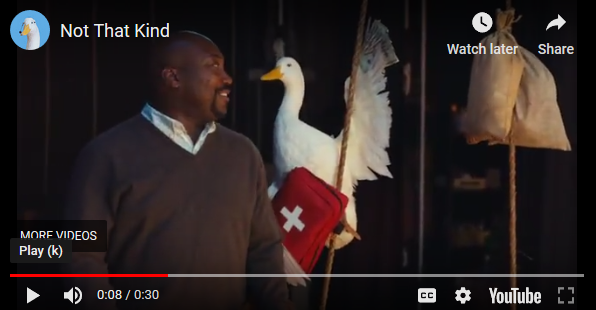 Top takeaway: Having a consistent brand character helps to improve brand awareness and recognition. It also gives a company personality allowing trickier concepts to be explained clearly.
#2 Consider your target audience
As an adult, it's unlikely you'd snuggle down in bed with a children's picture book. Most probably (hopefully) you've progressed to novels with fewer pictures. So, when creating a storytelling marketing strategy for your business, it's essential to think carefully about your target audience.
What do they want to read? What will capture their hearts? What will pique their interest? In order to answer these questions, you must know who you're talking to. And that means analysing data. When it comes to storytelling, data is your friend so:
Use analytical tools to understand the demographics of your audience
Find out where your audience hangs out online to zoom in on the channels you should be using
Tell an educated story based on your audience. Tailor your content to speak to those who follow your brand. Use the right language and embrace personalisation that shows you understand exactly what they want and need. Be the answer to their problem.
Tune in to the way your audience views the word. Millennials, for instance, are likely to be way more tech savvy and appreciative of smart tech than baby boomers.
#3 Increase the Emotional Impact of Your Storytelling
Once you know the benefits of storytelling and who you're talking to, you can focus on increasing the emotional impact of your campaign with a few basic tools. These include:
Personal stories
One of the best ways to engage your audience and improve the authenticity of your brand amid a sector plagued by malpractices is to tell personal stories. So, what does this entail from a marketing perspective? Well, you could…
Document the journey of your brand from where you started, to where you are now. Be sure to use clear visuals such as timelines, pictures or video. Infographics also work nicely.
Introduce key team members. This helps to give your brand a face and makes it more approachable. Fintech company Revolut is a great example of an organisation that appreciates transparency. They've created a RevInsider video series which is published to YouTube and showcases the talent behind Revolut. This is also a clever way to generate fresh new content for social media which is great for relevancy and keeping a brand in the spotlight.

Use photos or video content to support content about a specific company or industry event. This could be anything from an expo to an in-office gathering.
Post blogs from specific team members about how they solved a problem, carried out a marketing campaign, or arranged an activity that supports corporate responsibility. A personalised storytelling approach makes your company more interesting and evokes emotions without any hard-selling involved.
Fully utilise Insta takeovers and Facebook live to add authenticity and credibility.
Top takeaway: Give your brand a face and make your content relatable. Talk to your audience using simple language and don't overcomplicate ideas and concepts.
Consumer interaction
Often, stage shows require audience participation in order to bring the story alive. Whether it's hissing at a villain during a pantomime or applauding a spectacular dance show, every level of interaction keeps people engaged and improves their overall experience. The same concept applies to marketing.
If you're using storytelling to evoke emotions, you need to get your audience thinking and connecting with their own personal likes, dislikes, memories and experiences. If they can relate to what you are saying, they are more likely to switch on an engage with your brand.
In order to prompt action and make a consumer feel closer to your brand, you can:
Post polls that require a response. You can then weave the results into your next storytelling move telling consumers how their direct feedback influenced your future steps.
Ask emotive or thought-provoking questions. Adults reading to their children often point things out in a book or ask certain questions in order to stimulate their senses further and get to an end result – which in the case of a company should lead a consumer further down the sales funnel without being pushy.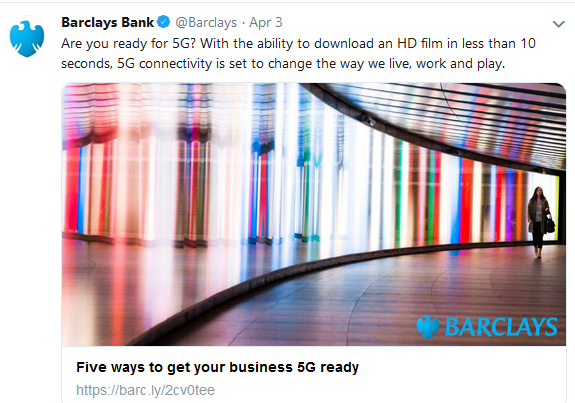 Give people a reason to come back for more. Robinhood is an investment company that is embracing storytelling by delivering regular financial news is an easy-to-digest way. They recently acquired MarketSnacks and have rebranded the idea to @RobinhoodSnacks.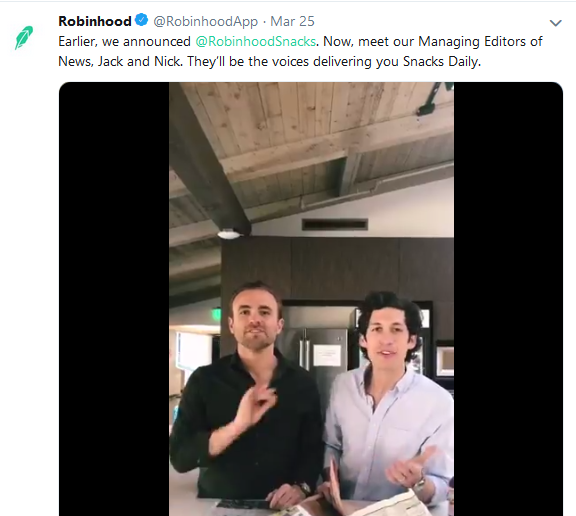 Here's One We Tried Earlier
Contentworks agency recently celebrated #WorldStorytellingDay by asking fans to help us to tell a story on Facebook. We are sharing the hilarious results with you below.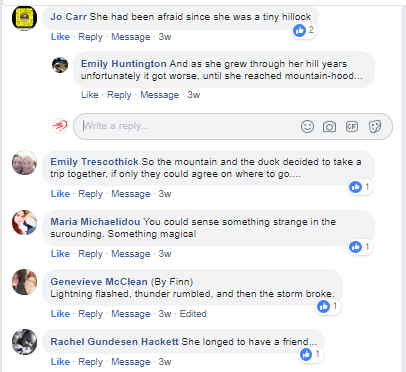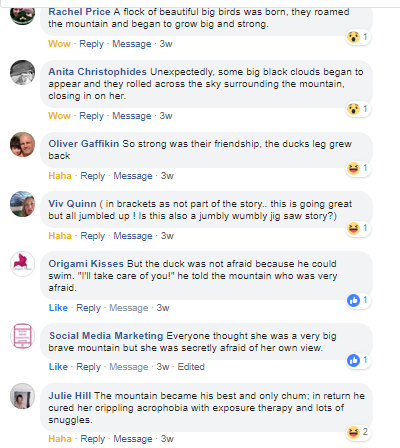 Top takeaway: Create the spark. Your fans can make or break your storytelling campaigns. But if you give them the right spark, you may be pleasantly surprised.
Speak to the Contentworks team today about storytelling for your brand.