Content marketing for finance? Don't you dare yawn! Exciting things are happening in the finance and fintech sector and it all starts with content marketing.  Let's delve deeper with a digital banking case study and check out content marketing for finance tips that actually works. Grab that coffee, let's do this.
Case Study: Accelerated Digitisation in the Banking Sector
Things are moving fast. So when it comes to content marketing for finance there's absolutely no time to sit back. Check out the banking sector, for instance. Covid-19 has led to accelerated digitisation with 45% of customers now using their mobile banking application more frequently for standard banking activities according to the Wall Street Journal. This means people are now depositing checks, making transfers and checking their balance online rather than going to a branch or even using an ATM.
Since lockdown situations began in March 2020, there's been a whopping 72% rise in the use of fintech apps in Europe attributed to social distancing, remote working and other quarantine measures. Banks have been required to accelerate their digital business plan with the help of AI and cyber security as well as formulate a solid marketing response to attract and engage both existing and new digital consumers. And with digital competition at an all-time high, many banks have refined their marketing approach to stand out from the crowd. Here's what's caught our eye.
Instructional app videos
Banks not only embraced digitisation and new technology but are also using social media to highlight useful features to those adopting digital banking. Considering lockdown measures have prompted millions to download their bank's app for the first time, making things as clear as possible is important. Some 20,000 people downloaded their bank's app each day when Covid-19 hit and will be looking for continued reassurance.
Barclays regularly posts videos to Instagram explaining app functionality. The video below explains how to transfer between accounts easily using the Barclays app and is accompanied by a short explanation to further benefit consumers.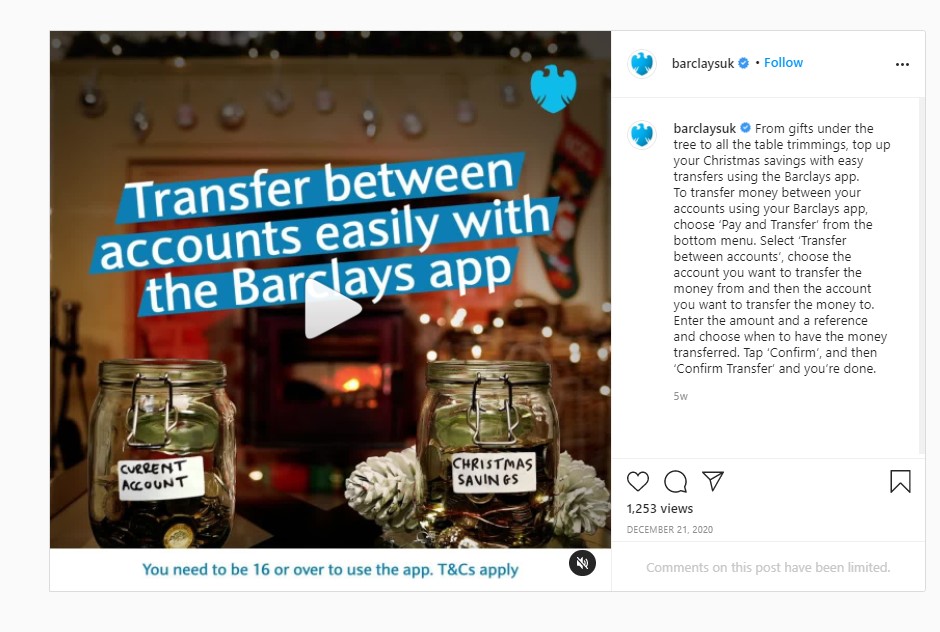 Top Takeaway: Video is one of the best ways to generate engagement on social media so use it to your advantage. Videos in your Instagram feed can be between 3 and 60 seconds. If you need longer to explain a product in detail or to post a consumer review, IGTV allows for up to 60-minutes of content for larger, verified accounts. There's also Instagram Live or Stories. Or how about creating your own YouTube channel divided into optimised playlists?
New Features Roundup
What better way to show that you're embracing digital trends and accelerating your services for a new online era than by promoting new app features. As a digital only bank, Revolut uses social platforms to draw attention to benefits such as the handy Web App which allow you to access your account from a desktop. Smart!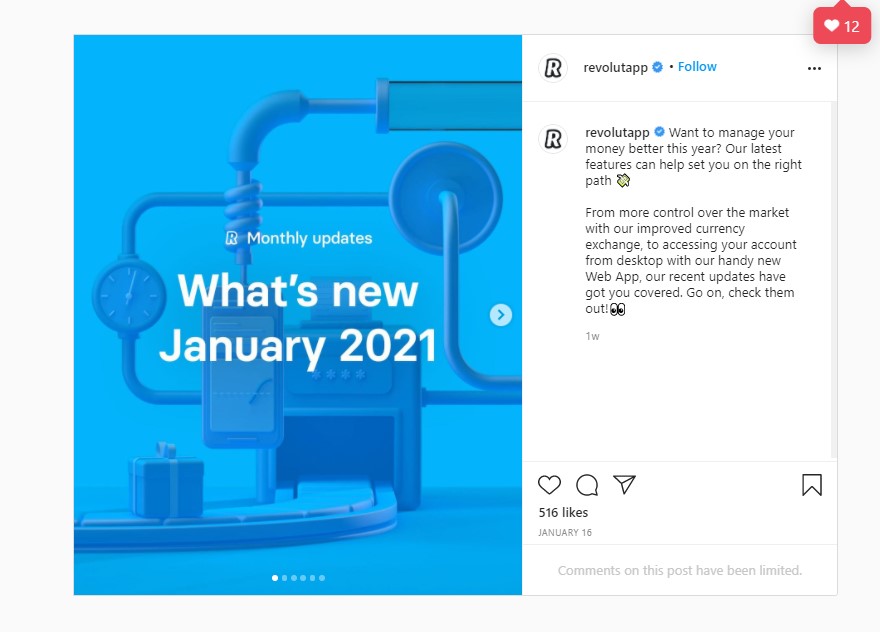 Product Development
Going a million miles an hour to try and please your consumers is one thing. But challenger banks such as Monese are taking their foot off the accelerator to check in with consumers. And we think this is a good idea. Asking questions helps to engage your audience and is an excellent form of customer research. It also shows you care and will allow you to adapt your digital product to meet the needs of those who use it.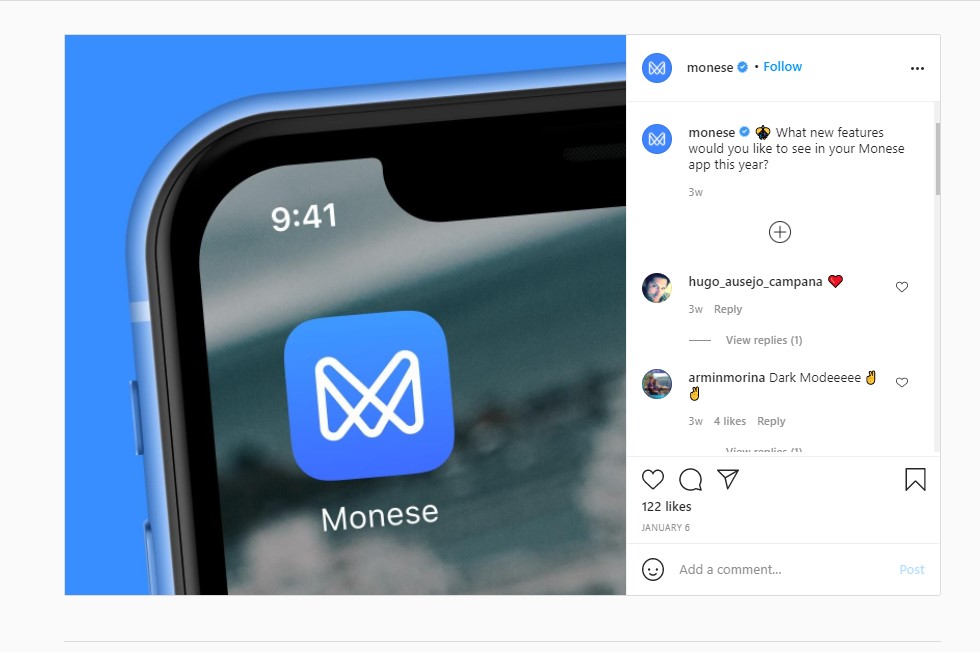 Top tip for marketers: If you're using consumer research for product development, squeeze as much content creation out of this as possible. Start with Q&A sessions, questionnaires on social media and polls. End with blogs/videos explaining how the product evolved, complete with screen shots of consumer feedback to strengthen the business-consumer bond.
Content Marketing for Finance – What's Hot?
As well as embracing the new digital trends, enhancing your products and trying to remain grounded, it's also important to remember more traditional values such as being reliable, trustworthy and offering a well-rounded customer service. Humanising your brand and building community should also be a big focus. With this in mind, here's how to use content marketing to your advantage.
Build Consumer Trust
According to a report by Accenture, the level of trust in banks remains low despite efforts to support customers during COVID-19. Research shows that since the pandemic began, 16% of consumers say they trust their bank more to look after their financial wellbeing, while 15% trust their bank less. Among those consumers struggling financially, 11% trust their banks more, while 32% have lost trust. As a business, it's therefore crucial to produce content people can relate to and turn to when they need reassurance.
Starling Bank has done just this by creating a dedicated Covid Help section on Instagram Stories. This provides detailed information about what the bank is doing to run smoothly and how they can support you through difficult times. This sets them apart as a bank that cares about their consumers and wants to do all they can to help.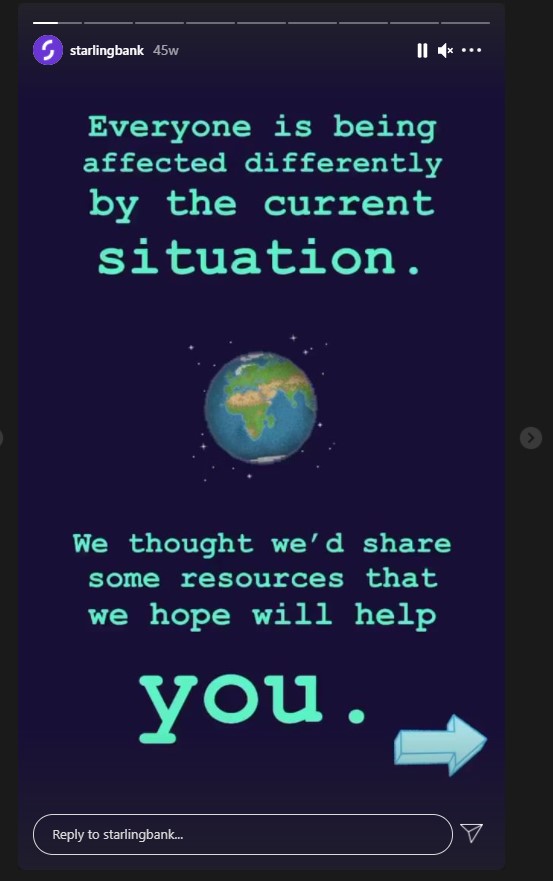 Top tip for challenger banks: Make the most of platforms and features that appeal to your target audience. Challenger banks have a large Millennial and Gen Z following with research from Assurant showing that 86% of 18-34 year olds would be happy to do all of their banking via an app. Therefore, Instagram is ideal an ideal platform as it also appeals to the same demographics.
Use Humour and Popular Culture to Engage Your Audience
Financial content shouldn't be dry. So do what you can to inject your own personality and style into your marketing, especially on social media. While it's important not to lose your brand's tone of voice, there's no harm in posting content that'll appeal to your audience. Monzo did just this by resharing a popular meme of Bernie Sanders attending the inauguration of President Joe Biden and Vice President Kamala Harris wearing a mask, jacket and mittens and looking disinterested. By joining in the fun on Twitter, Monzo attracted considerable engagement and a host of witty replies.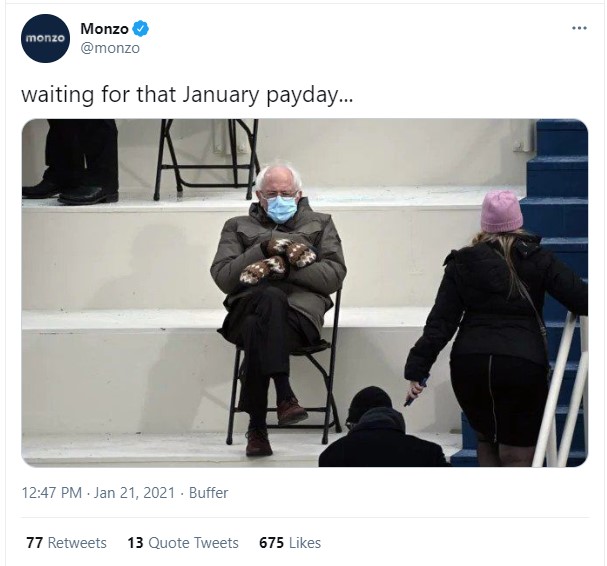 Top tip for brands: Keep an eye out for challenges, memes and popular culture stunts that could endear you to a younger audience. Make sure all content posted is passed through your compliance team first to avoid landing the company in hot water.
Deliver high-value information
When it comes to content marketing, setting yourself apart as thought leaders in your sector is an absolute must. With more companies flocking online, now is the time to work hard and shine for all the right reasons. Morgan Stanley, for instance, regularly taps into the opinions of company experts sharing more detailed content via Twitter links. Posting a thought-leading question with the promise of a reputable answer is a great way to attract and draw in your target audience.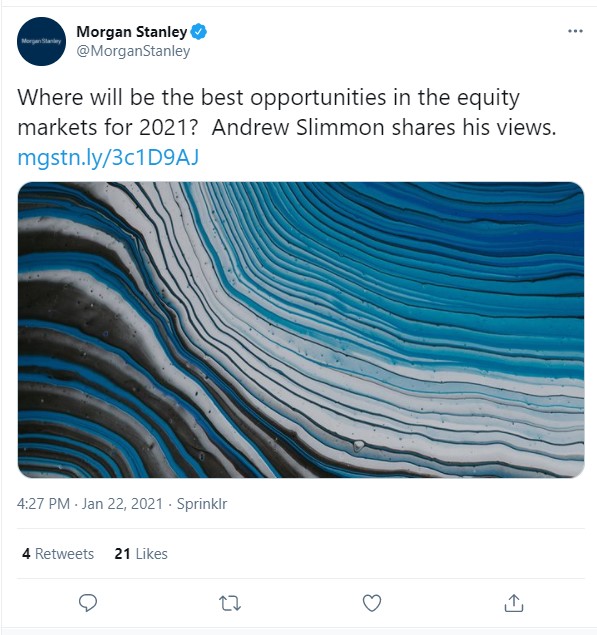 NatWest is also really good at posting relevant information that's useful to their social media followers. Providing updates on Covid-19-related scams shows they're security focused, up to date and ready to help people wherever they can.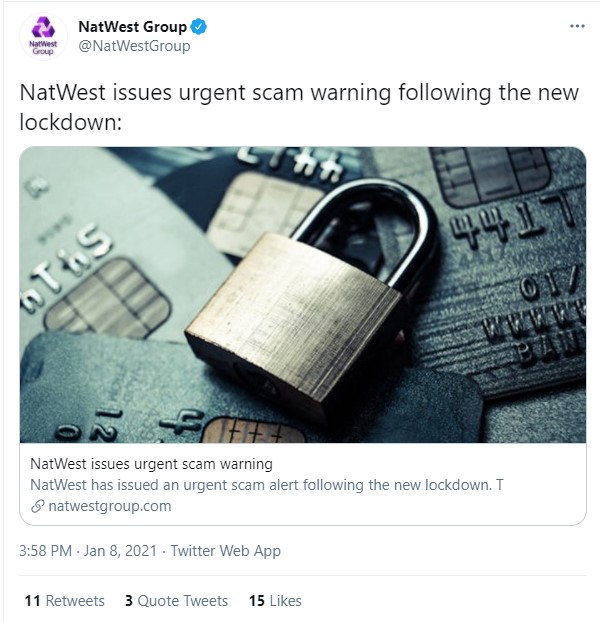 Top tip for marketers: Maximise features such as Pinned Tweet on Twitter to draw attention to your most significant post. This will remain fixed to the top of your page allowing the most people to see it. Pinned Tweets can be used for thought-leading information as well as product releases, brand teasers, influencer marketing and more.
If you want to go into detail about a specific topic, LinkedIn is ideal. People go to LinkedIn not to kill time like they might on Facebook or Twitter but to discover interesting and in depth content and to share articles that might make themselves more visible to employers. Either way, the content you post must be of the best quality.
Chase Bank often posts in depth posts that are far from what you might expect a traditional bank to post. They delve into topics such as Racial Equity in Housing and LGBT+ Causes with their articles receiving high engagement.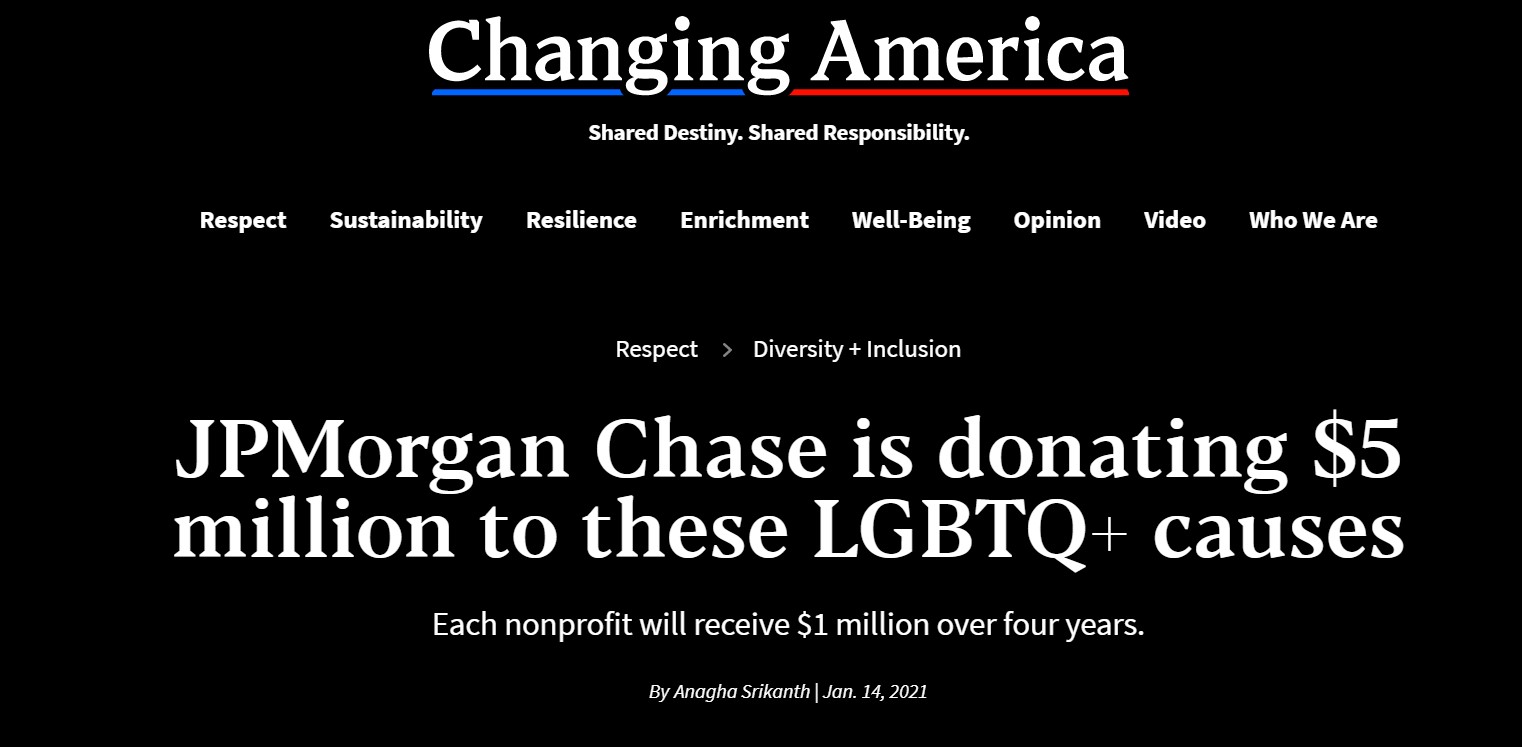 Give your Followers a Reason to Click
When developing your marketing strategy, ask yourself why people should click your content over everything else they see online during the day. Doing so will help you offer a more personalised approach. Providing spending summaries for each of your users is a great way to encourage engagement as it's unique to the individual. Monzo uses calls to action such as 'get yours' as well as branded hashtags like #YearInMonzo to make their content clickable and to help it stand out.
Create Content Around Important Calendar Events
We're not too far into the year yet. So there's still plenty of time to create a handy calendar of events. Or to check out ours! This will help you to plan and schedule important content in an organised manner without scrambling around at the last minute. eToro, for instance, used Bitcoin's birthday to produce a more detailed content piece about this particular cryptocurrency while drawing attention to their own Bitcoin trading offering. Clever stuff. The more innovative your strategy, the more you will be able to promote your products in a subtle yet effective and educational way.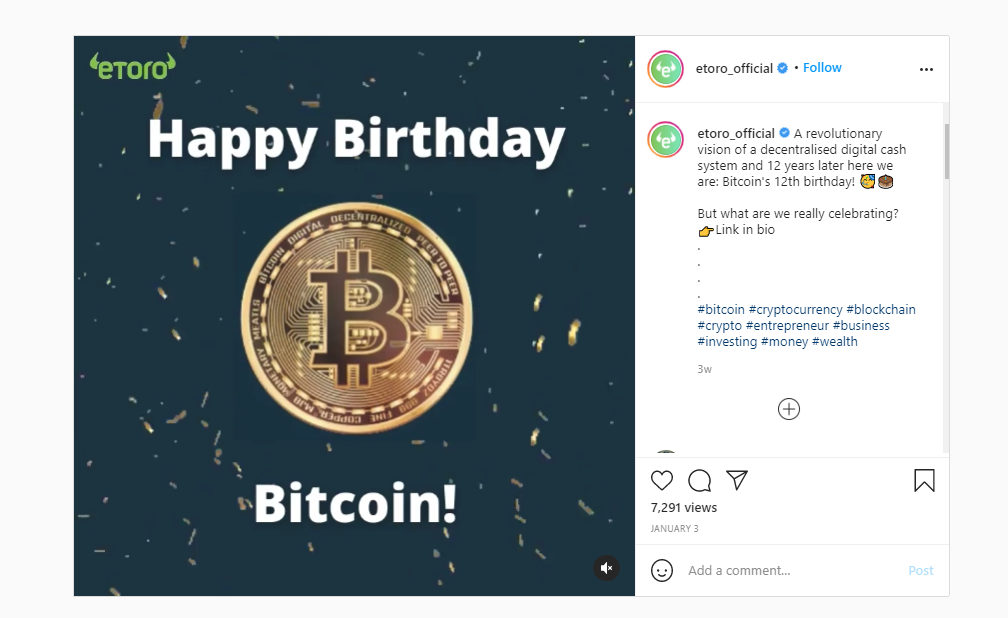 It might be a tricky to crank out high value content marketing for finance at swift speed. But those who overcome this challenge will have a definite competitive edge. Need help with your content and social strategy? Then contact the Contentworks crew today. We have extensive experience working in the finance sector and can support you to achieve your content marketing goals.
At Contentworks we always credit our sources. Thanks to the following sites for providing awesome information.
1 - https://www.onespot.com/tools-resources/content-marketing-strategies-financial-services-brands/
2 - https://www.brafton.com/blog/content-marketing/7-impressive-examples-content-marketing-financial-services-industry/
3 - https://thefinancialbrand.com/66358/content-marketing-strategy-tips-mistakes/
https://www.forrester.com/report/Brief+Marketing+And+Media+Efficiency+Outcomes+Drive+Content+Marketing/-/E-RES128042