Content marketing for finance is an essential step in the digital conversion journey. That's because content marketing is the proven method to convert total strangers to loyal customers without the need for pushy 'in-your-face' advertising. You know, the kind you might find from over enthusiastic banner ads that are super mistrusted by millennials.  In fact, it's thought that a person consumes 11.4 pieces of content on average before making an online purchasing decision. This is why content marketing is extremely necessary for all sectors. Especially the often mistrusted finance sector.
With this in mind, let's look at how to leverage content marketing for finance.  How to improve engagement through content and how to put a unique spin on financial services products.
#1 Build trust with content
Talking about ideas and sharing expert knowledge of the finance domain is complex, especially if you're talking to a 'newbie' audience with minimal prior involvement in the sector.
It is therefore important to break the content into digestible portions so that the consumer can absorb it easily.
Click To Tweet
This in turn elevates engagement and improves the level of trust that they build with the brand.
Take the case of the GS video series done by Goldman Sachs. The videos which consist of talks and interviews outline the views of industry leaders on the financial world. They deliver speeches on diverse and highly relevant topics like technology entrepreneurship, and innovation.

#2 Deliver high value information
A blog is not just 'a blog' designed for simple and casual conversation. This asset also helps to deliver a lot of value if it's crafted strategically. US based personal finance website Nerd Wallet is a great example of this fact.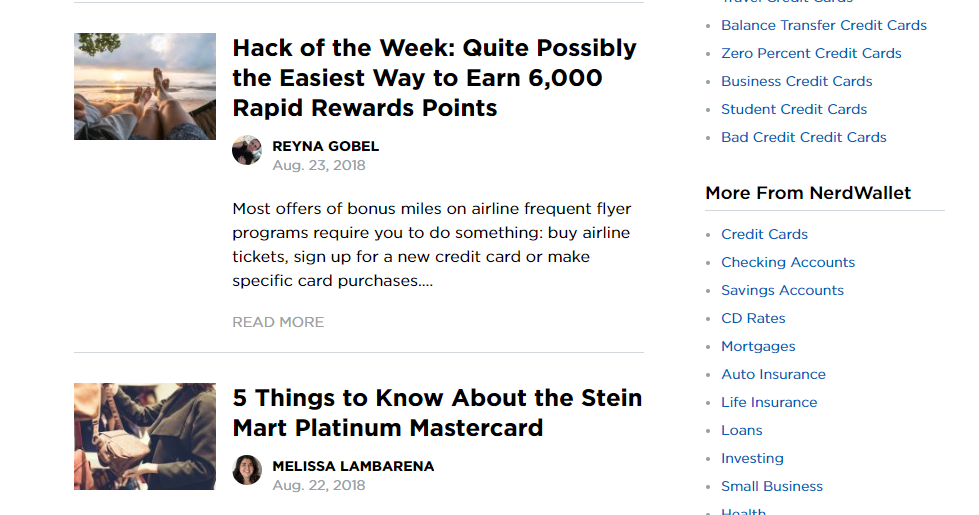 The site's blogs are widely admired by users and search engines alike because of the well-researched content they put up on the site. It touches upon a lot of topics like loans, credit cards, insurance, and mortgages which helps to explain why it enjoys a Domain Authority (DA) of 85.
#3 Post fresh content for success
Imagine a site that offers highly targeted information about the financial world? What if that site keeps churning out fresh content every single day and its coverage spans multiple topics for the savvy investor of today's times. It will definitely be a bookmark on the investor's browser and a go-to resource for any kind of information.
This is the kind of engagement that is built by Morgan Stanley on its 'Ideas' page – the resource for markets, global economics, and finance. Investors get access to thought leadership content that they might never have experienced elsewhere. This is what makes the Ideas page so useful and popular among its target audience.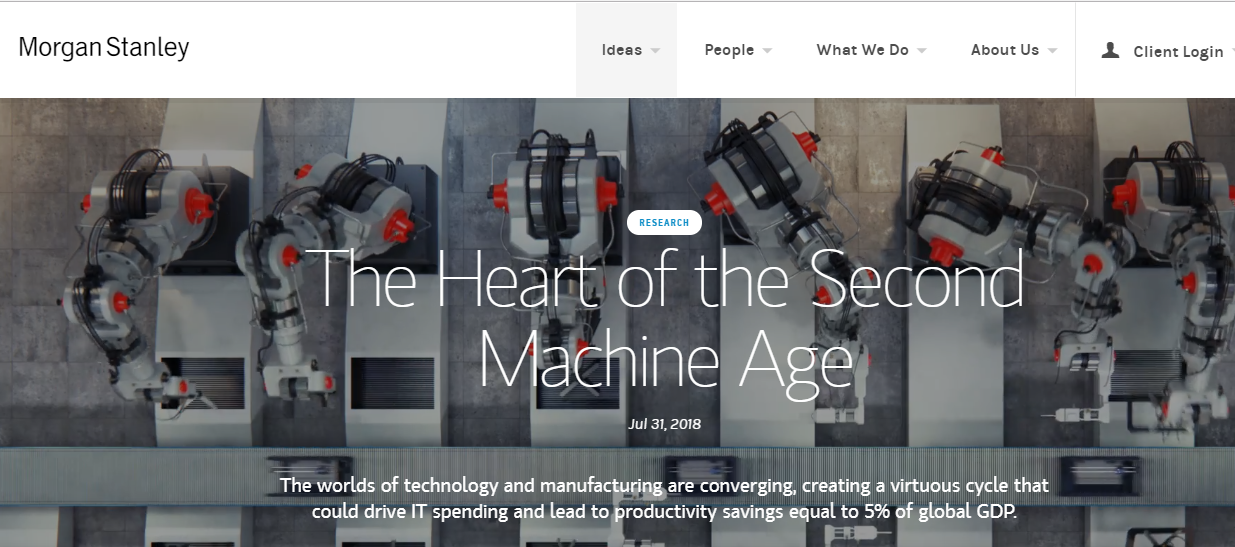 Tips to get content marketing right for the financial industry
Content marketing for finance has been upgraded from King to Emperor. But to ensure your marketing efforts are successful, here are some useful tips to keep in mind:
Know the goal and endgame
Don't start posting blogs and articles without knowing the endgame. It is critical for the marketing team to get together and frame a clear strategy about what they want to achieve with content marketing.
You need to be able to connect the dots back to the financial business bottom line with answers to queries like:
What is the goal of my campaign?
Do I know the persona of my key readers?
Can I define the key brand messaging I want to convey to my target audience?
Did I define a channel distribution plan?
It is imperative for an organisation embracing content marketing to create a culture around the customers rather than around the brand.
Click To Tweet
This means putting the audience in front for all content creation and distribution endeavors.
Integrate storytelling into the content
In a world where governing warlords are ready to take a firm stance against all who break the rules – it's important to be compliant. These means looking for other, more creative ways to get your marketing messages across such as integrating storytelling into the content.
Take your consumers on a journey! Be authentic and give them a look into the workings of your company whether this is done via live video broadcasts or regular video blogs. Make your brand easy to relate to and you should find retention levels increase.
To wrap up
It might be a tricky to crank out high value content marketing for finance at swift speed. But those who overcome this challenge will have a definite competitive edge. Need help with your content and social strategy? Then contact the Contentworks crew today. We have extensive experience working in the finance sector and can support you to achieve your content marketing goals.
At Contentworks we always credit our sources. Thanks to the following sites for providing awesome information.
1 - https://www.onespot.com/tools-resources/content-marketing-strategies-financial-services-brands/
2 - https://www.brafton.com/blog/content-marketing/7-impressive-examples-content-marketing-financial-services-industry/
3 - https://thefinancialbrand.com/66358/content-marketing-strategy-tips-mistakes/
https://www.forrester.com/report/Brief+Marketing+And+Media+Efficiency+Outcomes+Drive+Content+Marketing/-/E-RES128042