With a focus on making the finance and blockchain sector relatable through content marketing, Contentworks also places a high emphasis on equality. As active participants within the blockchain space, we believe the technology can provide a level playing field for everyone to succeed. Throughout the Women in Blockchain series we will be interviewing senior women from the blockchain sector to learn about their challenges, successes and ambitions for blockchain technology.
In this episode of Women in Blockchain, we're meeting Kristi Swartz, managing partner of the newly established Swartz, Binnersley & Associates (as of 10 December 2018). Kristi concentrates her practice in corporate finance and fintech matters. She is well versed in advising and providing practical and real-time advice relating to services such as robo-advisory, peer-to-peer lending through to the set-up and running of crypto-exchanges and is recognised by Euromoney and Asian Legal Business for her contributions to the industry. Alongside her practice, Kristi is an active member of charitable organisations such as Global Women Connect, Faith In Love Foundation, and is a co-founder of the 30% Club's Hong Kong chapter.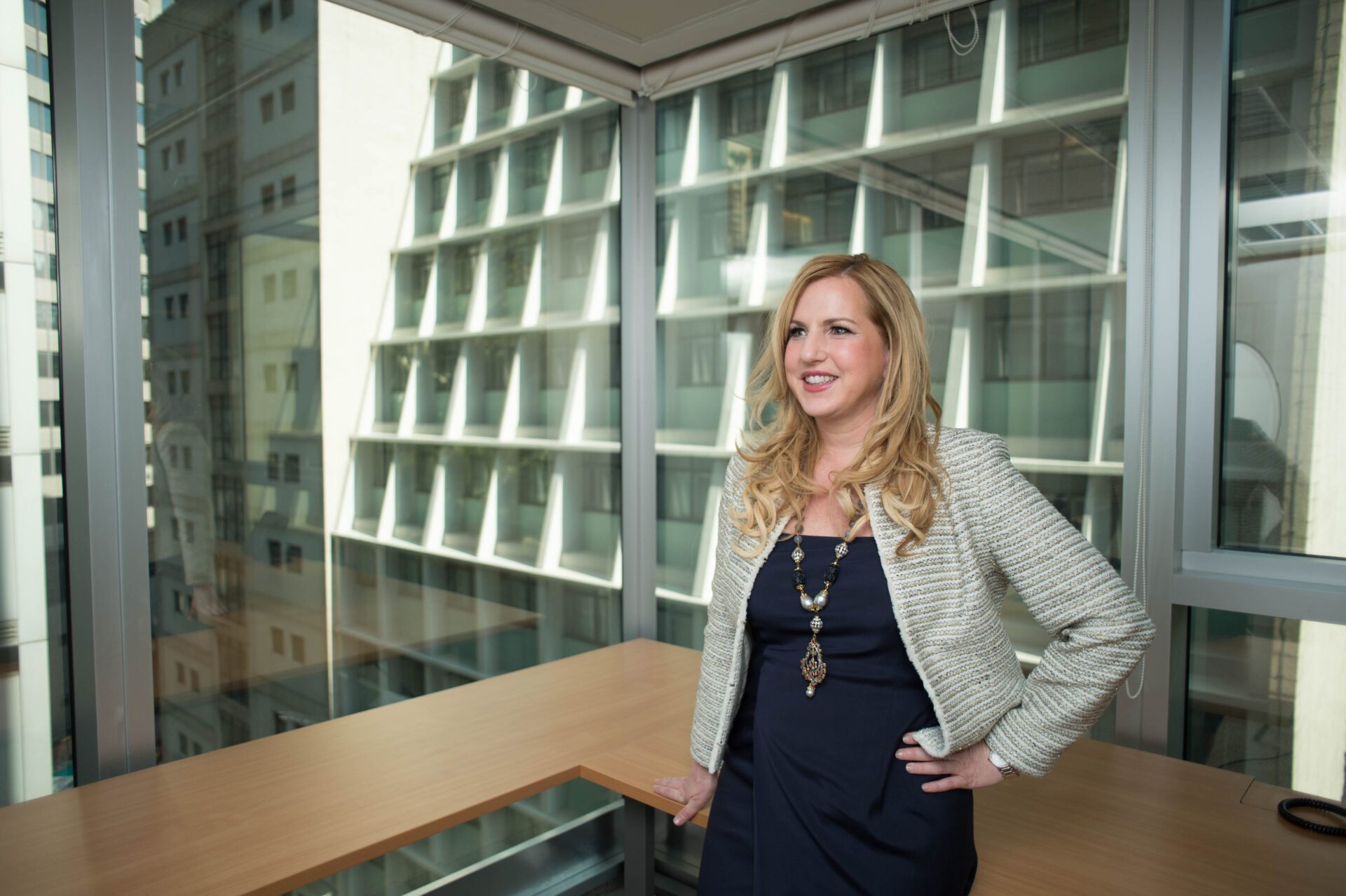 #1 Tell us about your role in the blockchain community right now
My foray into the blockchain community happened as a natural progression of my legal career. My practice has always centrered around regulatory and compliance matters as well licensing of regulated activities. As technology advanced, and blockchain has become a widely used platform across a number of industries, my clients, the majority being cutting-edge financial boutiques, came to me with innovative ideas on how to develop their business, and tasked me with assessing their legal position.
As the application of blockchain has grown, so has my understanding of its uses, and subsequently, its regulation. I have been lucky to see its development from the start. I regularly speak on panels with respect to the regulation of blockchain through to how it's shaping the world we live in today. Swartz, Binnersley & Associates acts as the Fintech Association of Hong Kong Limited's pro-bono legal counsel and we are quite active in the Fintech community. I also work alongside a number of exciting startups who each look to use blockchain in new and challenging ways, which brings me a lot of personal job satisfaction!
#2 What were your first impressions of blockchain?
Quite honestly, I didn't understand blockchain. It was an alien concept and for a regulatory compliance lawyer, I wasn't sure how its implementation could or should be regulated as the depths of its application were not yet known. At the time blockchain was very much confused with Bitcoin's capabilities and the concerns that surrounded cryptocurrency. I remember preparing a presentation on blockchain for the Indian Chamber of Commerce, and as I explained the concept to my assistant (who was preparing the slides), we worked out the best analogy is to describe blockchain like a Google Document, but without the audit trail!
Now, it's very clear to me that blockchain has a plethora of applications, which are all very different to Bitcoin and other cryptocurrency. When I'm asked to speak about blockchain, my opening line is that "cryptocurrencies are blockchain, but blockchain doesn't necessarily mean cryptocurrency", as I have found common misconception is that they are one and the same.
#3 Who made you want to be a part of the blockchain scene?
Jehan Chu of Kenetic Capital brought me into the inner blockchain circle. Jehan is a fantastic advocate of blockchain and encouraged me to attend many events on the subject to broaden my understanding of the technology. As an emerging topic, there were not many lawyers in Hong Kong who were well placed to jump on board the wagon to try and understand the legal implications on some truly wonderful ideas from blockchain innovators. I was happily placed to set my cogs turning as I had some (limited) experience of coding through my Masters in Information Systems studies at University of Central Texas, and (thankfully) more recent experience and practical knowledge of legal issues surrounding the implementation of compliant peer-to-peer lending platforms and robo-advisory services, which is in a similar, yet different, space.
During the first few months of my journey into blockchain, I met a lot of influencers in the community. It was inspiring to see that there was more to blockchain than cryptocurrency, and more to the law than the way it is currently being applied. From there, I have worked with some fantastic clients who have used blockchain to set up insurance platforms to advising clients on record breaking Initial Coin Offerings which have funded various blockchain platforms. It's been a wild ride as entrepreneurs constantly push the boundaries, and it's been such a pleasure to help their dreams turn into reality.
#4 Do you think the blockchain scene promotes equality?
In general, I believe the blockchain community faces the same barriers to promoting women's equality as other predominantly male industries. And this is due to the fact that there may not be a lot of women with the knowledge to enter the community. There is a drive in Hong Kong to educate the young and to make technology "cool". The Women's Foundation runs the "Girls Go Tech Programme" aimed at secondary-school girls to encourage them to follow STEM subjects and careers through skills-based workshops and educational sessions. Arming the younger generation with the information as to the type of opportunities available in the technology industry will, in future, bring more equality to the blockchain community.
That said I do believe the blockchain community is fairly well represented by both genders. As an evolving space, it is now the "trendy" place to be and whilst seen as a very "male" industry, there are steps in the right direction. Taking a look at the Fintech Association of Hong Kong ("FTAHK") as example, they have sourced the 'crème de la crème' of Hong Kong's fintech influencers and its board of directors boasts an almost equal female representation (5 women to 6 men).
Similarly, their committees have a very even spread of both genders. I do not believe equality itself is an issue in the community, more so the lack of women who have the knowledge in this space. This is further demonstrated by the fact that the majority of my contacts at the Securities and Futures Commission are female. I do believe the opportunity is there for those who can access it.
#5 Have you faced any challenges as a woman in blockchain?
The blockchain community has certainly grown, and I haven't faced this issue in a while. However, during 2017, I was kindly invited to speak on a number of fintech panels. On the circuit, there were a number of comments of how few women speakers there were, and it was almost as though I was  perceived by other panellists (and not the organisers) as the "token" female for the sake of gender equality, more than for my knowledge and insight into the industry.
This was a difficult barrier to overcome when you're settling in for a panel discussion because all you can think is that the audience must have the same perception! However as soon as my turn came round to speak, my insight and contributions to the discussions were recognised as valid. The fact that I had to prove myself to strangers in my community was somewhat frustrating, but believing in yourself and the right to a voice is the way to overcome any such misconception.
#6 How do you see blockchain shaping our future?
I believe that blockchain is here to stay and that it will evolve. However, I am unsure how it will (or even if it will) take hold and possibly become the "must use" technology. I am open-minded, but there are many operators in the industry that say it is not totally necessary. My only insight would be that any technology which can cut down fraudulent transactions and can accurately record matters in any format is an advantage. This holds true particularly in Asia, where we have a high incident of fraud.
#7 What advice would you give to newbies?
My advice would be to learn as much as you can, and however you can. Working with those in the industry is obviously best, but, if you are not able to do so, attend lectures or look at YouTube which hosts a plethora of good talks. Another option is to join an association or trade group to take advantage of being part of a group who has similar goals and interests. Once you have gained enough knowledge, write thought leadership pieces or speak at events to put a bit of colour on your ideas. The great thing about being part of a growing (new) movement is that everyone has a voice.
Thanks to Kristi for the awesome interview. Contentworks Agency is at the centre of marketing for the blockchain sector. We stay up to date with the latest technological developments and regulatory news to help finance companies and ICOs succeed. If you enjoyed this episode of Women in Blockchain, please share it with your networks. For more information about blockchain marketing services connect with our team.