At Contentworks Agency we know that great content and media exposure go together like gin and tonic. A good gin and tonic. So why are so many brands getting it wrong? In this, the first of a series of interviews with industry greats, Contentworks Agency chats to PR and communications insider and founder of PR Matters, Robert White, to get the lowdown on writing for the media. Robert's articles appear in a number of high-ranking publications, and he also ghostwrites, pitches and edits clients' articles for the media.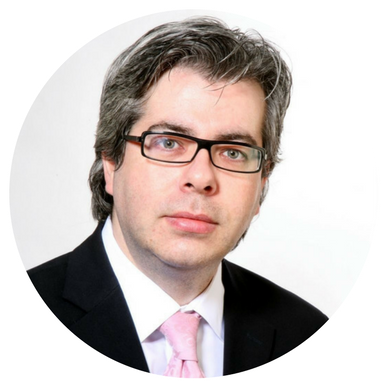 Hey Robert, Thanks so much for joining us today! Tell us a bit about your background in PR?
From the start, I've worked in communications in one form or another in different industries, where the jobs had a strong emphasis on the need for writing and editing skills. My first PR role came about in 2000, when I was given the opportunity to become a manager for what was then a Vodafone subsidiary in The Netherlands. I then went on to work for several global financial services companies in the retail and B2B space. Since 2013 my own company provides services for all sectors.
What I find is standard in all my roles – and I think is typical of anyone in PR – is that they require you to be adept in a mix of comms. You not only devise strategic plans, but are responsible for crisis comms, and get to create a variety of content for many channels, including media relations, marketing, social media, HR and internal communications. This variety is both challenging and rewarding.
What makes PR most exciting and stimulating, though, is that it's the only communications role devoted to reputation management. In other words, its purpose is to be responsible for protecting and growing the reputation of a brand by helping to build relationships with those who matter most to the company.
Robert let's start with the basics, what should brands be doing before approaching media outlets?
Well, as you said, content and media relations can go together beautifully but only if you have the basics in place. For example, brands shouldn't pitch to the media until they have established at least a few months' worth of content on their site and promoted it on their social media channels. Doing so convinces commissioning editors of those media sites you're going to pitch to, that you're credible and have a history of producing meaningful content and so merit consideration. Many brands completely miss this step and will go for a launch piece with no content on their own channels.
Before you begin writing for the media, be certain you're knowledgeable about their content. You should be a regular reader of their site, sufficient to know its tone, style, topics and word count. Demonstrate you're genuinely interested in their content by spending some months beforehand linking to their content on your social media channels and – where relevant – in your published content when you think it is of benefit to your readers. Speaking of basics, don't kid yourself: everybody can't write. It requires practice, skill and style. If you don't have a content writer/copywriter in-house, hire someone or use a reputable agency. They must also be excellent editors of their content – grammar, punctuation, style, structure – and their native language must match the principal language of your comms efforts.
So, assuming a brand has the basics in place, what are the next steps they should take to start writing for the media?
Research ideas for your topic: Google what's relevant, popular, timely and involves your industry or viewpoint and topic. Explore how your ideas are being considered on reputable sites – whether of the media, individual bloggers, or others (think tanks, competitors, etc.). Still stuck for a topic or idea for one? Consider using a tool, such as HubSpot's Blog Ideas Generator. Don't forget, there are plenty of online tools to help you produce content.
Many brands start writing for the media but fail to plan and it shows.
Click To Tweet
Think through what your article is going to be about and always consider it from the reader's viewpoint. Ask yourself: what matters to them, how will it speak to them in ways that interest and inform them? Have a view or argument to carry throughout the article: make your case and back up your points with – ideally – external, independent evidence (e.g., research or survey results, reports from think tanks, white papers, etc.). Use hyperlinks for the examples or source them in your piece.
What makes for a great media relations piece?
Most importantly you should remember that the best content for the media is never advertorials (advertising copy). Publications just aren't interested in publishing an article from you if it's about your services/products: that's just shameless self-promotion of the shallowest kind that bores and irritates both editors and readers.
Your article must have merit on its own terms – provide insight, entertain, engage the reader – and be relevant to them – irrespective of whether or not they are customers. And if you are going to mention something about your brand, it must be relevant to the article and you need to think of how it will benefit the publication's readership and the industry you are in and so be meaningful copy.
when writing for the media, focus on a single topic/issue/challenge – more than one often dilutes the focus of what you're writing and is likely to disengage the reader's interest. Always write with a structure in mind: the basics are, of course, a beginning (a snappy, to-the-point intro that addresses immediately the issue/topic), a middle (e.g., how you suggest solving a problem), and end (a thoughtful conclusion, not a summary of what you've just written).
Use bullet points or lists where helpful to your reader (by the way: "listicles" – articles that are numbered lists of points – remain incredibly popular in the media and most social media buzz content channels). Be sure to spend some time creating an interesting title for your article. I'm not talking about click bait, because of course that content is typically poorly written and worthless, whereas you will have made effort to ensure your content's worthwhile. Use headline analyser tools to help you produce a great title.
What are your best tips for submitting an article?
First, and most important, when writing for the media, be sure to follow the submission guidelines the media site (typically) publishes on its Contact Us or About Us page. Unless there's a generic email address (e.g., "submissions@xxx.com), be sure to email only the relevant person responsible.
Don't copy others - this drives editors nuts and wastes time.
Click To Tweet
It also smacks of arrogance and desperation on your part. Keep your email brief, and mark the subject header as "Pitch for an article" and possibly include the article's title, if not too long. Always be respectful and courteous. Keep to no more than several sentences in length; a short paragraph or two. In a brief paragraph, explain the proposed article's topic, angle and length.
Provide a link to one of your site's articles you know is most relevant to the publication's own content, as an example of your proven ability to write appropriate material for them. If you've already written your article, don't attach it to your pitch. Believe me, if they're interested, they will ask to see it. Don't expect to hear back from them straightaway. They may take two or many more weeks to respond, because editors are always busy and receive hundreds of emails a day, besides having to write, research and edit their content and that of others. Allow for at least two full working weeks to pass before contacting them again, then enquire politely if they have received your pitch email. Include in that query email the content of your original pitch.
Don't chase them again until another two or three weeks have passed, then send them another polite query email. Of course, this means that if you're pitching a media site for the first time, be sure to plan ahead or submit an evergreen piece that is not time sensitive.
---
At Contentworks Agency we care about great content and with links to PR leaders like Robert and numerous media sites, we are ready to help you begin writing for the media. A massive thank you to Robert for joining us, be sure to like, share, rate and tweet this one!