Is your content marketing set to score this World Cup season? Well, if you've been kicking around World Cup 2018 marketing ideas for a while now and trying to get a decent budget in the back of the net, it's time to put those good intentions into action. With some 3.4 billion people expected to watch this ever-popular tournament, now is the perfect time to go head-to-head with your competitors and embrace football fever with some epic content marketing efforts.
To avoid scoring an own goal and giving those in your sector an advantage; let's look at what some of the top finance brands are doing to stand out from the crowd.
1. Cryptocup – Embracing New Technology
We all know that the finance industry has been disrupted of late with blockchain solutions leading somewhat of a technology revolution. So, it's perhaps no surprise that the whole public ledger concept has infiltrated its way into the World Cup madness.
That's right; the developers behind Cryptocup unveiled the world's first World Cup prediction game on the blockchain which allows players to build their own tokens by setting their own predictions. Players will earn points and compare their predictions with real results. Those with more points can redeem their prizes from the Smart Contract.
Talk about smart timing! What better way to get people mega excited than by combining one of the biggest emerging technologies of our time with buzz around one of the most-watched sporting events ever. And the Cryptocup marketing is on point too. What are they doing right?
Clever social marketing with strong branding and a sense of urgency. Incorporating a Russian theme into the overall design is also a smart and relevant touch.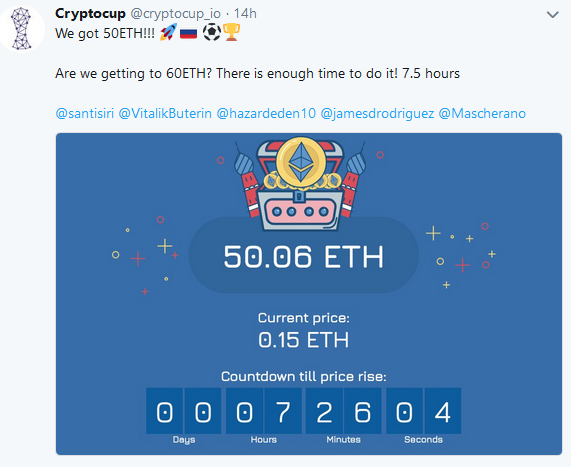 Multi-channel social media approach promoting recent positive feedback from top finance publications such as Forbes.
Cryptocup also have a dedicated landing page with clear descriptions of their gaming product made even more transparent thanks to video material. In a world where 72% of consumers would rather watch a video to learn about a new concept/product than read about it, this is a real winner.
2. Visa – Knee-Sliding Into Influencer Marketing
Visa is as much a part of the World Cup as headers, dives, tackles and amusing chants from the crowd! The renowned global payments technology provider has been a top-tier FIFA partner since 2007 – but that doesn't mean their marketing efforts have slowed down, far from it in fact.
Influencer marketing and FOMO
Over the coming weeks, Visa will also play an active role on social media embracing the fear of missing out (FOMO) concept. Essentially, the company aims to unite those who can't visit Russia in person by sharing a series of videos that give a deeper insight into the games. To do this, Visa has teamed up with influencers such as L.A Galaxy star Zlatan Ibrahimovic. While Ibrahimovic won't be playing in the World Cup this year, the association with such a renowned player is a great way to keep their American audience interested. Clever move Visa.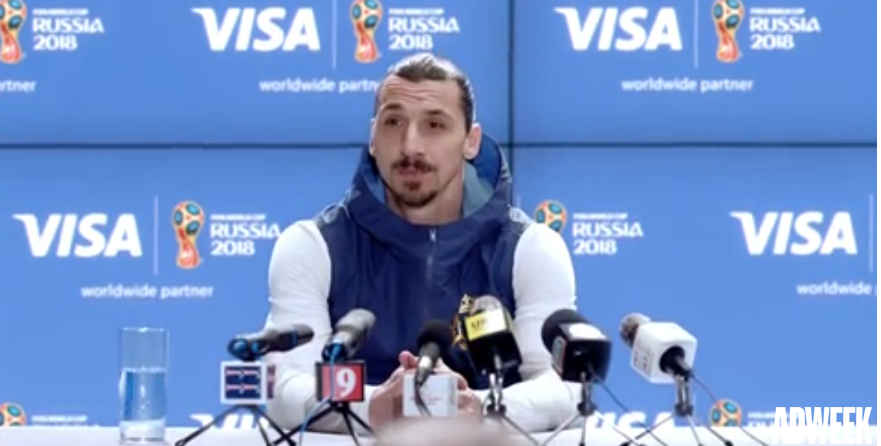 Visa is also putting a multi-pronged marketing plan into action throughout the 2018 World Cup tournament starting with hype around quick, easy and cashless payment services including 6,500 payment rings, 30,000 payment bands and contactless prepaid cards. The excitement surrounding these payment methods and the amount of times they're talked about in the media serves as organic content marketing for the brand.
Useful marketing takeaways:
Embrace influencer marketing – it's bang on trend at the moment and consumers love it
Be inclusive with your approach and make sure you acknowledge your entire audience
Approach marketing from different angles tying in social media strategies, PR, video content, well-written landing pages and other online and offline marketing techniques
3. Wanda Group – Starting A Trend
If you want to get ahead in business it's important to stand out from the crowd and do something different with your marketing efforts. This year, the Wanda Group is the first Chinese company to sign up as a FIFA Partner in a move that has generated plenty of media attention. The multinational conglomerate of commercial management, culture, real estate and finance is using this opportunity to develop grassroots football in China and the Asian region. In fact, Chinese brands are scrambling to associate themselves with sport and will account for more than a third of the estimated $2.4 billion in additional advertising spending worldwide during the World Cup.
So what can we learn from the on-going marketing efforts of Wanda Group which includes plenty of PR and speak about how they want to improve Chinese sports? "We are highly motivated to promote football across the country and to inspire a new generation of youngsters," said Wang Jianlin, chairman of the Wanda Group and the richest man in China.
The importance of corporate responsibility – companies can greatly improve their online reputation by supporting a charity or a worthwhile cause.
The need to break the mould and be different. Wanda Group is increasingly its outreach by associating itself with FIFA and the World Cup.
World Cup Content Marketing No-Nos
The world cup is a great time to get creative with your content marketing, but there are certain things you should not do. These include:
Copying other people's ideas, not cool people
Launching a poorly monitored campaign without KPIs especially if you're putting dollars behind it.
Posting out-of-date information – the World Cup moves at a rapid rate
Not sticking to your word. If you're offering rewards and prizes as part of your marketing campaign – you must meet consumer expectations
Using images that are subject to copyright without acknowledging the source, this could land you in a lot of hot water.
Ready to get creative with your content and social media marketing? Contentworks is a content marketing agency that works with the finance, forex and blockchain sectors. Visit www.contentworks.agency to learn more.