Over the past decade, corporate social responsibility (CSR) initiatives have become more visible within more large companies. In fact, one report found that 92% of S&P 500 and Russell 1000 companies published reports charting their efforts related to CSR and sustainability in 2020. In 2011, that figure was less than 20%. How can you showcase your CSR through content marketing without the humble brag? Join us as we look at Corporate Social Responsibility and Content Marketing in 2022.
Embracing CSR – Why It's Essential for Your Brand
If you're wondering whether to up your CSR efforts, it's important to understand the corporate and consumer landscape in detail as this will help you to justify any marketing changes to higher powers or investors. While change isn't easy, here's why it's good to have CSR on your radar.
Consumer habits are changing
The first thing to note is that consumer habits are changing. In 2020, ethical consumer spending in the UK topped £100 billion for the first time. Fair trade sales alone increased 13.7% between October 2019 and October 2020 and market growth looks set to continue as 28% of people plan to purchase fair trade in the future, compared to just 15% pre-pandemic. This uptick in ethical spending shows how consumers have become more socially conscious. According to Deloitte's 2022 Gen Z and Millennial Survey, the vast majority of Gen Zs and Millennials (90%) are also making an effort to reduce their own impact on the environment with many willing to pay more to make sustainable choices. 64% of Gen Zs would pay more to purchase an environmentally sustainable product, versus 36% who would choose a cheaper product that is not as sustainable.
Consumers are more demanding
As CSR awareness grows, consumers are also becoming increasingly demanding. The same Deloitte survey also revealed how younger generations want businesses, and their employers, to do more. Only 18% of Gen Zs and 16% of Millennials believe their employers are strongly committed to fighting climate change. Gen Zs and Millennials want to see employers prioritise visible climate actions that enable employees to get directly involved, such as banning single-use plastics and providing training to help people make better environmental decisions.
Good CSR Can Attract Top Candidates
Good corporate social responsibility can also attract top candidates to your brand, improving recruitment drives. After all, both Gen Z and Millennials seek out companies that align with their own morals and values. Nearly two in five say they have rejected a job or assignment because it did not align with their values. Meanwhile, those who are satisfied with their employers' societal and environmental impact, and their efforts to create a diverse and inclusive culture, are more likely to want to stay with their employer for more than five years.
Competition is ramping up
Companies are paying more attention to CSR. So to avoid dropping off the consumer radar it's important to up your efforts. Recent reports show that 54% of US and Canadian small businesses currently stand by a social mission in 2022 with 61% of respondents stating that social missions are highly important to them and their business. What's more, 39% of small business owners revealed that they donate to the social mission of their choice regularly and 33% of respondents personally donate $500-$1,200 each year. Data also shows that 38% of small business owners and their teams volunteer at charity events multiple times per year.
So, what can you do to improve your corporate social responsibility marketing efforts and tick the boxes of an increasingly socially conscious audience?
Common Corporate Social Responsibility Actions
When it comes to corporate social responsibility, there's no one size fits all approach. It's important to look at your organisation to understand how you can fit into the CSR world organically. Here are a few of the most common CSR actions that companies promote via their marketing channels.
Measuring and reducing environmental impact through workplace initiatives, collaborations or distributor changes
Improving labour practices to reduce output and improve financial performance.
Participating in ethical sourcing
Engaging in charitable global giving
Using renewable energy
Providing opportunities for workplace volunteering
Adopting workplace policies that benefit the environment
Making socially and environmentally conscious investments
Committing to diversity, equality and inclusion
In a case in point reported by Forbes, a procurement professional at a high-end device manufacturer recently noticed that the cost of printing installation instructions and keeping them updated in 25 languages was more than $250 thousand per year and increasing over time. Through her dual CSR and purchasing experience, she knew that the real cost was substantially higher, including the need to maintain inventory and the wasted paper associated with every product change. She presented her case to the business leaders and they decided to make the installation instructions available digitally, via QR codes and on-demand via the company's website. This is a great example of both improving labour practices and adopting workplace policies that benefit the environment.
So Who's Getting it Right – And What Can You Learn?
Rolex – Perpetual Planet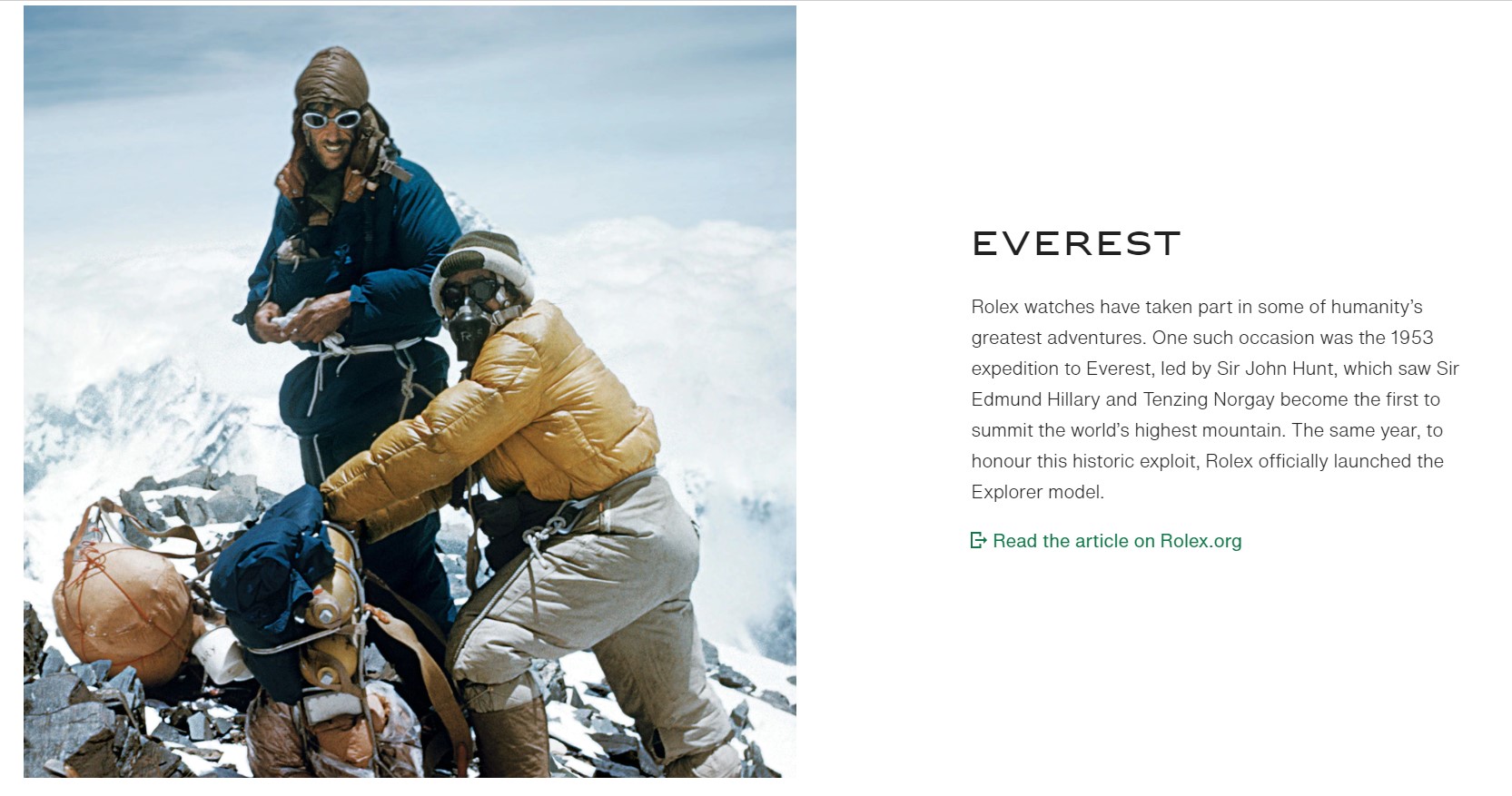 Having launched the Perpetual Planet initiative in 2019, Rolex is committed for the long-term to support explorers in the quest to protect the environment. This continues the legacy of its founder, Hans Wilsdorf, who believed the world was like a living laboratory and supported adventures into the unknown. Rolex markets their involvements in a way that authentically and effectively boosts brand awareness. Here's what they're doing right:
Impressive Storytelling
Storytelling is an effective marketing technique and one that can help to communicate your CSR involvement. Not only has Rolex dedicated a specific part of their website to Perpetual Planet initiatives, but they also provide a historical overview of particular projects. This helps to showcase the extent of Rolex's environmental efforts and taps into human emotions. Stories help consumers to connect to your brand messaging. So think about creating exciting paragraphs with bright, eye-catching pictures, timelines and infographics, short-form video content for your social channels or even 'live' explainer sessions which dive further into a specific topic. You could even follow the lead of Rolex by documenting any past involvement with organisations to highlight your social activism.
Rolex Awards for Enterprise
The brand also embraces the Rolex Awards for Enterprise that recognise individuals with projects that advance knowledge and protect human well-being. Video stories and blogs of standout achievements are regularly posted to LinkedIn. This initiative brings attention to Rolex in a way that isn't egotistical or annoying.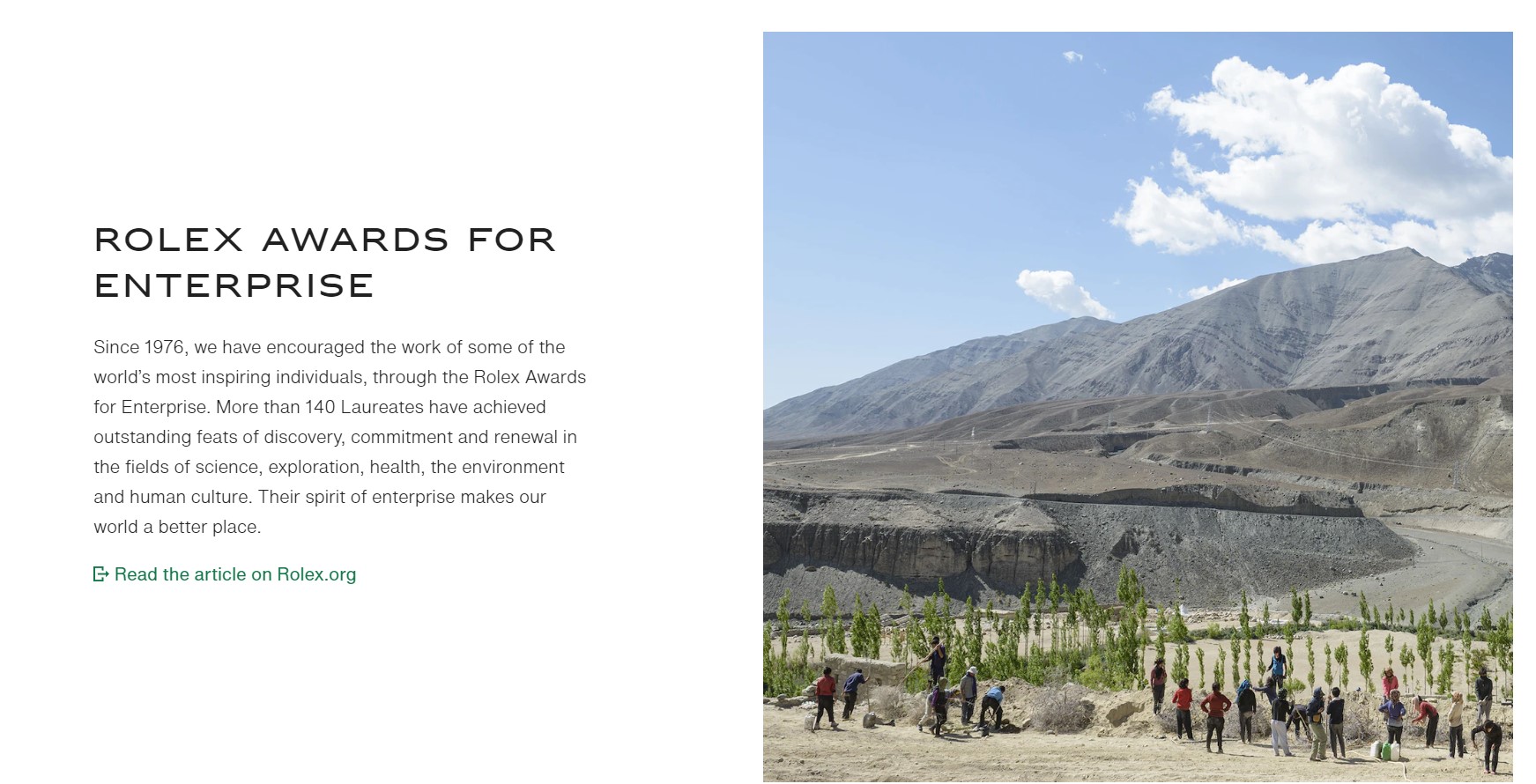 Effective Partnerships
One of the best ways to strengthen your CSR approach is to form effective and meaningful partnerships. By tagging your collaborators in social posts, you can easily extend your outreach. Be sure to also note the branded hashtags which make content easier to find.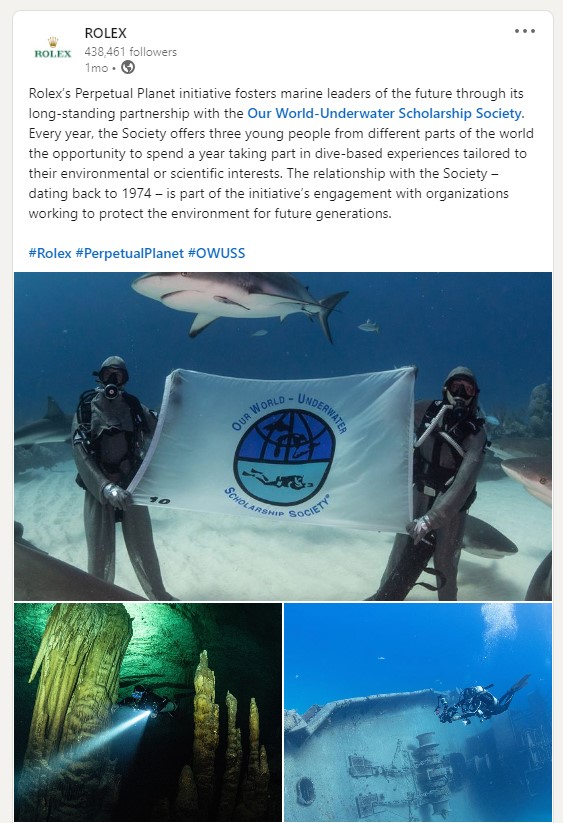 Top tip for marketers: When collaborating with other brands, make sure that your values, goals and mission statements align. It's also important to look at the historical views and activities of the brands or influencers you work with. Consumers will point out any past (or current) controversies or contradictions that might weaken your campaign. For example, if you've eradicated plastic from your brand, don't work with a company who is well-known for plastic pollution as this is an obvious misalignment.
On the flip side, do showcase great projects you've worked on like Stripe did here.  Having a dedicated blog section or website hub will really help you to be strategic about your CSR content marketing. What's more, keeping people on your site for as long as possible through engaging content marketing is great for SEO. If Google sees that people are paying attention to your site, your rankings are likely to improve as a result. So, create those CSR hubs and let people explore lots of innovative blogs, images, diary entries, videos and more.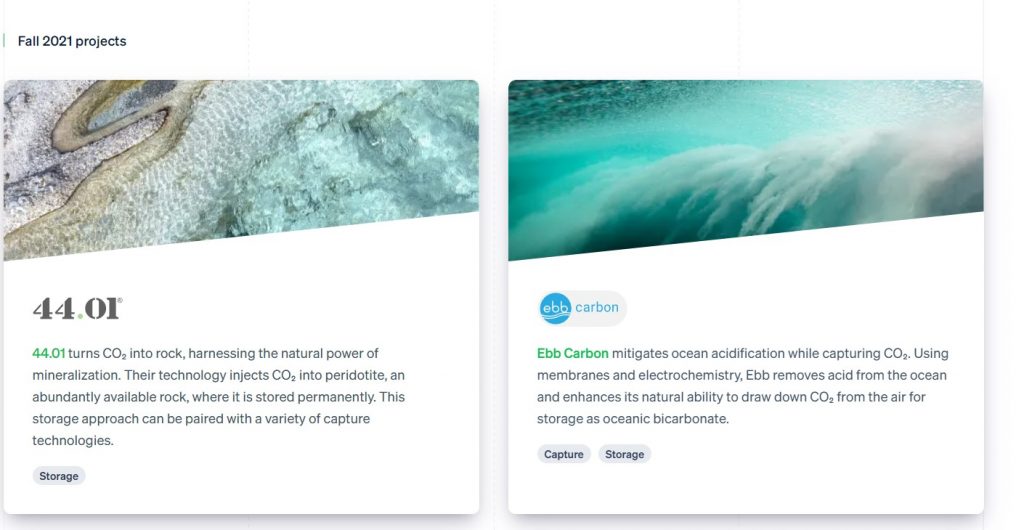 Stripe Climate
Back in 2020, online payments company Stripe launched Stripe Climate. This allows any internet business to support carbon-removal technologies. Companies that run on Stripe can direct a portion of their revenue to carbon removal and Stripe does not charge any processing fees for this initiative. At the COP26 event in the autumn of 2021, Stripe reported that more than 10,000 customers are now part of Stripe Climate. The company has also identified nine projects that it's backing – from submerging kelp farms onto the ocean floor to creating building materials out of CO2. As many companies want to be seen supporting carbon removal, this has led to a host of organic marketing across social channels.
To maximise digital attention, be sure to utilise strong and memorable hashtags across social media. Stripe embraces hashtags and social media conversations which in turn improves consumer understanding and showcases Stripe's passion for change.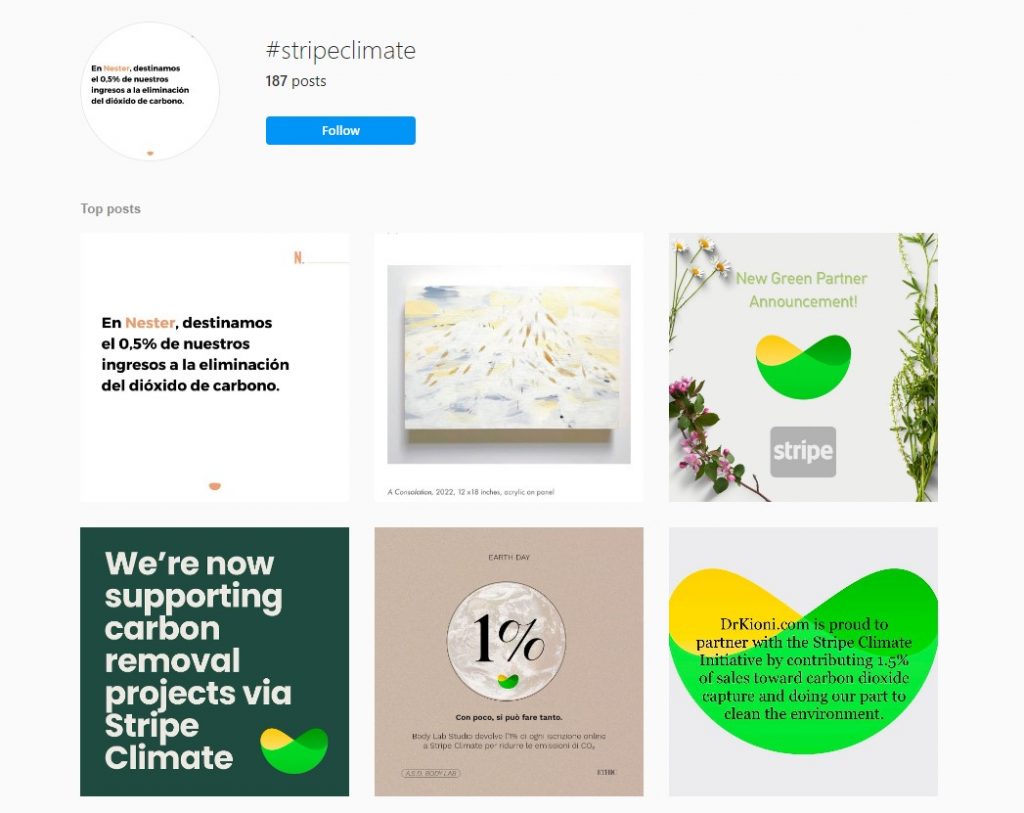 LEGO Replay
LEGO has really upped its corporate social responsibility game of late. In September 2020, the LEGO Group announced that they will invest $400 million over the next three years to support their social responsibility and sustainability efforts. To deliver on their goal to achieve carbon neutrality, LEGO recently signed an agreement to set up its first-ever carbon neutral plant in Vietnam, with production commencing in 2024.
The brand also launched LEGO Replay. This is a simple-to-use platform that allows consumers to donate their much-loved LEGO bricks and share the power of play with kids in need. LEGO Replay shows thought for the wider community and aligns neatly with other CSR strategies. For example, in 2021, the LEGO Group, the LEGO Foundation and UNICEF announced a three-year partnership that will invest $2.5 million in providing resources to community-based family support programs to help caregivers understand the life-long benefits of incorporating play into their everyday lives.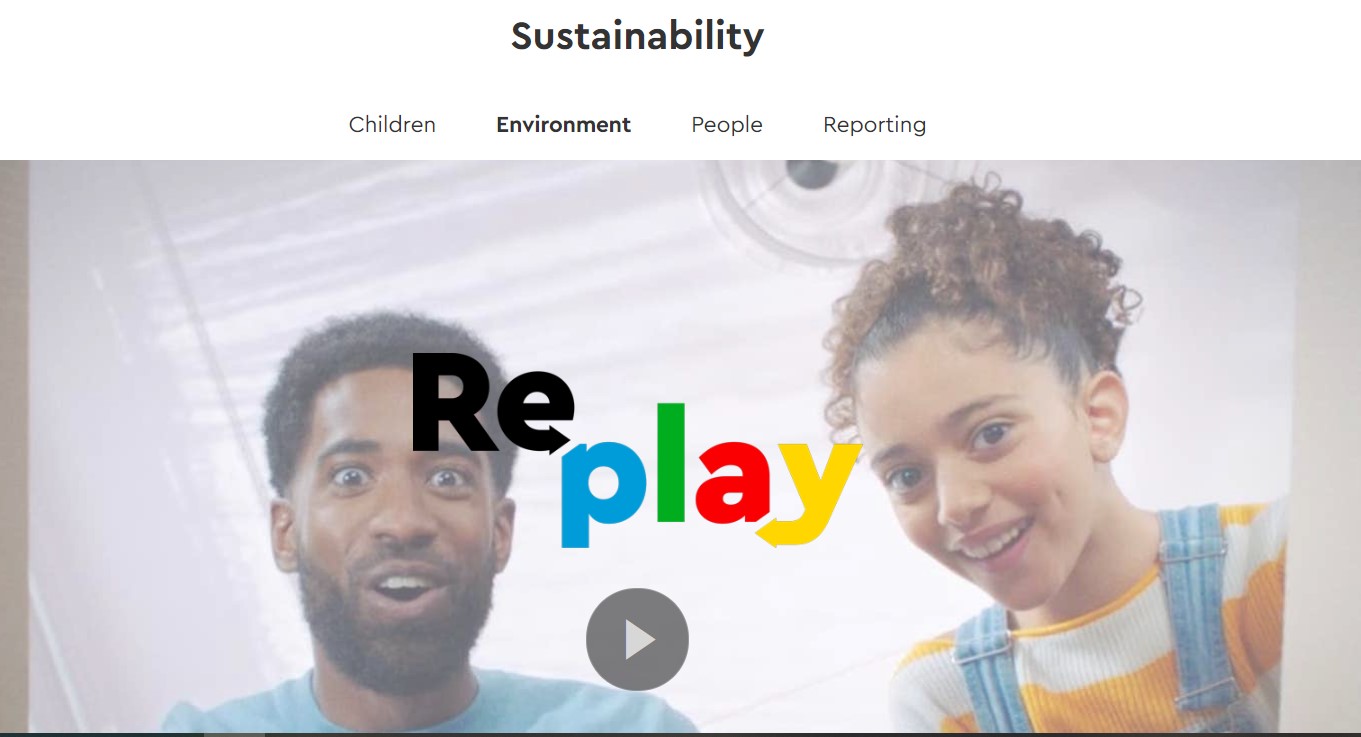 LEGO communicate their CSR goals well through:
Dedicated explainer pages on their website
Creative Reels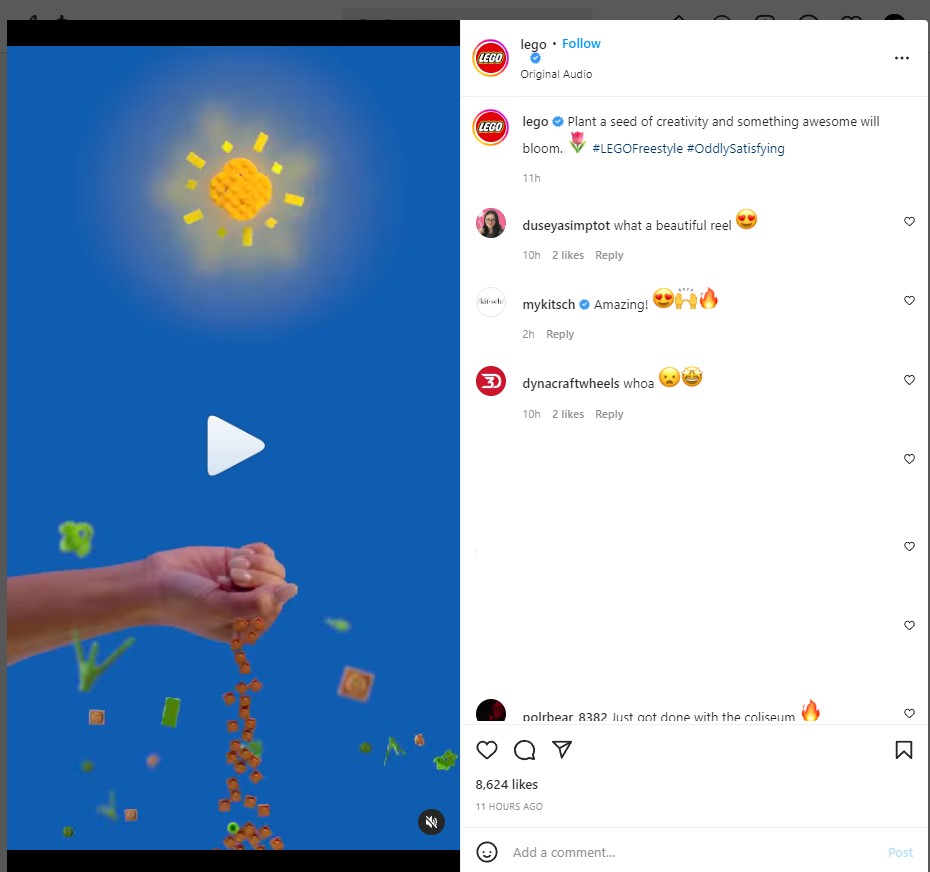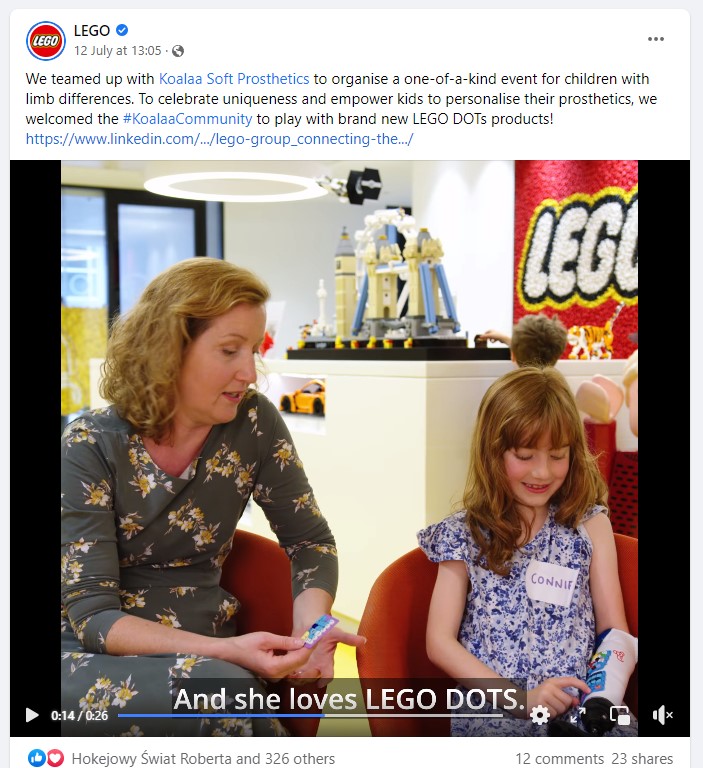 The Importance of Truth and Authenticity
When it comes to CSR, truth and authenticity are key. Whatever you do, don't make false or exaggerated claims just to look good. This is something many companies learnt the hard way on International Women's Day 2022. The Labour Party, Westminster's Houses of Parliament, HMRC and energy regulator Ofgem are just a few of the organisations which had their 'platitudes' on gender equality called out by an automated Twitter account. The 'bot' account @paygapbot used data from the UK Government pay gap website, where employers with 250 or more employees have published figures comparing men and women's average wages across the organisation. It automatically responded with an organisation's pay gap statistics to any post put put on Twitter hailing equality for women on International Women's Day.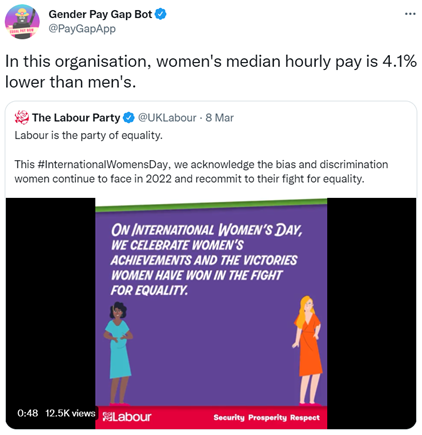 As well as 'bots,' humans are really switched on these days and will fact check your statements. So make sure your marketing represents your actions and that your initiatives are in line with the rest of your brand. If you work with influencers, make sure you select people carefully as you must all be on the same page.
Avoid Humblebragging in your CSR Communications
Corporate Social Responsibility is individual to each company and can reflect your organisation, values, available time or budget. A small cafe offering free coffee to those in need is proportionate to a large multi national donating millions to its chosen cause.
But you need to avoid the humblebragging. A Swedish Instagrammer has apologised to her offended followers after she posted a bikini photo likening herself to a rice picker in Bali. Natalie Schlater, an Instagram influencer with 12,000 followers, posted a shot of herself in a white bikini, gazing out into a rice field reportedly located in Canggu. The photo received untold backlash.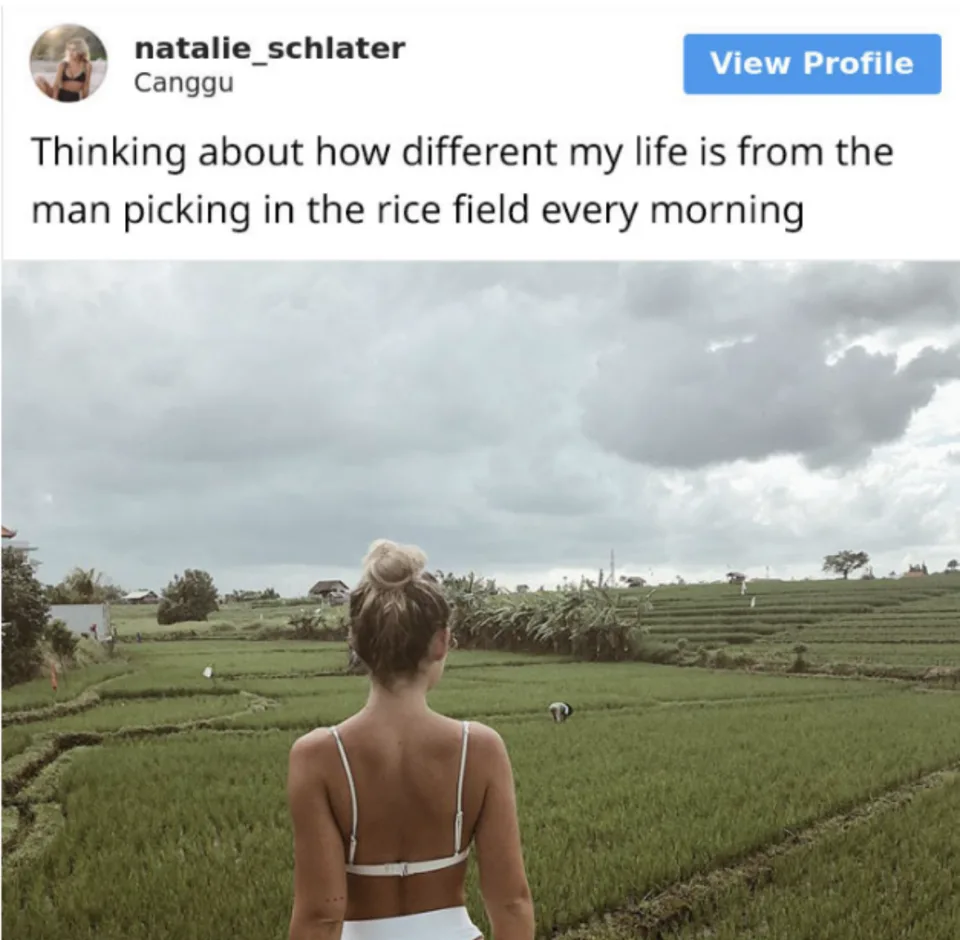 Avoid the humble brag cringe by purposing content to serve your community as opposed to your own promotion. If you want your communications to reach and resonate with your audience then consider these points:
Avoid placing your company on a pedestal. If you are working alongside a charity or cause, then be mindful not to adopt a "hero complex". Similarly, avoid photos or images that may be seen to be taking advantage of people for your own gain. Consent is important here too. You should always obtain photo consent from anyone featured in your news or social media stories.
Make sure it's a good fit. There are thousands of different ways you can make a difference and some will fit better with your brand than others. A women led team might want to focus on women's issues, whilst a company selling pet products might focus on animal welfare. Having a good connection will help you tell meaningful stories and set great goals.
Share credit and successes.  Achieved a fundraising goal? Great. Now include everyone who took part and helped. Put the focus on the team, collaboration and the stories of others. Nobody wants to hear your CEO take credit for everything.
Tell stories. Feature people. Keep the focus on why you're taking part in this CSR. Stories are a great way to do this and keep your initiatives fresh and interesting for your audience.
Don't Forget To Donate. Brands often take part in viral social media challenges like the #IceBucketChallenge without making a donation. Be sure to put your money where your mouth is if you want your brand to be active in viral challenges.
Be A Mouthpiece. Keep your audience updated with upcoming initiatives and events that they can be a part of. You can utilise your position and audience to generate positive publicity for your cause.
Avoid Overbranding. There is something tacky about your logo being all over a charity drive or food bank. One small sign about your organisation and how you are helping is enough. Don't brand photos from CSR events or initiatives.
Speak to Contentworks Agency about corporate social responsibility content marketing and improving your brand's reputation online.
At Contentworks Agency we always credit our sources. Thanks to the following sites for providing awesome information
https://doublethedonation.com/why-corporate-social-responsibility-is-important/
https://www.lego.com/en-us/aboutus/responsibility