Having a social presence really is a must these days and as more and more businesses ramp up their marketing campaigns in a bid to increase brand awareness, extend their outreach and gain useful insights from consumers, let's take a look at 5 tourism brands who get social media.
Why Tourism and Social Media Go Together
We live in a tech-centric world where sharing pictures of porridge made with almond milk and sprinkled with antioxidant-rich chia seeds has become the norm. There are hashtags for almost every word combination you can think of and with social media users expected to reach a whopping 2.77 billion by 2019 – that's up from 2.46 billion in 2017 – it's no wonder that many companies are embracing modern trends, utilising influencers and focusing on online interaction.
1. Expedia – @Expedia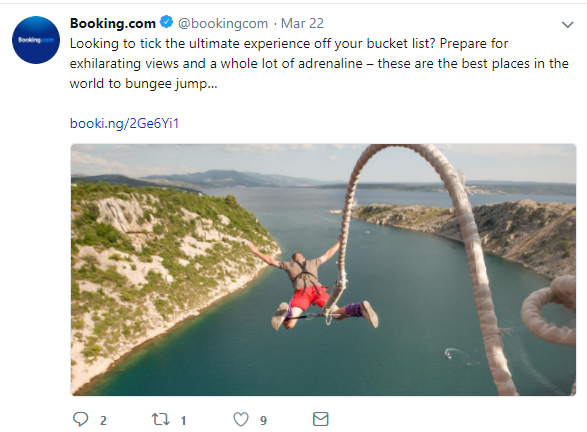 Talking of tourism brands who get social media, let's kick off with Expedia. As one of the biggest travel companies in the world helping people plan exotic adventures across the globe, Expedia has tapped into the visual appeal of social media platforms like Twitter and Instagram sharing a wide range of enticing photographs and videos that make you want to jump on a plane.
They are adept at engaging their followers and do so by:
Keeping their social accounts regularly updated
Posting real-time content and live tweets
Hosting live question and answer sessions
Using hashtags to promote engagement such as #ExpediaChat
Reciprocating interest by retweeting and favouriting top tweets from followers
To keep their social community interested, Expedia also generates a host of innovative and fun games such as #MatchMadeinTravel. Designed in the style of dating app Tinder, it allows users to swipe left or right to find their ideal holiday destination – genius and informative.
Takeaway 1: Be interesting and different! Do what others in your sector are not.
Takeaway 2: Consider possible collaborations that will benefit your company: Tinder and Expedia? Now who would have thought?
2. ABTA – @ABTAtravel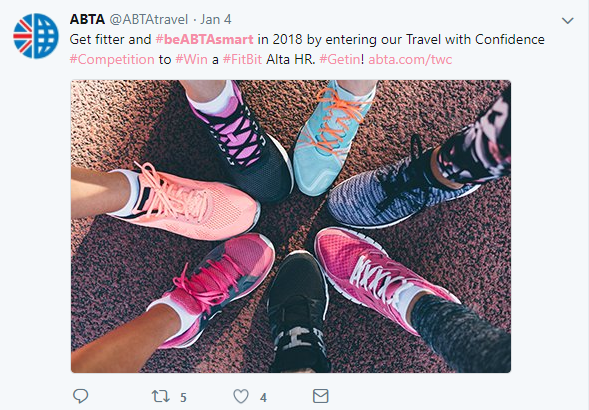 ABTA – a leading travel trade association for travel agents and tour operators in the UK – is a tourism brand who gets social media. ABTA kicked off 2018 with a campaign that tapped into the social media trend of taking 'foot selfies', an idea which made the brand modern and easy to relate to.
The 'Travel with Confidence' initiative featured foot selfies taken from across the globe as well as a series of YouTube video montages which in turn highlighting the wide range of destinations offered by ABTA brands. The campaign was supported by the strapline 'we're with you every step of the way' and the hashtag #beABTAsmart which was used across multiple social media channels including Facebook and Twitter.
All social marketing efforts were backed up with a competition to win a Fitbit which of course generated user engagement and kept interest rates high.
Takeaway 1: Adopt a multi-channel approach to help reach your target audience and streamline your marketing efforts – always be consistent to avoid confusion.
Takeaway 2: Hold competitions and reward consumer loyalty with attractive prizes.
Takeaway 3: Create memorable, short and easy-to-use hashtags to promote your brand/campaign.
3. Booking.com @bookingcom
Booking.com is a large e-commerce company with a very clear mission: to empower people to experience the world. They encourage tourism on social media in a simple yet informative and highly interesting way. How? By linking back to a more extensive article on the booking.com website – clever hey?
The company's tweets are well structured, consistent and often follow a very specific structure. Firstly, they usually start with a thought generating question. This leads on to teaser content related to an article which they provide a link to – of course you then want to read more. Finally, nearly all posts are accompanied by beautiful imagery which again provokes curiosity.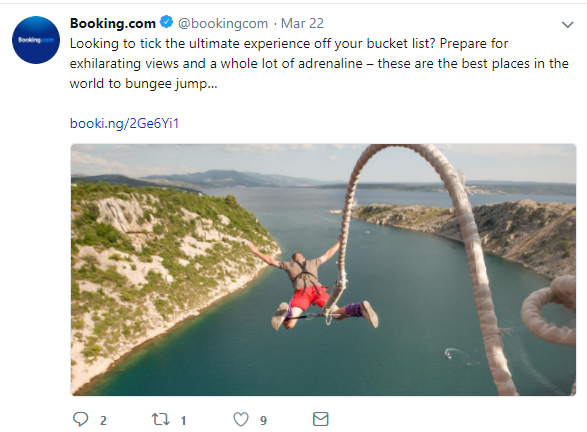 Takeaway 1: Link back to your website or a specific landing page. If you're trying to boost sales, be sure to link to a page with a clear call to action.
Takeaway 2: Make the most of visuals. Social media platforms are a great way for tourism brands to showcase not only their services but attractive locations across the world which helps to get people in the mood for an adventure.
4. Airbnb – @Airbnb
Airbnb is well-known for breaking the norm when it comes to traditional travel experiences encouraging people to go off the beaten track and enjoy unconventional, non-touristy destinations. The company's marketing efforts revolve largely around user-generated content and this interactive, consumer-led approach is continued across their social platforms. The below survey is a great example of content that's engaging and easy to share.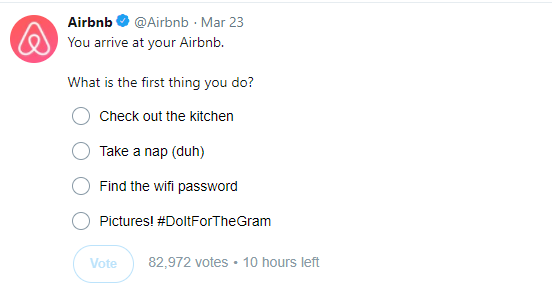 Airbnb is a tourism brand who gets social media and is constantly thinking up new initiatives and ideas too with #AirbnbConcerts encouraging people to share musical experiences with local hosts and join in a wide range of events.
Over the past few years, Airbnb has also positively embraced influencer marketing by collaborating with well-known celebrities. A sponsored 2015 Instagram post of Mariah Carey chilling out in accommodation booked through Airbnb received over 45,000 likes and kick started the company's extensive influencer marketing initiative.
Since then, Airbnb has worked with the rich and famous and capitalised on many top events. They recently provided complimentary homes to Drake, Martin Garrix, Lady Gaga, Wiz Khalifa, and Stefanie Giesinger at Coachella 2017. This was undoubtedly a great way to gain news coverage and attention via Instagram, Twitter, Snapchat and other social sites.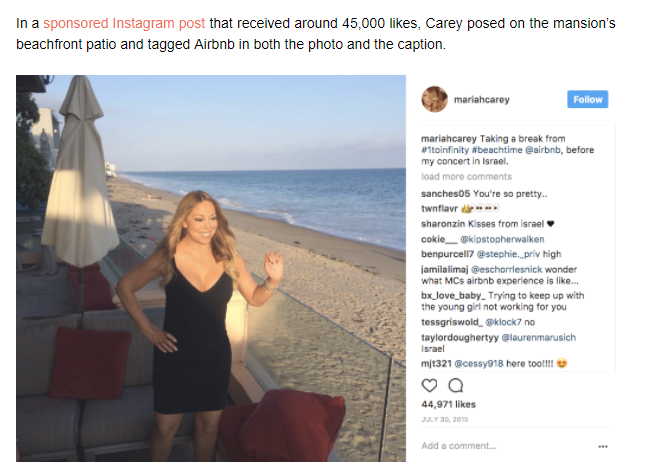 Takeaway 1: Use interactive marketing methods to engage social media followers.
Takeaway 2: Connect with key industry influencers to help leverage a product/service, get your brand noticed and improve your online reputation.
Takeaway 3: Look ahead and see how you can market your brand at upcoming events.
5. Virgin Hotels – @virginhotels
Video content is huge. In fact, it's thought that video will account for 80% of all internet traffic by 2019 so why not incorporate it into your social media strategy? That's exactly what Virgin Hotels did when they invited influencers to share tips in a host of fast-paced video clips. The clips were then posted to multiple social accounts including Twitter, Instagram, YouTube and Facebook to increase engagement and attract followers. All videos were posted using the promotional hashtag #VanityAtTheVanity.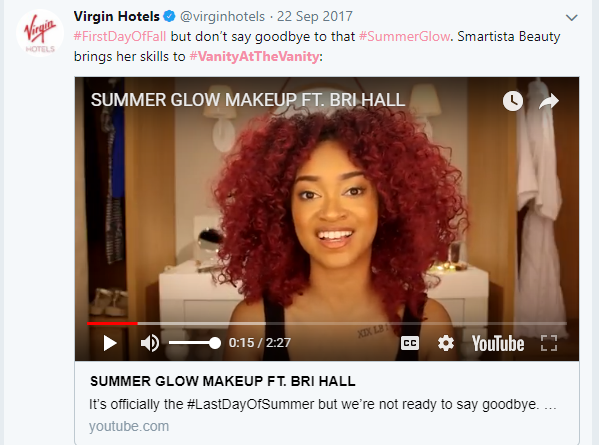 Takeaway 1: Bring your business to life with video content. How-to clips are highly shareable or you might want to 'go live' seeing as this is possible from many social platforms.
Takeaway 2: Think of a theme and create a video series as this will allow you to post more than one video over time and generate a following through well-written PRs, blogs, web content and social posts.
Top content and social media marketing go hand-in-hand and at Contentworks we can help you nail your social strategy. Finance is not all we focus on. We work with many different lifestyle and travel brands too, so contact us today for all the info.
At Contentworks we always credit our sources. Thanks to the following sites for providing awesome information:
https://abta.com/about-us/press/abta-launches-2018-travel-with-confidence-campaign
https://linkhumans.com/expedia/http://www.superxgh.com/16-visual-storytelling-tips-to-give-your-content-marketing-a-boost/
http://www.dailymail.co.uk/tvshowbiz/article-4442300/Kendrick-Lamar-Lady-Gaga-stay-free-Airbnb-mansions.html
http://mediakix.com/2017/07/airbnb-marketing-celebrity-instagram-influencers/#gs.VyBAptU