When it comes to digital marketing and brand awareness, there's no time to slacken the reins. If you want to fend off competition, your social strategy really needs to be on point – so let's take a closer look at 5 lifestyles brands owning Twitter. As a content and social media agency, we're always keeping close tabs on the latest trends.
 1. Nike – @Nike
 With over 7 million followers, this popular and well-known sports brand is enjoying Twitter domination – but why is the Nike social strategy such a success?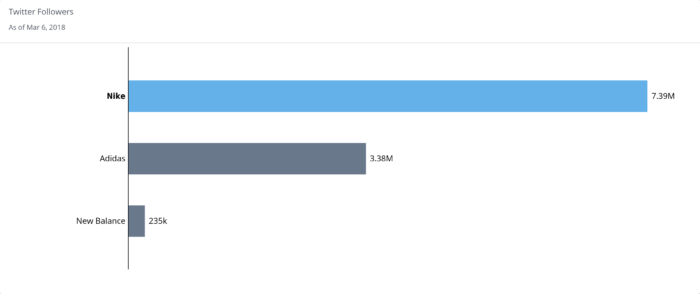 Hashtags and social media go hand-in-hand helping people to #find #follow #contribute #organise #promote and more. Nike, however, takes things one step further by developing community-building hashtags that are designed to make people feel empowered, inspired and included with #nikewomen being a great example.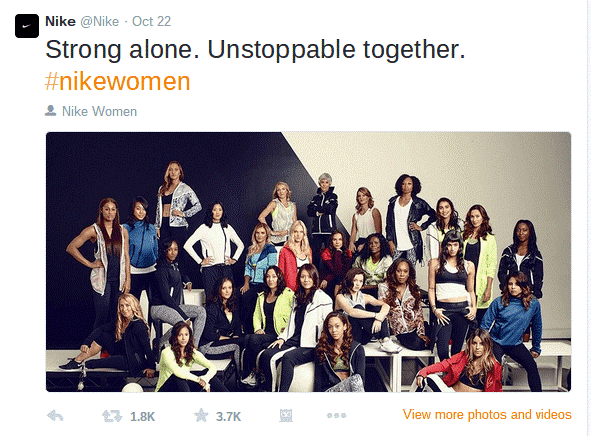 Almost every Nike-related tweet also features #justdoit which is a motivational call to action as well as a world-famous tagline. It's instantly recognisable and has become synonymous with the Nike brand. Notice how Nike hashtags are short and easy to remember.
Nike is also passionate about storytelling. This is a clever marketing technique as it gives people a reason to invest in their brand. The #Breaking2 campaign which saw Lelisa Desisa of Ethiopia, Zersenay Tadese of Eritrea, and Eliud Kipchoge of Kenya attempt to complete a marathon in less than two hours back in 2017 is a great example of how Nike throw themselves head-first into real-life scenarios in a bid to push limits, challenge expectations and improve the online reputation of their brand.
The company posted live video of the race on Facebook, Twitter and YouTube with the Facebook stream attracting close to 5 million viewers. Impressive – huh? Eliud Kipchoge managed to run 26.2 miles in 2 hours, 25 seconds and this achievement is still being celebrated today! Now that's a marketing campaign that can go the distance.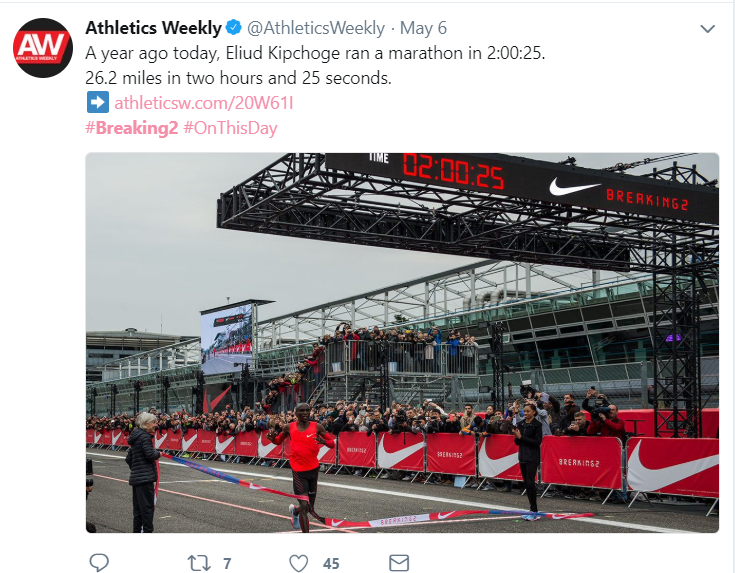 Takeaway: Humanise your brand and make people care. Yes, the runners wore Nike trainers (an obvious advertising ploy), but there was a lot more to the #Breaking2 campaign than shameless promotion.
2. Airbnb – @Airbnb
Airbnb is well-known for its epic social media efforts. Not only do they nail exceptional imagery, interesting videography and user-generated content based on real-life experiences, but they also know how to rectify potentially bad PR – which is something all companies should be prepared to handle. In a world dominated by web interaction, the slightest sniff of bad publicity can put a spanner in the works but when it was thought Airbnb hosts were discriminating against guests – the brand responded in a big way.
Not only did they set new guidelines stating that everyone should be treated equally, but they also put forward the #WeAccept campaign to help spread the message which launched during the Super Bowl 2017. This turned out to be the brand's 3rd largest driver of earned impressions of all time at over 87 million – and that's not all. On Twitter, #WeAccept was the number one advertiser hashtag used during the Super Bowl with Airbnb generating over 33,000 tweets during the first half of the game. Reaction to the campaign was 85% positive.
The great thing about this campaign is that it's on-going and serves as a constant reminder that discrimination is unacceptable.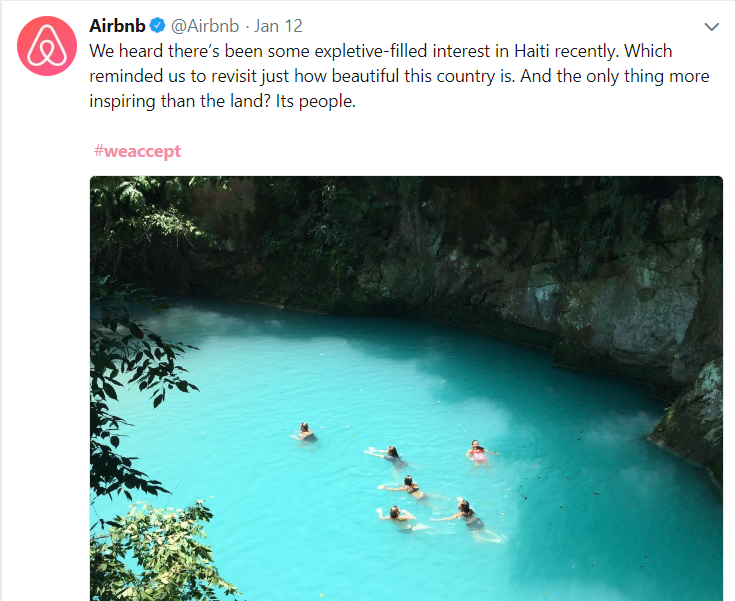 Takeaway: Don't let bad PR bring you down. Instead, use social media to address the issue head on and show your target audience that you're on it.
3. Lonely Planet @lonelyplanet
Lonely Planet is certainly worth following if you enjoy learning more about the world and admiring epic visuals from a variety of fascinating countries – just look at the stunning snaps below which are designed to tempt and entice. As with much of Lonely Planet's inspiring content, this Twitter post also links to a more in-depth blog post and uses destination hashtags such as #Cairo and #Egypt to ensure the content is easy to find.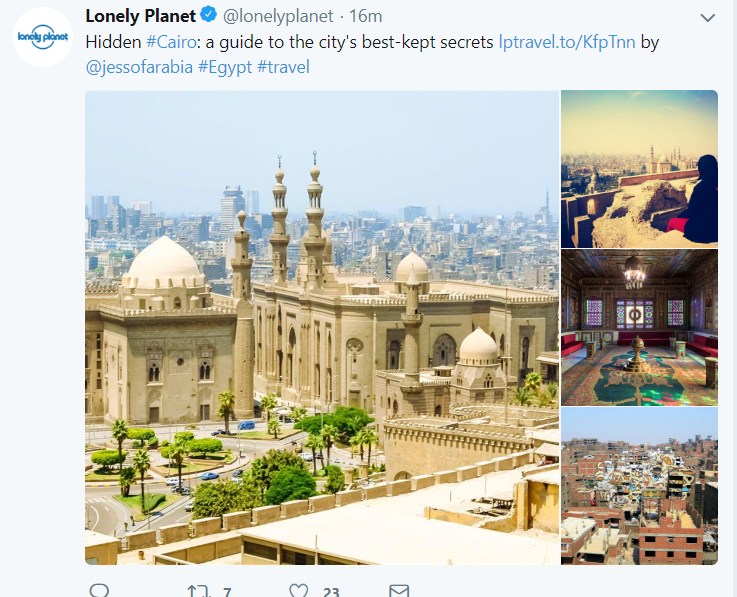 As well as providing a variety of content, Lonely Planet steps things up a gear by making their Twitter experience as interactive as possible. Live Twitter chats appealing to a specific target audience are a great way to increase outreach and consumer engagement. The Twitter #lpchat in collaboration with @lpkids targets families and promotes family-friendly travel. Again, this is supported by a blog explaining why joining the chat is a great idea.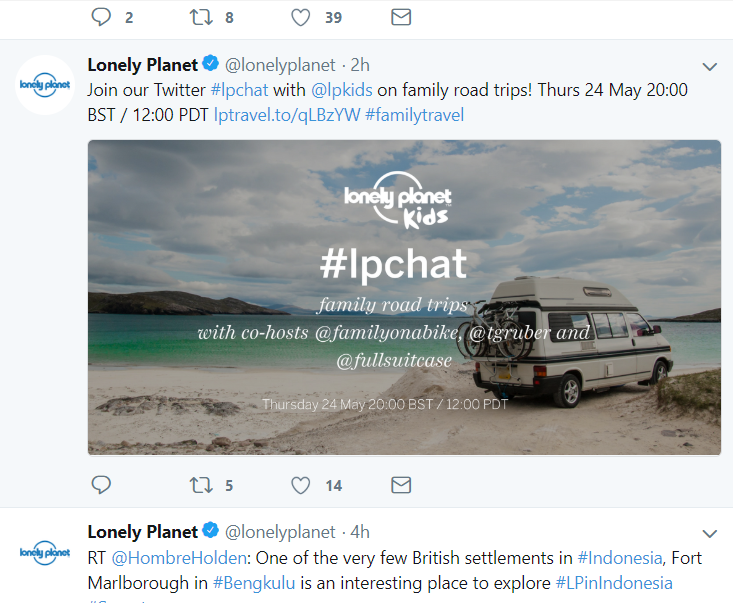 Takeaway: Think carefully about your target audience and segment campaigns if necessary to ensure you're talking to the right people at every opportunity.
4. Calvin Klein – @CalvinKlein
 If you've never owned an item of CK clothing – where have you been? CK certainly know how to make their products as desirable as possible – with Twitter being an excellent marketing channel.
The #MYCALVINS campaign featuring celebrities wearing CK apparel is not new with Justin Bieber posing in a pair of CK boxers back in 2016 receiving over 1.6 million likes on Instagram. That said; this popular social media marketing effort which resonates with young social media users is far from dead.
Earlier this year, the Kardashian-Jenner siblings were photographed for the #MYCALVINS concept which is designed to have family values at its core.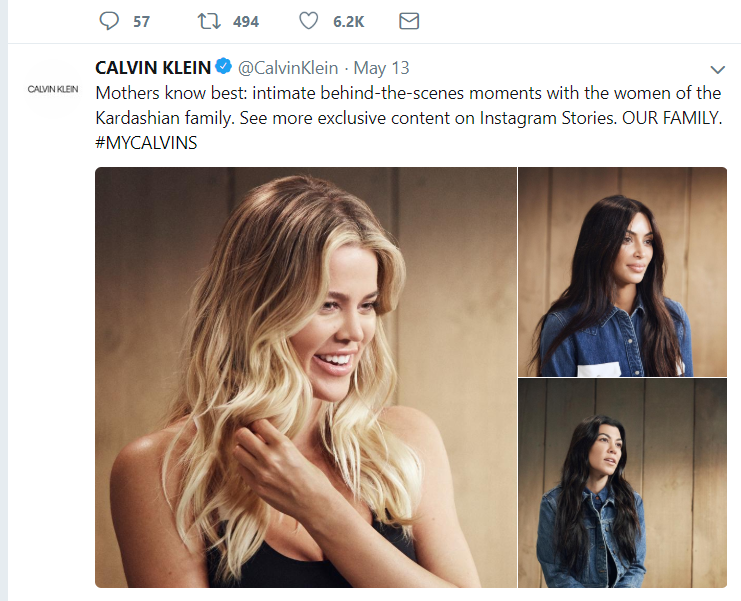 Behind-the-scenes snaps of three famous Kardashian ladies – all of who are mums – were recently posted on US Mother's Day using the hashtag #MYCALVINs.
Takeaway: Influencer marketing is becoming increasingly popular. It's a great way to improve brand awareness, so try to form connections with influential people within your sector – they don't have to be world-famous celebs. Also, use special calendar dates to your advantage by creating suitable social media content.
5. Whole Foods UK – @WholeFoodsUK
People are becoming increasingly health obsessed and therefore Whole Foods UK appeals to those looking for natural and organic produce. The question is; with so much competition from the health and fitness sector, how is this grocery store attracting consumers? Well with 43,500 Twitter followers and counting, their social media strategy is certainly helping – so what are they doing right?
The first thing to mention is the mouth-watering photos. All we can say is YUM!! The next thing is their ability to jump on and promote important dates including #NationalPicnicWeek and #British Sandwich Week – no we haven't made these up. This automatically attracts attention and increases brand awareness. Sure, these particular events are somewhat 'niche' but Whole Foods UK also appeals to the mainstream by focussing on celebrations of a larger scale such as the Royal Wedding of Prince Harry and Meghan Markle. Such special occasions are the perfect time for a quality food brand to promote – and they didn't miss the boat.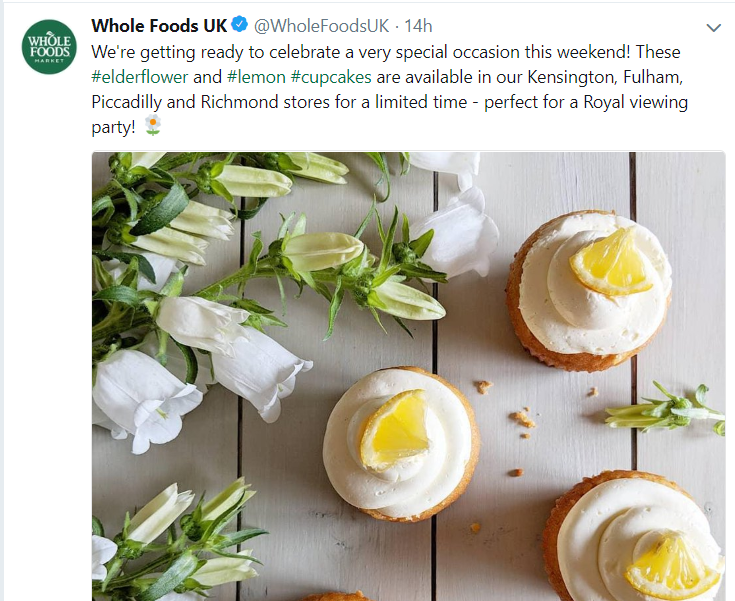 Takeaway: Plan your marketing activity around upcoming events. This takes preparation but it will help you to make the most of notable occasions and dates.
Want to improve your social media strategy or improve Twitter management? Then contact the Contentworks team today!
At Contentworks we always credit our sources.
Thanks to the following sites for providing awesome information:
blog/nike-branding-strategy
https://www.talkwalker.com/blog/great-social-media-campaigns-2018-marketing-strategy
https://www.lonelyplanet.com/blog/2018/05/15/join-our-twitter-lpchat-with-lpkids-on-family-road-trips