Doing business in Europe is becoming harder for forex brokerages. Competition is fierce and stricter regulations are making the business landscape more difficult. Asia is attractive for forex brokers thanks to its increasing wealth and adoption of fintech. However, here are 10 things forex brokers need to know before targeting Asia.
#1 Asia Is Not One Country
This may seem fairly obvious but it's one area that most businesses overlook. The rules of the forex game are different in each country and you have to account for this.
For example, China maintains a "closed" capital account, meaning companies, banks, and individuals can't move money in or out of the country except in accordance with strict rules.
The People's Bank of China (PBOC) and State Administration of Foreign Exchange (SAFE) carefully monitor and regulate the flow of foreign exchange in and out of the country and set exchange rates through a "managed float" system. In contrast, Singapore places no significant restrictions on foreign exchange transactions. That said; FX brokers must be authorised by the Monetary Authority of Singapore before accepting forex and CFD traders.
The rules and regulations of each country can impact business. So, you must know the differences across the Asian market. This is also true considering each country has its own language, cultural beliefs, economy and spending habits.
#2 Don't Overlook the Power of Language
Language is one of the things that can set you on the wrong foot right from the start as you take your business into Asia. If you see the terms 'Bahasa Melayu' and 'Bahasa Indonesia,' for instance, it's easy to assume that the two languages are similar. However, 'Bahasa' is simply the Sanskrit word for 'language' and the people of Malaysia and Indonesia speak completely different languages.
The language the Western world labels Chinese comes in many dialects including Mandarin which is the official Chinese language and Cantonese which is spoken in Macau, Hong Kong and Guangzhou. Asia has lots of language diversity and it's important to know that any ad copy or content marketing will require language localisation as direct translation is not enough in most cases. If overlooked, language may hurt your credibility and brand.
In the financial realm, HSBC learnt this the hard way with a mistake that cost them $10 million for a tagline change. Unfortunately, their flagship "Assume Nothing" slogan, translated in many countries as "Do Nothing" which obviously was not cool. This ended up being changed to "The World's Private Bank" which was much friendlier to translate.
Similarly, when KFC expanded to China, it nearly lost its good name due to a language blunder. The company did a literal translation of "It's finger lickin' good" slogan and what it got was the not-very-appetizing phrase "Eat your fingers off".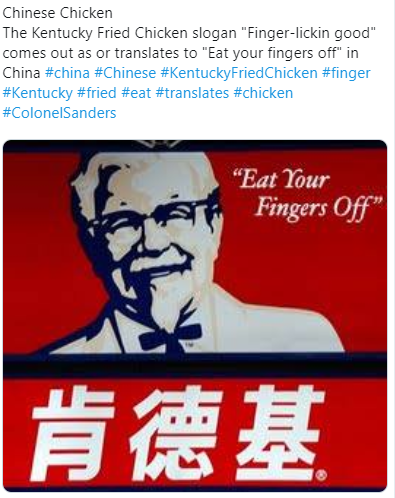 Similarly, Pepsi's slogan wasn't well-received when it was taken to China. Why? The "Come Alive with the Pepsi Generation" slogan translated to "Pepsi brings your ancestors back from the grave."  Whoops!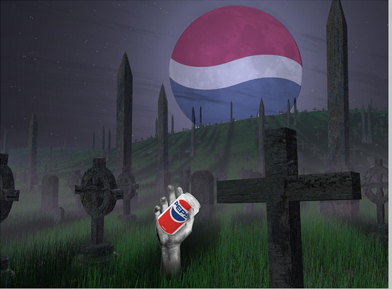 Top Marketing Takeaway for forex brokers: Don't make the same mistake as others. If you've a specific marketing line you're renowned for, see how it translates in the Asian market you want to target. If the translation doesn't work, your marketing will need to be tweaked before you launch any campaign.
#3 Understanding Cultural Norms Is A Must
Closely linked to language are cultural norms. If you are going to expand into the Asian market, you need to know what's important to Asians. It's not only about what you say but how you say it.
When Proctor and Gamble first introduced its Pampers diapers in Japan there was lots of confusion with regards to the packaging that depicted a stork delivering a baby. While the image made sense in the Western market, Japanese folklore says that babies are brought to their parents in giant peaches. Japanese consumers needed disposable diapers but the stork was a marketing fail in the Japanese market.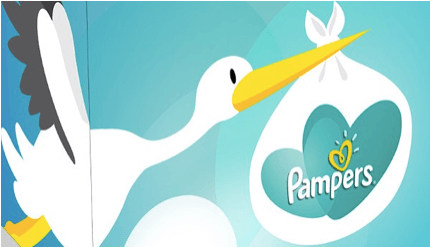 You also have to know that people in Asia operate differently and they have unique expectations. Culture defines entry into Asia. Take for example how McDonald's had to include vegetarian meals to cater to Hindus who avoid beef and Muslims who avoid pork.
Although the brand is well-known for its non-vegetarian menus it adapted to local demand by providing meat-free dishes that both Hindus and Muslims can consume. Ignoring cultural nuances would probably have cost McDonald's its market share in India. Asia is a whole new level of doing business and you will need to conduct thorough research into the culture and ways of your target audience before venturing into the market.
#4 There are different levels of disposable income
Each Asian country has its own financial demographics and it's important to understand them before attempting to enter the region and acquire clients.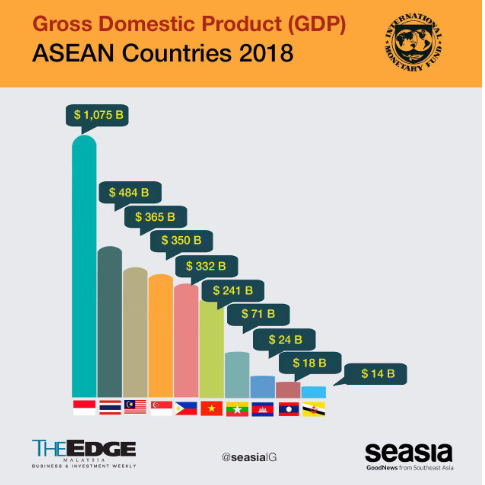 While the average monthly salary in Tokyo is around US$3,000 and is comparable to incomes in cities like Paris, Hong Kong and London, the same cannot be said for the average salary in Myanmar, Laos, or Cambodia where the average monthly salary is US$100. You need to account for the variations in disposable income among the different countries in the region before choosing where to settle.
Most brokers in the West typically require an initial deposit of US$100-500 but brokers in Asia tend to accept deposits that are way below $100. You will hardly come across as a socially responsible broker if you fail to acknowledge the income differences among your potential clients.
Western brokers vs. Asian brokers


#5 Payments are done differently
Many businesses have failed to take off in Asian countries because they failed to understand that payments work differently in that region. You will have to forget PayPal when targeting Asia. Local providers in 17 different territories process all payments in Asia and it's possible to acquire licenses that connect to local credit cards in markets such as China, Indonesia, Japan and the Philippines. Other common deposit and withdrawal methods include bank wire transfers, China UnionPay, and Skrill.  Understanding Asia's unique payments landscape will help you take better advantages of the opportunities in the region.
#6 Partnerships Can Make Or Break Your Entry Into Asia
Before entering the Asian market it's important to understand the importance of personal relationships. For instance, your relationship with introducing brokers (IBs) can make or break your entry into the Chinese market since the market is IB oriented.
China is becoming a go-to-market for brokers looking to get into the Asian market but trust is a big issue among Chinese traders. Most of them are reluctant to trust foreign brokers and they prefer to follower IBs' recommendations. Therefore, IBs play a vital role in customer acquisition.  There are over 80,000 IBs in China alone and engaging them correctly will help you build and sustain your business.
It's also important to think of technological partnerships when entering the Asia region. Relying on external data centres will affect you adversely and so it's important to partner with local hosts who can optimise performance and who understand local laws, including surveillance issues and censorship.
For example, if you are looking to establish your business in China, you will have to consider 'The Great Firewall of China' as another barrier to setting up your business. This regulates internet usage domestically. A foreign broker, operating its business on Chinese infrastructure has to understand that it will be subjected to internet surveillance. Authorities are able to see the order flow, how trades are being executed, where funds are being kept and how traders are responding to customer service.
#7 Marketing Focuses on Education
Marketing your business effectively is at the core of every successful venture into a new market. The key is to understand the prospective clients' lifestyles and to find out their needs. With most Asian households spending 15% of their income on extra education, you should be aware that education and knowledge are a big part of Asian culture and this will have to be reflected in your marketing campaigns.
For instance, EUR/USD, USD/JPY, AUD/USD and gold are the most popular instruments in Asia while the GBP/JPY, GBP/USD, EUR/JPY and AUD/JPY tend to have the most volatility during the Asian session. Your marketing needs to address this and a poor content marketing strategy just won't cut it. All the relevant information will also have to be provided in the local language while avoiding language blunders. There's a lot to think about, right?
Fortunately, your marketing efforts will probably not be as costly in most Asian countries as in the West. In China, Baidu has a market share of over 75%. Google doesn't have as many advertisers and this pushes the CPC costs down.
#8 Targeting Asia Via Social Media
Social media marketing is big in Asia but it comes in a different form. While Facebook is a dominant social media platform worldwide, alternative social media platforms crop up when targeting Asia. If you are looking to enter China where Facebook is blocked, you should familiarise yourself with WeChat and its impressive 902 million active daily users. Although the platform is also used by people in Southeast Asia, over 90% of its users are in China.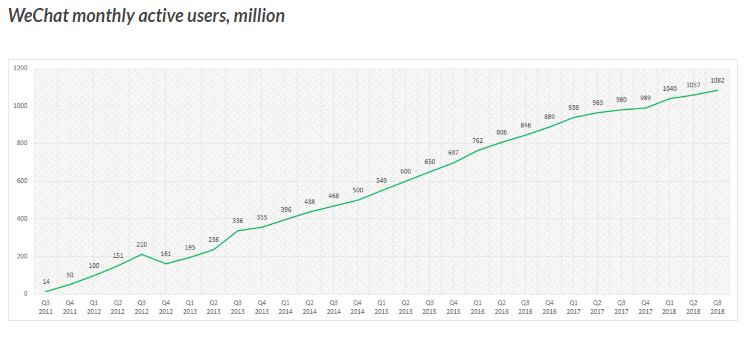 Source: BusinessofApps.com
Sina Weibo is another social media platform you should get to know as it is to Asia what Twitter is to other regions. Twitter is excellent for keeping up with forex markets and so it's easy to see why Weibo is important. With 465 million monthly active users, Weibo beats Twitter's 330 million users and so you should keep an eye on the platform.
#9 Don't forget The Prevalence of Mobile Internet
Mobile internet use is widely prevalent in Southeast Asia and China with the latter having a 65% internet penetration rate. Before targeting Asia, you need to have an app and website strategy that accounts for the heavy mobile internet use and caters to the lower end phones used by a large proportion of the population. This will ensure an optimised mobile user experience for clients in the region.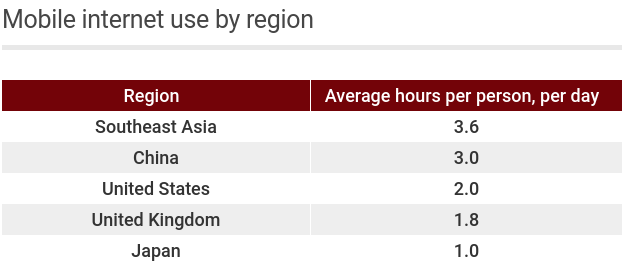 Source: FinanceX
Android is the most used operating system mainly because it's affordable to most of the population and this needs to be reflected in your offerings. Plan for mobile experiences since this is how prospective clients will access your services and products.
#10 You Still Have To Deal With Laws and Regulations
Asian governments are fussy when it comes to foreign investments and so you will need to enter the regional market with a thorough understanding of your target market's regulation. One piece of regulation that governs many Asian states is that customer databases are to be maintained only in their respective countries.  The last thing you want is to expose yourself to lawsuits and reputation damage after failing to adhere to regulation.
You will also have to build relationships with federal and municipal governments especially in China where relationships with government officials, known as Guanxi, is critical for business success. You cannot depend on your own knowledge to navigate the market and you will need local experts to help you navigate your business's legal aspects and partnerships.
Targeting Asia requires lots of research, planning, and strategising both for the short and long-term, especially when it comes to your social media and content marketing strategy. Get help today from content marketing experts, Contentworks