Easter is a time of new beginnings, chocolate eating frenzies and bunnies that appear to be laying eggs. It's also an eggcellent opportunity for brands to crack on with egg-citing marketing campaigns. Ok we're done with the egg puns. Easter spending in the UK alone reached a whopping £1.2 billion in 2018. So, with consumers ready to splash cash, it's well worth making the most of important holiday dates.
Here are 10 of this year's best Easter marketing campaigns – chick them out! (sorry)
#1 Cadburys – The Return of White Crème Eggs
Some brands have to work hard to come up with Easter marketing that's relevant and not overly forced. Cadburys, however, has the upper hand considering Easter is largely associated with sugary snacks. That said; there's a whole load of competition out there, so to stand out from the crowd they:
Reintroduced a popular craze
Following the success of last year's white crème egg hunt, Cadburys has used the same formula – only this time its bigger and better. Not only have they hidden almost double the number of eggs (around 800), but they are now offering cash prizes of £10,000 in comparison to last year's £2,000. This is a cracking sum of money for the average chocoholic!
Cadburys' Easter egg hunt is not only shop-based. Lovers of the gooey-goodness can also find them in other locations including social feeds and websites. The company has even infiltrated other brands' TV ads.
Created an interactive campaign
As you can see from the three-step instruction panel below, the campaign is highly interactive! Aside from hunting the eggs, consumers must take a photo or screenshot and upload it to be in with a chance of winning a grand prize.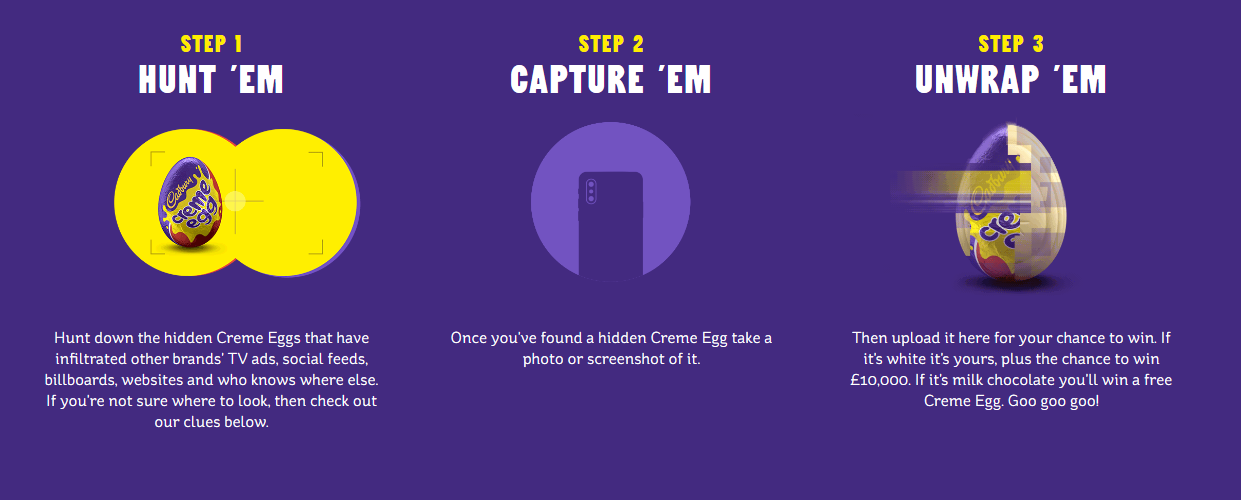 Followers are also encouraged to check back to social media sites like Twitter for hunt clues!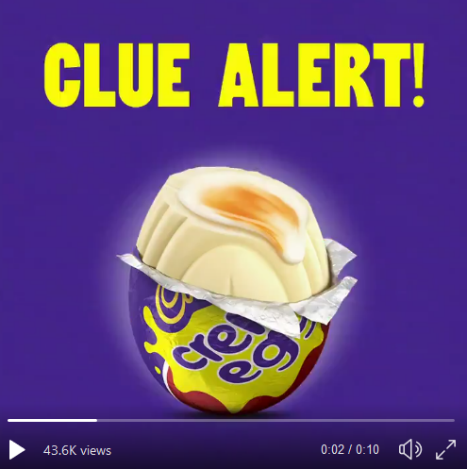 Top takeaway 1: Do what works. If you've enjoyed past success, revive it with fresh ideas.
Top takeaway 2: Encourage interaction in order to get all eyes on your brand.
Top takeaway 3: Give people incentives to interact. In this example, Easter egg hunt clues and prizes work well.
#2 Hotel Chocolat – The Fear of Missing Out
Again, Hotel Chocolat is one of those brands who can easily hop on to an Easter marketing campaign. But what's in their marketing basket this year? A glance across the brand's social pages shows how they're using 'fear of missing out' FOMO to drive sales.
With messages such as "only available until Easter" and "today only" they're essentially telling consumers to act now to avoid missing the deal.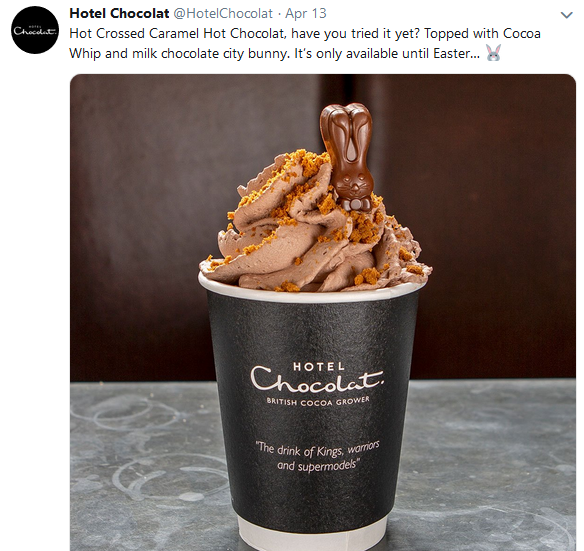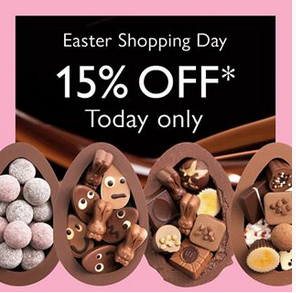 Top marketing takeaway 1: Use clear, visually impressive images to captivate your audience. Tweets with images receive 150% more retweets than tweets without images. Also, articles with an image once every 75-100 words received double the social media shares as articles with fewer images.
Top marketing takeaway 2: Give your marketing messages a timeline to encourage FOMO.
#3 Lindt – Flavours and Special Editions
Lindt is a confectionary brand well-known for their milk chocolate Gold Bunny. But with other flavours on the market such as dark chocolate, white chocolate and hazelnut, Lindt makes use of simple imagery to showcase the variety of their popular range. Prompting consumer engagement and encouraging interaction, Lindt also asks their Twitter followers 'which one would you like this Easter?'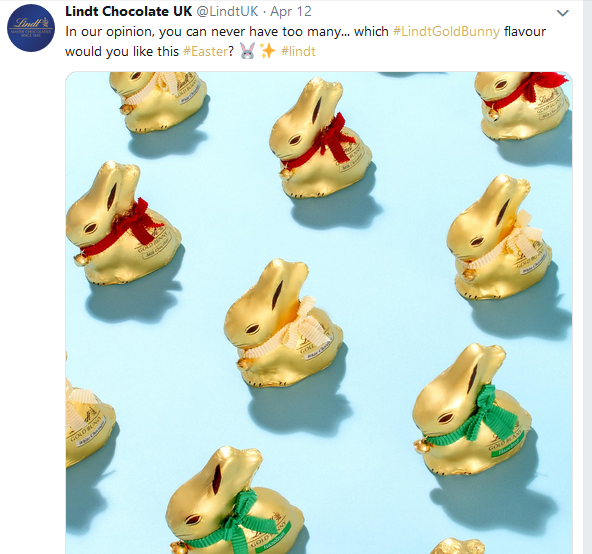 Top marketing takeaway 1: Flaunt your seasonal offerings in all their glory. Maximise your product range to increase the number of people you appeal to.
Top marketing takeaway 2: Use holiday hashtags as well as branded hashtags where necessary to help people join in conversations easily.
#4 Sainsburys – @SainsburyMag Inspiration
Sainsburys has a main Twitter account with @sainsburys attracting 520,000 followers. They also have @SainsburysMag which has 43.9,000 followers and contains everything from recipes to hints and tips. Food lovers are also encouraged to share what they've made!
This idea of having and promoting a magazine online is a great way to extend brand outreach and tap into the mind of foodies. It's also ideal for Easter allowing Sainsburys to become a go-to brand for Easter weekend sweet treat ideas and special dishes.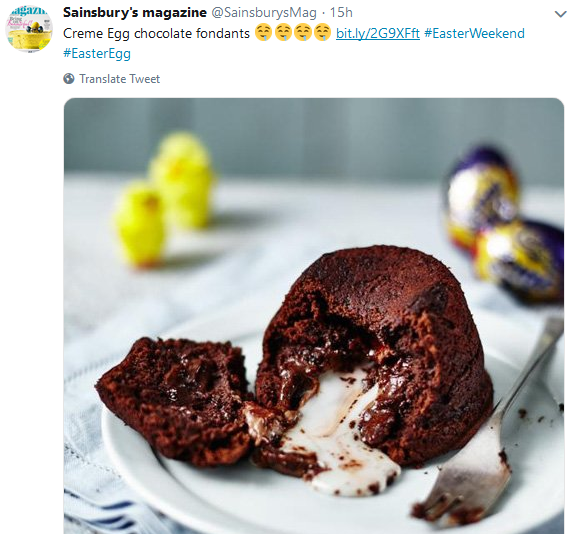 Sainsburys also makes the most of user generated content by retweeting relevant posts from followers. This makes fans feel appreciated and encourages brand-consumer interaction.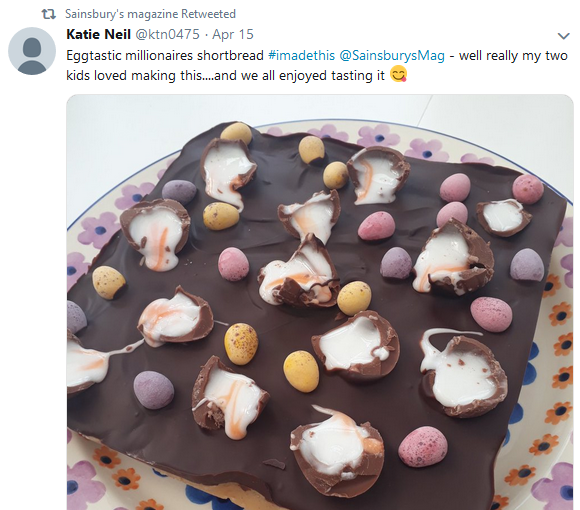 Top marketing takeaway 1: It's fine to have more than one Twitter channel as long as each serves a unique purpose.
Top marketing takeaway 2: Make the most of user generated content. This is ideal for keeping your pages fresh, unique and authentic. Plus, it's less work for you!
#5 M&S – #ThisIsNotJust
Coming up with a slogan people will remember is great for brand recognition. M&S is well known for their #ThisIsNotJust campaign which helps promote luxury food. And at Easter a mouth-watering social strategy is the ideal way to get taste buds tingling.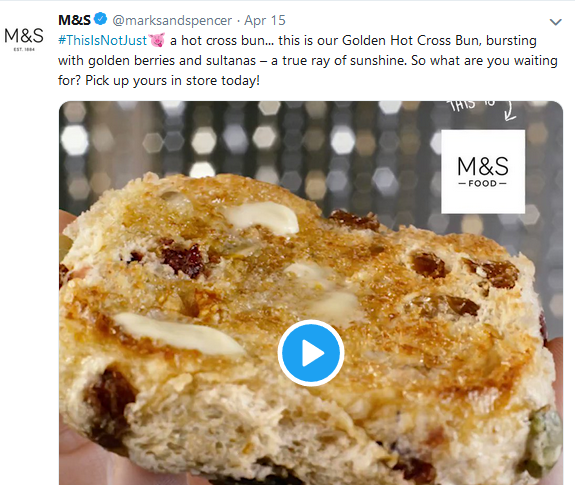 Top marketing takeaway 1: Don't forget about video content. It's set to account for 80% of all internet traffic by 2020 and can bring your products to life!
Top marketing takeaway 2: Remember to utilise emojis as well as hashtags in your marketing.
#6 Asda – omnichannel marketing that works
Consumers are turned off my overly promotional content. In fact, with so many millennials having an ad blocker on their portable devices and laptops, being original is key. Asda has successfully adopted an omnichannel approach, taking an Instagram comment and spreading it across Twitter. The content is user generated and the post has been personalised helping to develop that all-important connection with consumers.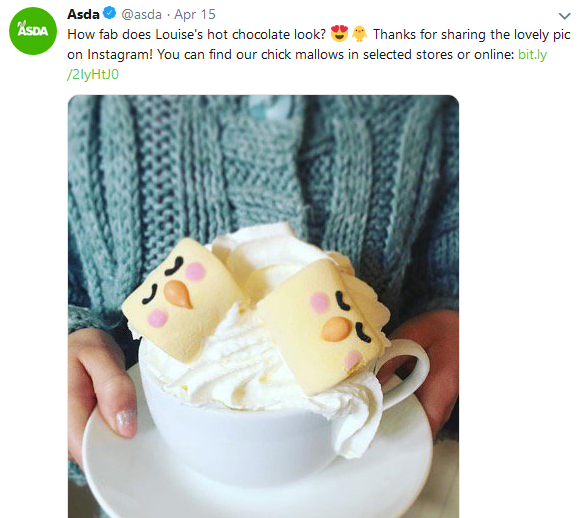 Top marketing takeaway 1: Food is the number one most popular topic on Insta. If you're not there using your #foodporn hashtags then you're missing out.
#7 IKEA – Flatpack bunny initiative
What do you do when your brand isn't a natural fit for a holiday like Easter? How can you make yourself relevant? Well, IKEA has shown exactly how to do this in style while focusing on what its best known for – flat-packed goods! This idea is humorous and fun. It also challenges people to see "how fast" they can assemble the bunny.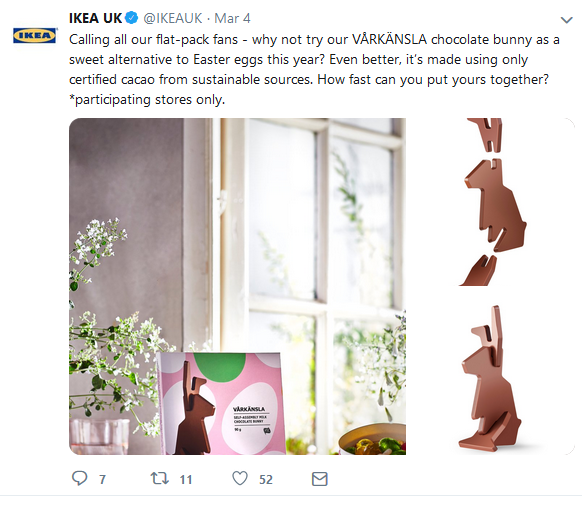 Top marketing takeaway 1: Use humour to showcase your brand's very serious USPs.
#8 Marmite – Love It or Hate It Chocolate Egg
Marmite doesn't naturally scream Easter. But the whole 'love it or hate it' concept fits nearly with the creation of a 'Yeaster Egg'! This might sound 'interesting' to say the least. But isn't that the point? To be different and edgy?
No matter what the taste, however, the campaign has got people talking helping to boost brand awareness at a time when Marmite has also launched their peanut butter-based products.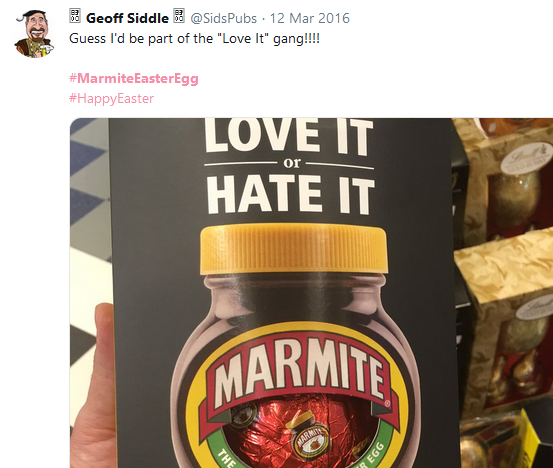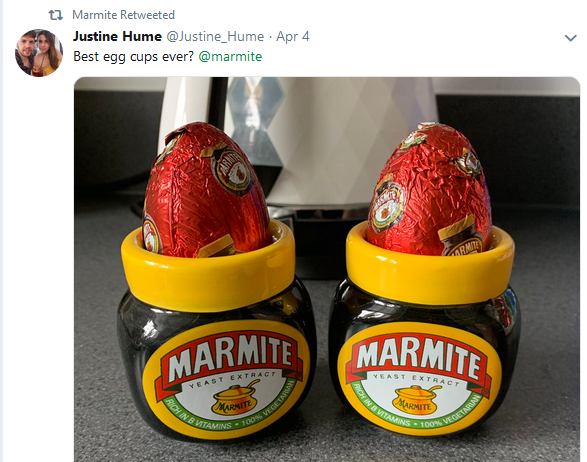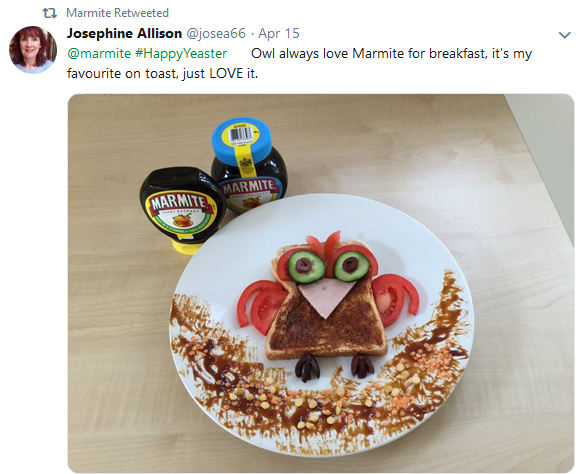 Top marketing takeaway 1: Be innovative and creative in order to get tongues wagging. Stay on brand!
Top marketing takeaway 2: Remember that all-important user generated content too. Marmite is very good at re-tweeting relevant posts.
#9 Haribo – Double Yolkers Competition
Haribo has launched a double yolker competition in time for Easter. Those who find the unusual sweet in limited edition packs of Starmix can win a UK holiday! Exciting stuff and a great way to make your brand a go-to treat for the Easter weekend.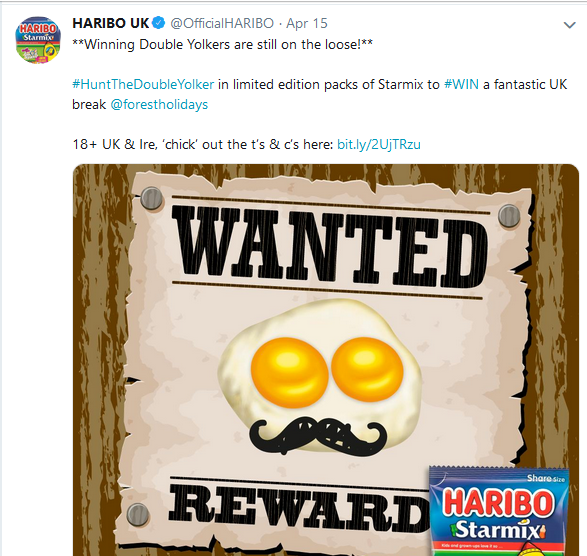 Top takeaway 1: Use competition, quizzes and giveaways to draw in an audience and remember your audience here will be children. Never underestimate pester power for product sales.
#10 LEGO Brick Easter Hunt
Even LEGO has jumped on the Easter craze with a LEGO Brick Easter Hunt egg-stravaganza! That's right, LEGO is encouraging people to make LEGO eggs and hide them round the house for people to find. It's a simple yet creative idea wonderfully visualised through social media video content.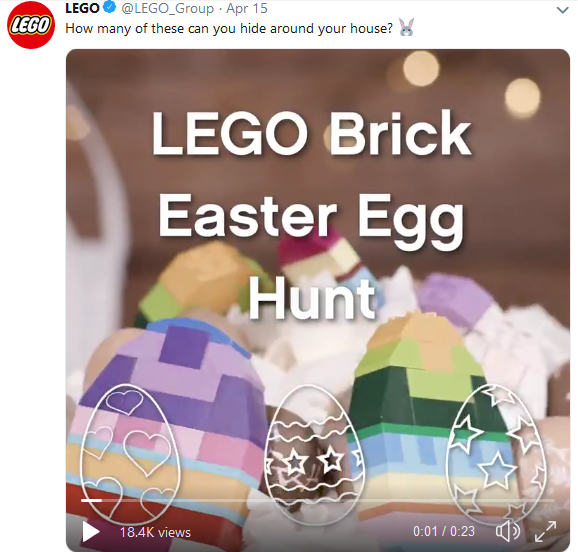 The video has already received over 18,000 views on Twitter alone and 181 Facebook shares as well as a host of positive comments.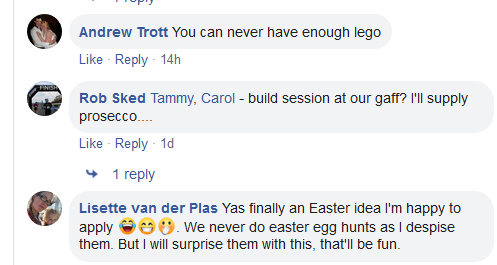 Top marketing takeaway 1: Give people an alternative to traditional practices such as hunting for chocolate. Don't be afraid to be different.
Top marketing takeaway 2: Keep your content simple and to-the-point. Make it easy to share.
Remember, marketing campaigns aren't just for Easter! Speak to the Contentworks team today about content marketing that works for your brand. Happy Easter everyone!